Wed, 27 Mar 2013, 17:54 PM



At Long Last



By Bob Frey


Photo copyright 2013 Auto Imagery, Inc.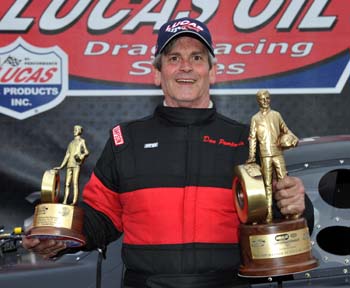 Dan Pomponio with both Wallys
winning the Gainesville regional earlier
this year and now the national event.
The scene was set, all the big names were there and the fans were waiting for some record-setting performances. The site was Gainesville Raceway, home of the 44th annual Amalie Oil Gatornationals. In the long and storied tradition of NHRA the Gatornationals is regarded as one of the big ones, a "major" event and one that every racer wants to win. Traditionally the start of racing on the East Coast it has often been the site of some spectacular runs. The air is usually good, the track is smooth and long and the racing surface is as good as any on tour and that makes for some great elapsed times and speeds. So when the likes of Frank Manzo, the driver with more national championships than anyone in the sport, John Lombardo, the Winternationals' champion in Top Alcohol Funny Car, Mickey Ferro, a perennial top ten finisher and others converged on the Florida track, most experts thought it would be a classic race with some of the top stars squaring off in the final round. Well it was a great race, especially if your name is Dan Pomponio because he was the one who left town with the coveted "Wally" trophy, symbolic of a national event win.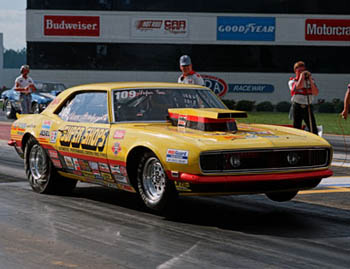 Pomponio went to the semifinals
at the '90 Gatronationals in
his Super Gas car.
Dan Pomponio epitomizes what a sportsman racer is, or should be. He doesn't race for a living, he has a real nine-to-five job. He has a family that doesn't stay home when he races, they go to the track with him to help and support him, and he has been drag racing for a long time and he loves every minute of it. And by a "long time" I mean that he has raced since the late 1960's. "I was like a lot of guys," Dan said. "I wanted to race and I would have loved to be a professional racer, but with a job and a family, and with the costs of racing any kind of professional car it just wasn't to be." What was to be though was a very good career in the Super Gas ranks, a career that included a lot of wins at area tracks in the Northeastern part of the country along with a couple of divisional wins dating back to as early as 1984. But while he was racing in the "Super" categories and participating in bracket races Dan always had his sights set a little higher. "Yeah, I always wanted to run a Funny Car and when the opportunity came along to get a car at a reasonable price I jumped at it," he said. "That was in 2002 and Dan and his family have been familiar figures at the Division 1 races ever since, and in the recent years they have also begun showing up at more and more national events. "We've been at this a while. We crashed the car early in 2008 and then took the rest of the season off to regroup. In 2009 we got the new Monte Carlo body and we've been pretty consistent since then." Consistent yes, but nothing like what they did in Gainesville. "When I tell you and everyone that we are living proof that dreams come true I really mean it. In fact, even some of my best dreams didn't end this well," Dan said with a slight chuckle.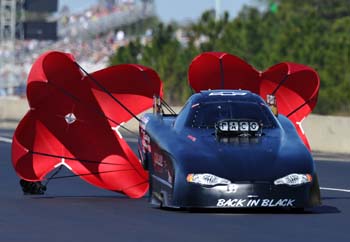 Dan Pomponio
When you win a national event and set career best numbers in the process there is usually one main reason why you did so well and that's the case with Dan. "I have to give all the credit to my son, Danny, and my brother, John," he said. "About a year ago I turned the tuning over to Danny and you can see the results." While Danny tunes the car brother John also helps and consults with him. "All weekend long they would huddle together, discuss strategy and how Danny wanted to approach each round and you saw the results." From a car owner's point of view all Dan wanted to do was win the race, and from a tuner's perspective all Danny wanted to do was run well. "I came into the weekend with one objective and that was to win. Danny came in with two goals, to run in the 5.50's which we had never done and to go over 260 which we also had never done." Since they achieved all of the goals it's easy to see why Dan says that the entire weekend was a dream come true. "When you add in the fact that we also won the Best Appearing Crew Award I can't imagine that it could get any better." Those snappy uniforms got delivered to the track right before the team's first run and Dan said that he gave the trophy to his wife, Beth on Sunday morning. "And then we got the big trophy at the end of the day and completed our best weekend ever at a national event."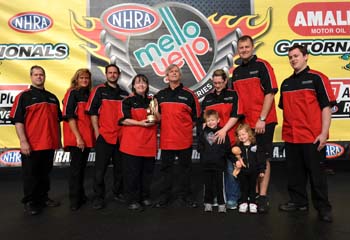 Pomponio crew won "Best Appearing Crew" award.
The outing at Gainesville came on the heels of the team's win at the regional race in Gainesville a month earlier and has the team in second place in the early season standings. Their next goal is to take over the top spot in the Jeg's Allstar program and they could do that with a good showing at the regional race in Virginia. "We are in second place right now just behind Todd and Jay. They are good friends of ours but that won't stop us from trying to get the invitation to Chicago for the Allstar race." It also didn't stop them from beating the "Follow A Dream" team in the final round in Florida. "It was tough because we are close," Dan said. "And the fact that they had some engine troubles between rounds made it harder on them. We wanted to race and the NHRA folks did a good job of sliding some cars around so that Todd and I could race together, after all, neither one of us had won a national event and we each really wanted to do it in style and that meant by racing for it."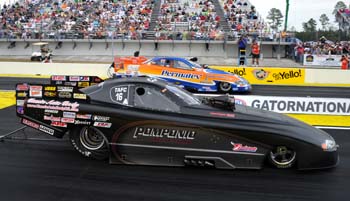 Pomponio defeated Todd Veney
Dan's son had worked with him at Precision Automation for a while but recently stepped out on his own. "He had a chance to travel with and work with some of the top teams in the sport and it was too good an opportunity to pass up," Dan said. "And it looks like it was a good decision and has paid off for both of us. He spent time with Nick Bastiao, Rich McPhillips (the Gainesville Top Alcohol Dragster winner) and Randy Meyer and he learned a lot from both of them. He drove Randy's rig from the regional race back to Texas and spent time with him at the track, and when you can learn from a former World Champion it can be very helpful down the road." Apparently Danny learned well. "Like I said before I take no credit for the performance of the car and I give him a big pat on the back for what he's done."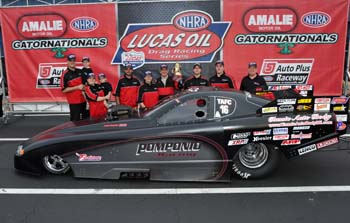 Pomponio and crew celebrate win.
When Dan returned to his job in Berlin, New Jersey, the celebration continued. "Everyone at work knew we had won and they had a party all planned for us. They even took the picture from the winner's circle and had that put on the cake. It was really special." And so are Dan and his family, and to finally realize their dream is one of the many things that makes this sport so great. "If possible it's even better than I imagined," he said. "I can't wait to do it again." As long as he lets his son continue to make the tuning decisions that is a real possibility.
As you can imagine Dan had a lot of people to thank, people who have supported him and stayed with him through the years. "Firs and foremost is my crew, Danny Pomponio, my wife Beth, Maureen and Ted Schmidt and their children Ryan and Mallory along with John and Johnny Pomponio and Pete "Lucky" Luciano. Also thanks to Steve Sanchez of Total Flow Products, Nick and Rob Boninfante of Boninfante Performance Clutch Parts, Jeremy Evrist of Brad Anderson Enterprises and Roy Freeman of Hoosier Tire Mid-Atlantic. This dream couldn't have come true without all of their help and support."