Tue, 26 Mar 2013, 12:18 PM



A Slight Spring Break



By Bob Frey


Photo copyright 2013 Auto Imagery, Inc.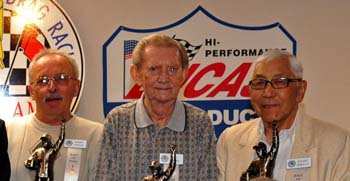 Vodnick, Hobbs and Hirata
When I went to
Florida
last week for the induction ceremony for the
International Drag Racing Hall of Fame
I was stunned by how long the lines were at the airport. Granted, in my new retirement status I hadn't travelled in a while, but still it was surprised that the lines seemed endless. Fortunately for me and a lot of the folks I know who are on tour, we have a thing called "Pre-Approved" which lets us go through the "speed line" at the airport. Believe me when I say that for the regular traveler, that is a true blessing. Anyway, I eventually realized that it was "Spring Break" time and that's why there were so many travelers. It was easy to see which groups were going south as a family, obviously headed to Disney World, and which ones were going for the more adult forms of entertainment, if you know what I mean. I can only imagine what my fellow travelers thought about me. Anyway, while they enjoy their Spring Break the drag racing world, or at least the
NHRA Mello Yello
racers, are also enjoying theirs. Once the tour hits
Las Vegas
next week there aren't a lot of breaks in the schedule and there will be some sections of the season when there are four races in as many weeks. So to all the racers and teams out there I say enjoy your break while you can, because there won't be many more of them until November.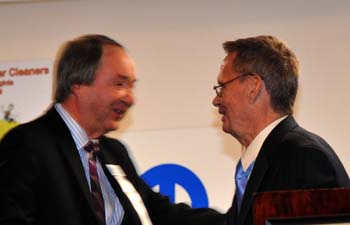 Wally Booth and John Jodauga
Over the years I have had a lot of great opportunities away from the race track and one of my favorites is always the Hall of Fame ceremony. I have been fortunate enough to be the host for the event for almost a decade now and the fact that "Big Daddy" Don Garlits keeps asking me back means one of two things, I either do a good job or I work cheap. Of course you know which option I like to think it is. Anyway, the 2013 ceremony was wonderful with nine new inductees, eleven if you count all three members of the Hirata, Hobbs and Vodnick team, and it was a night that was enjoyed by all. I spoke with a few folks who were attending their first affair and they all thoroughly enjoyed it. From a fan's point of view just getting to mingle with the greats of the sport is so much fun and if you did nothing else except hang around the lobby of the hotel during "happy hour" you could meet a plethora of drag racing greats. This year I think I counted about two dozen former inductees who returned to be part of the evening and they included a couple from the first class ever inducted in 1991. "TV" Tommy Ivo was there and so was Raymond Godman and they were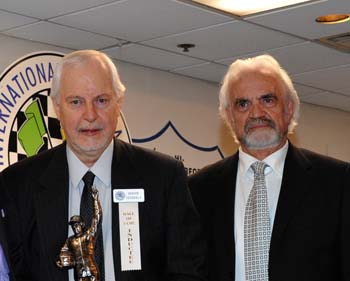 Bernie Fedderly and Terry Capp
both part of the first group that was inducted over twenty years ago.
Did you know
that even Don himself wasn't inducted until the class of 1994
?....
Every year I go there I learn something about some of the inductees that I never knew before. For instance, this year one of the greats from the "Gasser" era,
K.S. Pittman
, was among the honorees and
did you know
that the "K.S." in his name didn't stand for anything? Really, that was his given name on his birth certificate, K.S. Pittman.
As often as I announced for him and as many times as we spoke over all the years I never knew that..I had the pleasure of sitting at the table with another one of the inductees, Wally Booth, and that made for a very entertaining evening.
John Jodauga
, from
National Dragster
, introduced Wally and he did a wonderful job. Public speaking is not something that comes easily for John and he worked hard at his introduction and it truly showed. Wally came to my home track,
Atco Dragway
, in the early 1970's as part of the
United States Racing Team
, a collection of sixteen of the greatest Pro Stock drivers in history and it was one of the best nights of Pro Stock racing that I ever saw..It was a real treat to see
Bernie Fedderly
get inducted and his longtime friend and former racing partner,
Terry Capp,
did the honors and he was later joined by
John Force
who was his usual, entertaining self. While most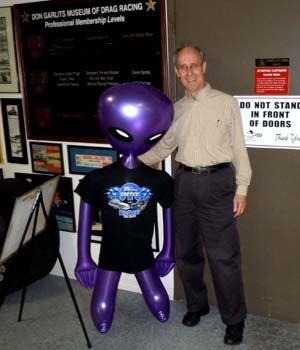 A couple of Garlits' biggest fans.
members, or at least a lot of members, of the Hall of Fame are drivers it's always great to see the men behind the scenes, great men like Bernie, get the credit that they so richly deserve..All in all it was a great night and as I mentioned last week a special thanks to
NHRA
,
Summit Racing
and
Lucas Oil
for their support of the event, and if you're planning on going to the Gatornationals next year you should come in early enough to attend the induction ceremony. I guarantee you won't be disappointed. Oh yeah, while you're in town, make sure you visit the
Don Garlits Museum of Drag Racing
, it's way cool, and besides, you never know who you will meet there.
With the teams enjoying a short break it's a good time to take a look at some of the things that have happened over the first three races. The first thing that stands out is the fact that there have been three different winners in each of the top three classes so far and that doesn't happen very often. Did you know that since 1970, when Funny Cars and Pro Stocks became part of the full tour, this is only the fifth year where we have had nine different drivers in the winner's circle at the first three races of the year? Oddly enough it is the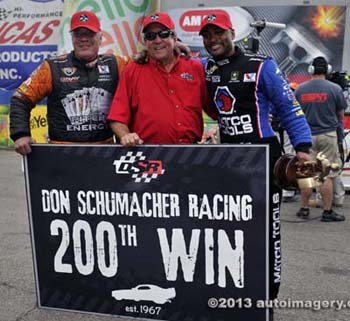 Antron Brown, Don Schumacher and Johnny Gray
third time that it has occurred in the last nine years, but before that
did you know
that you had to go back to 1990 and then to 1977 to find the last time the winners were all different at the season's first three events?
I guess that's a good thing since it means there are a lot, or at least three teams, that can win during the season.. Of course it's been a good start to the year for the team from
Don Schumacher Racing
and by now I'm sure you all know that when
Antron Brown
and
Johnny Gray
"doubled-up" in
Gainesville
it marked the 199
th
and 200
th
wins for Team Schumacher drivers. Of course that includes the five wins that Don had when he was a driver in the early days of the Funny Car class. While Don won his first race at Indy in 1970
did you know
that he was also part of the first Funny Car race at the Winternationals in 1969? Don qualified second at that race behind
Tom McEwen
and then beat
Dave Beebe
before losing to
Rich Siroonian
in round two. Don would go on to win five races, including that Indy win in 1970, and he would also record two runner-up finishes before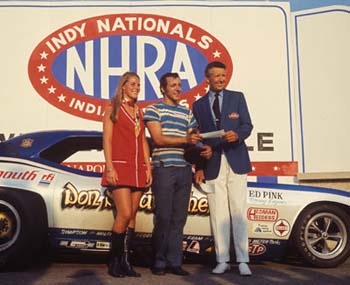 Don in the 1970 Indy Winner's Circle
Photo copyright 2013 NHRA
retiring as a driver.
Did you know
that both of Don's second-place finishes came at the Gatornationals? He lost to
Pat Foster
in 1973 and to
Don Prudhomme
in 1974, and
did you know
that to this day he is the only Funny Car driver ever to lose consecutive finals at the Gatornationals?....
Johnny Gray
certainly has a good car and it looks like he could make a serious run for the championship this year. When Johnny left
Gainesville
he was tied for the point's lead with his DSR teammate,
Ron Capps
.
Did you know
that there have only been two ties in the Funny Car points since 1974 and that Ron Capps has been involved in both of them? In 2009 Ron was tied with
Ashley Force Hood
and until this year that was the only time two drivers shared the point's lead in the Funny Car class..To show you how good Johnny's car is
did you know
that he has already recorded low elapsed time at two of the first three races this year? And for his entire career, and that includes his time in the Pro Stock class,
did you know
how many times he had the quickest car on the property before this year?
Exactly two.
Even in his alky days, including the time he spent in Top Alcohol Dragster and Funny Car, he only recorded low elapsed time twice so it's easy to see why he is so excited about this year, a year that he says will be his last as a "point's chaser." Good luck to him the rest of the year, but like I said the class is loaded and there are a dozen cars on any Sunday that can win the race and that should make for a very interesting season for the racers and the fans.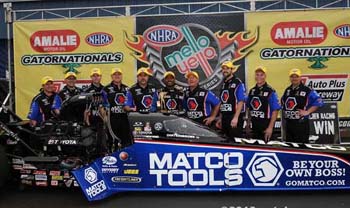 Brown celebrates win with crew.
Antron Brown is back on top of the points and it sure looks like his team is ready to defend their championship. While Antron's win gave "The Don" his 200th national event win it was also the 22nd of Antron's Top Fuel career. Did you know that ties him with Mike Dunn and Ed McCulloch on the all-time nitro list? The three of them rank sixteenth among racers who have competed in the nitro classes over the years. Antron accomplished those wins in just 119 races which is very impressive. By comparison, Mike competed in 265 races in the fuel classes and Ed was in 219. I don't know when you put someone in the "great" category but anytime you can be mentioned in the same sentence as Mike and Ed it's a good start, don't you think? I don't think anyone ever doubted Antron's ability but to make such a smooth transition from the Pro Stock Motorcycle class to Top Fuel is amazing. I guess you could call him a natural, and even when he was a presenter at the Hall of Fame he made that look easy, too. Did you know that Antron has won more rounds in his Top Fuel career than he did on a motorcycle and he raced in twenty-seven more races on the motorcycle? ...When Allen Johnson won in Pro Stock in Florida it should have been a signal to "AB" that he was going to win, too. Did you know that of his twenty-two Top Fuel wins five have come at the same races as "AJ?" The only other driver who can say that is Greg Anderson who has also shared the podium with Antron five times.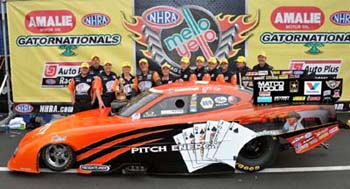 Gray celebrates win with crew.
Mopar fans should be happy the way the Pro Stock class is going so far, after all, their cars have won two of the first three races of the year. In fact, did you know that the only non-Mopar driver to win in the last eight races is Erica Enders-Stevens? Not Mike Edwards, Greg Anderson or Jason Line and that's surprising, at least to me. And the Dodge boys are the only ones to have won a round at each of the first three races so far. Allen Johnson, Jeg Coughlin, Vincent Nobile and V. Gaines have each notched at least one round win at each of the races so far and nobody else in the class can say that. Of course Mike Edwards seems to have the best car from a performance stand point even if he hasn't turned on four win lights on Sunday...yet. When I say that Mike has the best car I am speaking strictly from a numbers point of view. Did you know that of the three races the only statistic that Mike doesn't own is top speed at Pomona? Other than that he has been the number one qualifier, set low elapsed time and top speed at all of the races so far this year. Pretty impressive, isn't it? Of course winning races is what it's all about and Mike will start doing that shortly. I know, I say that with such confidence, but I do believe that he'll get his Sunday woes straightened out and when he does look out...Having the best car obviously doesn't always translate into wins, and if you don't believe me just ask Jason Line. Did you know that at the end of last year he recorded all of the best numbers at the last four races and still didn't win? I only point that out because it's what makes drag racing so exciting. There are so many variables that go into winning a race and you have no margin for error and Pro Stock, maybe more than any other class, is the perfect example of that. Did you know that in the last sixty races the top qualifier in Pro Stock has only won eleven times? That just shows you that brute horsepower isn't always the key to winning. It sure helps, but it's not the only thing.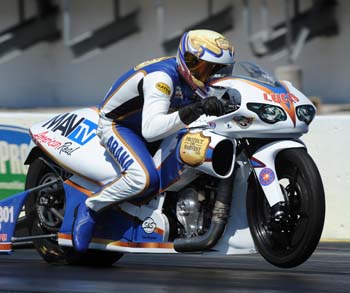 Adam Arana
The Pro Stock Motorcycles got off to a good start in Florid but they will only race three times between now and the middle of June. It's tough to see a pattern that way or for any of the teams to build momentum, but that's the way it goes for the motorcycles. Did you know that the bikes won't race in Brainerd this year and that will be the first time since 1991 that the two-wheel competitors have not been in the land of all those lakes?....Adam Arana became the third member of his family to qualify in the bike class when he checked in at number twelve in Florida. Did you know that he became the 186th different rider to qualify for an NHRA national event in the Pro Stock Motorcycle class? Of that group there are three families who have had three members make it to eliminations. The Arana's, the Tonglets, (GT, LE and Gary) and the Hines family (Byron, Matt and Andrew).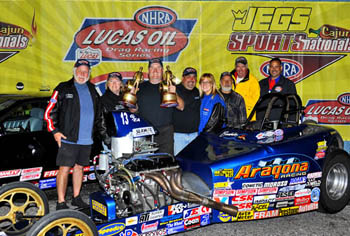 Steve Szupka celebrate double win.
Photo copyright 2013 Robert Grice
Steve Szupka became the latest driver to win two classes at the same event when he won Comp and Stock Eliminators at the Cajun Sportsnationals in Belle Rose, Louisiana. While Steve became just the fifteenth driver to "double-up" did you know that it has now been done four times in the last sixteen national events? And each of those four events the racer who doubled won Stock Eliminator. Congratulations to Steve, another great second-generation racer, and all the winners from Belle Rose including Jody Simoneaux who won the Moser Sportsman Shootout, a race that featured competitors from different eliminator brackets facing off against one another. Nice job Jody, it sounds like it was a lot of fun.