Sun, 24 Mar 2013, 20:14 PM



John R. Gray Day, April 10, Artesia, N.M



Courtesy of DSR



ARTESIA, N.M. --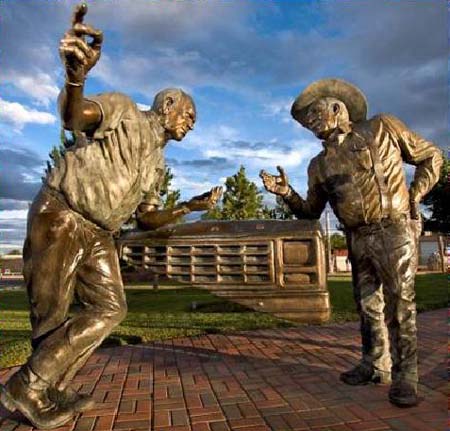 The late John R. Gray, right, and partner Mack Chase.
This is the last full-time professional racing season for Johnny Gray of Artesia, N.M., and he's doing it in style.
Not only is he tied for the Funny Car points lead in the NHRA Mello Yello Drag Racing Series after winning the last national event title on Sunday at Gainesville, Fla., but Johnny, his wife Terry and sister Terry Chandler are devoting this season to their late father, Artesia's legendary oilman John R. Gray, who was 71 when he died on Oct. 28, 2001.
They are sponsoring their 320-mph team at Don Schumacher Racing for what Gray will not call a farewell tour, but it will be the last time he chases championship points at all 24 NHRA events held throughout the country.
Johnny will also honor his father and Artesia by taking his race team that includes two 18-wheel racecar transporters to Downtown Artesia for an afternoon display near "The Partners" statue that features John R. and his partner, Mack Chase, at the Derrick Floor & Oilfield Pioneer monuments at South Sixth and West Main streets.
Johnny and his 10-man Pitch Energy team will stop by Artesia after competing April 5-7 at Las Vegas Motor Speedway before heading back to DSR headquarters near Indianapolis.
The community is invited to visit Johnny and the team from 3-6 p.m. on April 10 (Wednesday) where the car will be displayed and Johnny will sign autograph cards and participate in an effort to raise money for Artesia's Grammy's House through a special reduced-price sale of souvenir shirts and collectible diecasts. The merchandise is being donated by Don Schumacher Racing.