Wed, 20 Mar 2013, 09:46 AM



McPhillips, Pomponio Win in Gainesville



Courtesy of NHRA Field Marketing


Photo copyright 2013 Auto Imagery, Inc.





GAINESVILLE, Fla. --
Rich McPhillips and Dan Pomponio took the wins in Top Alcohol Dragster and Top Alcohol Funny Car for the NHRA Lucas Oil Drag Racing Series and the Amalie Oil NHRA Gatornationals at Auto Plus Raceway at Gainesville.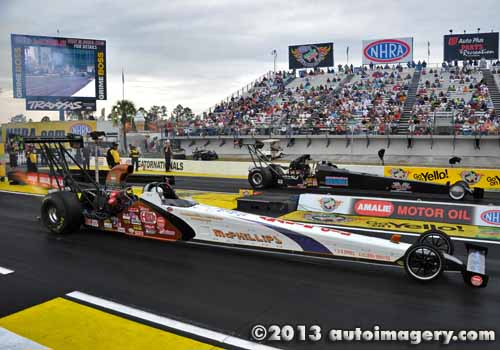 McPhillips defeated Perry
McPhillips, Valley Forge, Pa., scored his 3rd national event win beating Ken Perry in the final with a lap of 5.331 seconds at 266.90 mph to Perry's 5.420, 262.79. McPhillips ran 5.30's all weekend including a 5.354 to take out former world champion Bill Reichert in his semifinal match up.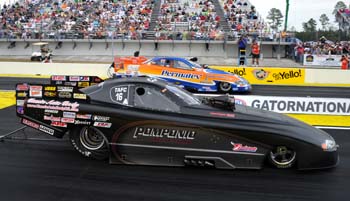 Pomponio defeated Veney
Pomponio picked up his first national event win outrunning Todd Veney at 5.609, 259.61 in the funny car final. Pomponio, Berlin, N.J., took out John Bojec, No. 1 qualifier John Lombardo Jr. and Dale Brand on his way to the final.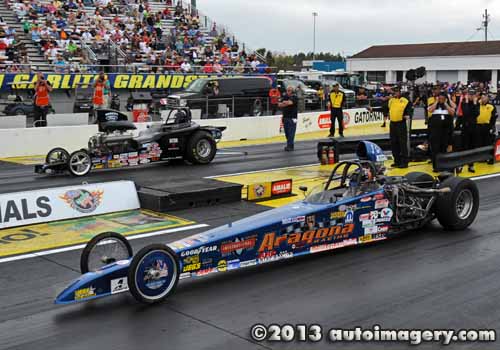 Aragona defeated Ambrose
19 year-old Mia Tedesco, Murrysville, Pa., had a shot at the elusive double reaching the final round in both Super Comp and Super Gas. She first met up with Delaware, Ohio, racer Troy Coughlin Jr. who ran the numbers in his '57 Jegs Mail Order Corvette to deny Tedesco the double, then fell to Greg Kamplain who used a hole shot and held on for the Super Comp trophy.
Bertozzi defeated Null
Frank Aragona Jr., Anthony Bertozzi and Bo Butner rounded out the winners with Aragona, Freehold, N.J., beating Steve Ambrose in Comp Eliminator for his 6th win. Ashland, Va., racer Bertozzi reach the double digit mark taking his 10th national win running 8.832 at 152 mph to down Herbie Null in Super Stock and Bo Butner, Floyds Knobs, Ind., secured lucky number 13 in beating Charley Downing in Stock Eliminator.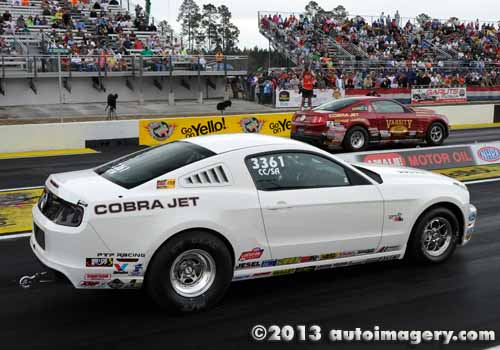 Butner defeated Downing
The following are the final results from the Amalie Oil NHRA Gatornationals at Auto Plus Raceway at Gainesville:
Top Alcohol Dragster -- Rich McPhillips, 5.331, 266.90 def. Ken Perry, 5.420, 262.79.
Top Alcohol Funny Car -- Dan Pomponio, Chevy Monte Carlo, 5.609, 259.61 def. Todd Veney, Chevy Impala, 6.988, 140.11.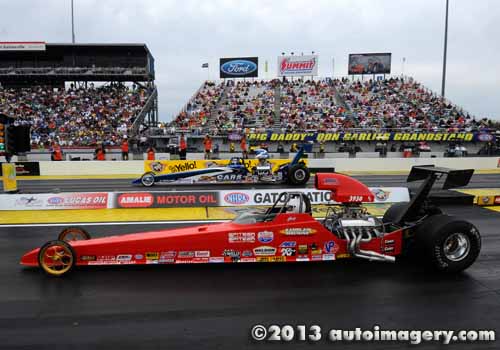 Kamplain defeated Tedesco
Competition Eliminator -- Frank Aragona, Dragster, 8.228, 129.80 def. Steve Ambrose, '23-T Ford, foul.
Super Stock -- Anthony Bertozzi, Pontiac Grand Am, 8.832, 152.66 def. Herbie Null, Chevy Camaro, 9.754, 134.94.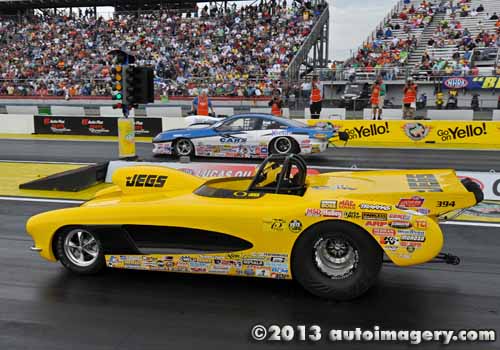 Coughlin Jr. defeated Tedesco
Stock Eliminator -- Bo Butner, Ford Mustang, 9.679, 134.60 def. Charley Downing, Mustang, 10.976, 115.02.
Super Comp -- Greg Kamplain, Dragster, 8.919, 172.96 def. Mia Tedesco, Dragster, 8.903, 180.48.
Super Gas -- Troy Coughlin Jr, Chevy Corvette, 9.930, 157.26 def. Mia Tedesco, Chevy Cavalier, 9.884, 172.41.