Tue, 19 Mar 2013, 19:24 PM



It Might Be My Favorite Weekend



By Bob Frey


Photo copyright 2013 Auto Imagery, Inc.





Back row: Dave Boertman, Dick Rosberg's family, Wally Booth,
Bobby Vodnik, Phil Hobbs and Kenny Hirata.
Front row: Mrs. K.S. Pittman, Bernie Fedderly,
Harry Hibler, Lou Senter and Dave Wallace Jr. (sitting in for Robert Post)
It's no secret that I always enjoyed going to
Florida
for the Gatornationals. Maybe it was just because it was usually snowing in
New Jersey
and just getting out of the cold was a real treat. Or maybe it was because the Gatornationals has always been a huge race with a long and glorious history and that made the event so exciting. Or maybe it was the fact that the event has been preceded by the induction ceremony for the
International Drag Racing Hall of Fame
and what better way could there be to kick off a weekend? Or maybe it's a combination of all of the above that makes the first East Coast stop on the tour so special. Yeah, that's it.I made a quick trip to
Florida
last week to emcee the Hall of Fame ceremony and it was, as always, a great evening. With nine new inductees and a star studded audience I had a great time and I think everyone else did, too. It is such a thrill to be able to hang out with the members of the Hall of Fame and it's really special when I get to visit
Don Garlits
ahead of time and discuss the event. Of course I also get to tour the museum and visit the "inner sanctum" of Don's world, and believe me, I can't tell you how special that is. Every year I go there I learn something new and this year it had to do with his 1964 U.S. Nationals win. At that race Don beat
Jack Williams
for the overall Top Fuel title. I say "overall"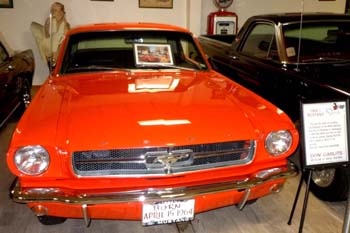 Garlits' Mustang
because they had a class runoff before the final eliminations program. Anyway, for his win, in addition to the trophy he received, Don was awarded a brand new Ford Mustang. Well, when I was visiting his museum I learned that Don still has that Ford Mustang. Now how cool is that. It's actually a 1964-1/2 Mustang (one of the very first ones they made) and it is beautiful. Now for you car collectors out there I ask you this question. What is a one owner, a Don Garlits one owner, Ford Mustang worth? An interesting little sidelight to that is the fact that
Bobby Vodnick
, who was inducted into the Hall of Fame along with his partners,
Kenny Hirata
and
Phil Hobbs
, was part of that 1964 Top Fuel field. When Phil won Indy in 1965 he and his team were also awarded a new car, a Plymouth Barracuda, and when I asked him if he still had it he said, "No, we sold it right away and split the money.".
Did you know
there are at least two other cars that were awarded to champions that are still in possession of their original owners? The Chrisman family has the Thunderbird that
Jack Chrisman
received for being the 1961 World Champion and
"Ohio" George Montgomery
still has the Ford Ranchero that he got as the Indy winner in 1960. I wonder if there are any more out there, so if you happen to know about one please pass the information on to me.Next time you're in Florida make sure you visit the Don Garlits' Drag Racing Museum because it really is special and not just because my picture happens to be on the wall....I'll have more on the Hall of Fame and a special story on one great sportsman winner who was inducted this year soon on
www.DragRaceCentral.com
. Stay tuned. Please!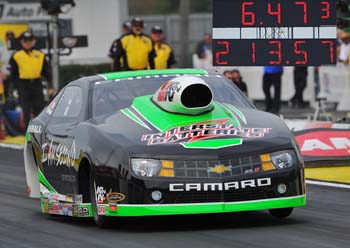 Edwards set the National record.
Of course one reason that I enjoyed the Gatornationals was simply the fact that the racing was always superb, and from what I know about this year's race that tradition continued. From Mike Edwards stunning run, or should I say runs, in Pro Stock to the final rounds in all the classes it sure looked like the 44th running of the Amalie Oil Gatornationals was one for the history books. In the finals we had a female racer, Mia Tedesco, in two classes, a couple of guys, Todd Veney and Dan Pomponio, who had never won before in the Top Alcohol Funny Car class final, a driver with a long, and I mean long winless streak in the Top Fuel final and a pair of teammates in the Pro Stock final. Oh yeah, and there was not a Harley-Davidson in the Pro Stock Motorcycle final round..What there was in the final round, or should I say in the winner's circle, were four racers who had all qualified in the second spot in their respective categories, and while the number two spot is a great starting spot, did you know that this was the first time in NHRA history that all four winners started the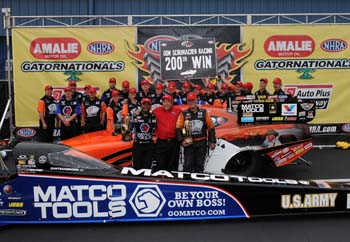 Gray and Brown celebrate
DSR's 199th and 200th wins.
day from the number two spot? The first time! There had been occasions where three winners in the top classes, Top Fuel, Funny Car and Pro Stock all won from the second spot but this is the first time that all four winners stated the day second best..Other than that little incident in California
Antron Brown
is off to a very good start. A couple of semi-final appearances and now a win and the reigning Top Fuel Champion is looking good. With the win, his twenty-second in Top Fuel, Antron is now back in a very familiar spot at the top of the point's standings....
Clay Millican
had a good weekend, not quite as good as Antron's but still a good weekend. Let's face it, anytime you can get to a final round in Top Fuel you have had a good event. Still, try as he might, Clay wasn't able to close the deal. Having said that Clay is with a very good team, he is in the top ten in the points and I expect him to stay there all season long Oh yeah, I also expect him to end his drought and win a race before too long....When Antron crossed the finish line ahead of Clay it gave Team Schumacher 200 national event wins.
Did you know
that
Don Schumacher
accounted for five of those wins including his first at Indy in 1970? And
did you know
who else won at that race?
Dave Boertman
, who was one of the inductees into the Hall of Fame last week. Small world, isn't it? And to take it one step further the runner-up at Indy in Super Stock that year was
Lou Downing
, the father of
Rob Downing
the crew chief on the
Summit Racing
cars of
Greg Anderson
and
Jason Line
.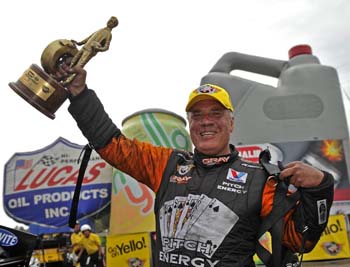 Gray celebrates win.
Johnny Gray accomplished a couple of very special things in Florida. First and foremost he won the race, his first ever at the Florida track. Second, with the win he is now tied for the points lead with his Don Schumacher teammate, Ron Capps. Did you know that this is the first time that Johnny has ever been in the points lead? With the win the Team Schumacher Funny Cars have now occupied four of the six final round spots to start the year. Courtney Force, who won Pomona, and Johnny's final round opponent, Del Worsham, have the other two spots. All that seems to indicate to me is that if you want to win the championship this year you will probably have to go through the Dodges from Don's team. Johnny was runner-up a year ago so to come back and win one of the NHRA "major" events has to be very special for him, especially since he has announced that this will be his final year as a full-time, points chasing driver..The win was just the seventh for Dodge at the Gatornationals and it should come as no surprise that most of them have come since Team Schumacher started running the Mopar bodies..Del Worsham did well and he almost pulled it off for Team Kalitta. Del, a former Top Fuel winner at the event, jumped four places in the standings with his final round showing, and if they keep the DHL car running like that all year Del could be in for another championship run.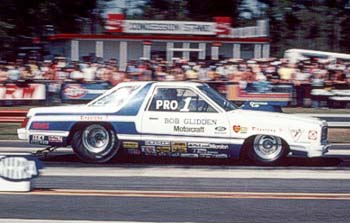 Bob Gliddenat the '81 Gatornationals.
Mike Edwards qualified number one and set the national record but he didn't win the race. As he has at all three races so far this year Mike put his Camaro in the number one spot, and like he has done at every race he wasn't able to close the deal. I don't think there is a doubt about the fact that Mike has the best car in the class right now and it's only a matter of time before he wins four rounds on Sunday. Still, it has to be frustrating to be that good and not win..As frustrating as it might me Mike is not the only driver to do what he did and still not win the Gatornationals. Lots of Pro Stock drivers, and I mean lots, have been number one at Gainesville, set low elapsed time and top speed and still not won the race, and that group includes legends like Ronnie Sox, Bill Jenkins and Warren Johnson. But did you know that prior to this year only two drivers in the history of the event did all of that and also set the elapsed time record and still didn't win on Sunday? In 1981 Bob Glidden had all the numbers on his side and he set the record, but like Mike he lost in the semi-finals when he had mechanical problems. And in 2005 Greg Anderson's Summit Racing car led all qualifiers and had the best car only to lose in the second round. So you see, it does happen, and as I say that's why we make the teams go out and race on Sunday, otherwise we would just give the trophy to the number one qualifier and go home. And when you figure that in the last thirty years the top qualifier has only won in Pro Stock six times at Gainesville then it's not so surprising that Mike didn't go the distance...Allen Johnson, who was one of the presenters at the Hall of Fame on Thursday night, is off to a much better start than he was a year ago. Did you know that after the Gainesville race in 2012 Allen had won exactly one round? And he was the top qualifier in Florida last year and was beaten in the first round. While his win probably didn't surprise anyone the fact that he beat Jeg Coughlin on a holeshot may have surprised everyone. Did you know that in his eighty-seven final rounds this was only the second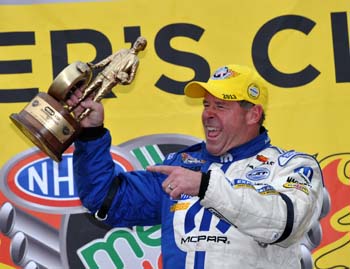 Johnson celebrates Pro Stock win.
time that Jeg lost on a holeshot? The other time was in 2008 when
David Connolly
beat him in
Sonoma
. It's also just the third time that Allen Johnson has beaten Jeg on a holeshot in any round and that's another reason why the outcome of the final round may have surprised a lot of people..As amazing as it may seem
did you know
that the final round in Pro Stock has been decided on a holeshot at the last five Gatornationals? And in the previous thirty-nine years of the event there were only four such wins including the first year, 1970, when Bill Jenkins beat Ronnie Sox on a holeshot...Speaking of national records and the early days of Pro Stock
did you know
that
Wally Booth
, who was inducted into the Hall of Fame last week, was the first driver to set a Pro Stock record driving a Camaro? He did it at the
Phenix City
point's race in 1970 when we went a blistering 136.98 miles per hour. And guess what, even though he set the record he didn't win the race,
Harold Dutton
did.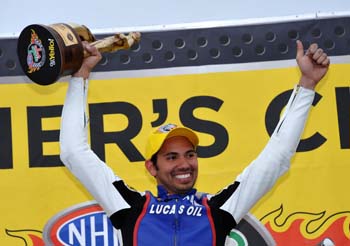 Arana Jr. celebrates win.
I'm not a real technical guy but it looks like the new rules in the bike class did what they were intended to do and that is slow the Harley-Davidsons down, or at least make all of the brands competitive. Of course one race doesn't make a pattern but it was a Buell and a Suzuki in the final round and that hasn't happened often in recent years. Did you know that a Harley rider had won seventeen of the last eighteen races?...Hector Arana Jr. won the race when he beat Steve Johnson in the final round and that may have been as surprising as the Pro Stock final. It was Hector's fourth win and two of them have come at the "majors" on the NHRA Mello Yello tour. He previously won the U.S. Nationals and now has added a win at Gainesville to his list of accomplishments. I guess we'll have to wait and see if the Buell and Suzuki riders are on the same level as the Harleys, but for now it looks like 2013 could have a different look to it in the bike class than last year did...Steve Johnson made it to his first final round since Englishtown in 2010 and that had to seem like light-years ago to the veteran rider. Congratulations to both Hector and Steve and I'm sure we haven't heard the last from the Harley teams..Eddie Krawiec, who had won the race in each of the last three years, started race day from the bottom half of the field and that's the first time he did that since the Chicago race in 2010. And did you know that his number ten starting position was his lowest since the Memphis race in 2007?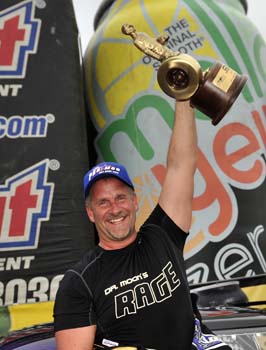 Smith celebrates Pro Mod win.
Von Smith, who had not run an NHRA Pro Mod race since the second race of the 2011 season returned to action in a big way. Von qualified in the number seven spot and beat Chip King in the final round to secure his fourth NHRA Pro Mod win. Nobody appeared to have a big performance advantage although the qualifying did slow down a bit when you got to the fourteenth spot, after all, who figured that a 6.55 would make the field? Anyway, it was a good start for the class, except for Mike Janis who had a nasty explosion and fire, and we look forward to more from the Pro Mod cars in the future..By the way, Mike and his team get a lot of credit for rebounding from that nasty fire to come back and race again, and it's that kind of spirit and determination that makes drag racing and drag racers so special...A funny think happened on the way to the final round in Top Alcohol Funny Car, both of the favorites, Frank Manzo and John Lombardo went out early and that left Todd Veney and Dan Pomponio to slug it out in the final round. Dan, who has been racing for as long as I can remember, and who I announced for a lot in my days at Atco Dragway, beat Todd to pick up his first ever NHRA national event win. Way to go, Dan..Frank started out the day in the number twelve spot and that is very "un-Frank like." Did you know that in his previous twenty-six trips to Gainesville the lowest Frank had ever started on race day was sixth? Like I said, that's why we make them go out and race, isn't it?.... Mia Tedesco made a couple of finals but failed to win either one. Still, going to a pair of finals in two tough classes is very impressive and I'm sure she'll get a chance at the "double-up" again in her career..Former World Champion Frank Aragona got his year off to a good start with a win in Competition Eliminator while former World Champs Anthony Bertozzi and Bo Butner also jump started their years with a win. The other Lucas Oil winners included Greg Kamplain and Troy Coughlin Jr. along with the reigning Division 1 champ, Rich McPhillips, who won the alky dragster class.