Sun, 17 Mar 2013, 19:45 PM



Smith Races to NHRA Pro Mod Drag Racing Series Victory



Courtesy of NHRA Communications


Photo copyright 2013 Auto Imagery, Inc.





At Season-Opening Amalie Oil NHRA Gatornationals



GAINESVILLE, Fla. --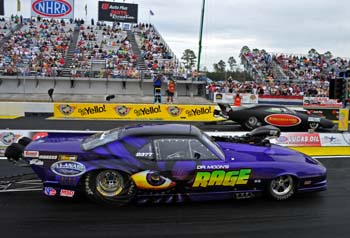 Smith defeated King
Von Smith raced to the season-opening victory in the NHRA Pro Mod Drag Racing Series Sunday at the Amalie Oil NHRA Gatornationals.
Smith, the 2010 world champion in the 250-mph doorslammer category, powered his '68 Camaro to the win over Chip King in the final round.
Smith covered the distance in 5.931 seconds at 244.60 mph to take his fourth career win in the class, while King fouled at the start in his '69 Dodge Daytona in his first career final round appearance.
Smith, who qualified seventh, advanced to his fourth career final round by outrunning defending world champ Troy Coughlin, No. 2 qualifier Danny Rowe and Pete Farber in the first three rounds.
With the victory, Smith opens a 22-point lead over second place King in the series standings.
The NHRA Pro Mod Drag Racing Series continues April 19-21 with the Dollar General NHRA Four-Wide Nationals at zMAX Dragway in Charlotte, N.C. The category will compete in the traditional two-lane format at the event.
Final round-by-round results from the 44th annual Amalie Oil NHRA Gatornationals at Auto-Plus Raceway at Gainesville, the race is the first of 10 events in the NHRA Pro Mod Drag Racing Series.
ROUND ONE -- Eric Dillard, Ford Mustang, 5.988, 250.60 def. Jimmy Keen, Chevy Corvette, 5.983, 238.76; Von Smith, Chevy Camaro, 5.967, 244.69 def. Troy Coughlin, Corvette, 6.036, 232.55; Rickie Smith, Camaro, 5.988, 240.77 def. Adam Flamholc, Camaro, foul; Raymond Matos, Plymouth Barracuda, 7.343, 224.58 def. Doug Winters, Chevy Bel Air, 7.700, 127.50; Chip King, Dodge Daytona, 6.111, 250.97 def. Kenny Lang, Corvette, broke; Pete Farber, Corvette, 5.946, 246.08 def. Clint Satterfield, Camaro, 6.174, 239.14; Danny Rowe, Camaro, 5.890, 248.80 def. Mike Knowles, Camaro, 6.309, 216.34; Mike Janis, Camaro, 6.799, 150.15 def. Mike Castellana, Camaro, 10.199, 82.51;
QUARTERFINALS -- King, 6.019, 245.14 def. Matos, 6.046, 232.55; V. Smith, 5.898, 245.99 def. Rowe, 5.913, 247.11; Farber, 5.914, 244.96 def. R. Smith, 5.981, 241.11; Dillard, 6.007, 249.49 def. Janis, 6.046, 238.38;
SEMIFINALS -- V. Smith, 5.899, 246.44 def. Farber, foul; King, 6.042, 249.90 def. Dillard, foul;
FINAL -- V. Smith, 5.931, 244.60 def. King, foul.