Tue, 12 Mar 2013, 19:58 PM



Viper Motorcycle Company Announces Marketing Agreement with Matt Smith Racing



Courtesy of Colbert Seagraves


Photo copyright 2013 Chris Simmons, BME Photography





AUBURN, Ala. --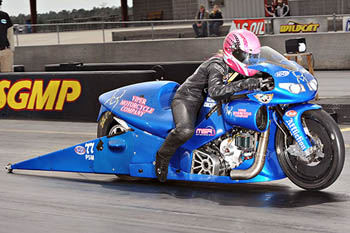 Angie Smith testing at South Georgia Motorsports Park.
Viper Motorcycle Company announces a marketing agreement with NHRA Pro Stock Motorcycle Team Matt Smith Racing (Riders Matt & Angie Smith and John Hall) for the 2013 NHRA Mello Yello Drag Racing Series season.
Matt Smith is a former NHRA PSM Champion (2007) who made a late season charge to finish 6th in points and was runner-up at the NHRA Las Vegas event in 2012, his wife Angie has competed in NHRA PSM since the 2007 season and ran a limited schedule in 2012 due to a lack of funding. She qualified for 3 of the 4 races she entered and survived a terrific crash at Norwalk, OH. John Hall's 2012 NHRA PSM rookie season saw him just miss out on the Countdown to the Championship and finish 11th in points. John will be riding for the victims of the Newtown shootings (Sandy Hook School Support Fund - Text Newtown to 80888) at Gainesville.
Viper Motorcycle Company VP of Marketing and Racing Operations Colbert Seagraves stated, "Matt Smith Racing did a great job promoting the Viper Motorcycle Brand in 2012. Matt tuned Michael Ray to a win in Dallas, his first as a crew chief and the first for Michael as a rider, it was also the only race not won by a Harley in 2012. We plan on providing MSR both support and Viper bodywork/chassis as soon as they are approved by NHRA. John Trutnau of PMFR and Bruce Ashmore of Ashmore Designs are designing and building our Viper PSM and have been working with the NHRA Tech Department since late last season. John has designed and built NHRA championship winning chassis and bodies, while Bruce has designed 3 Indy 500 winners, so we are really looking forward to getting them on the track and continue to raise awareness for the Viper brand."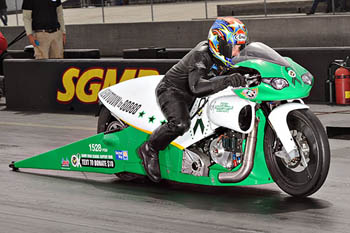 John Hall testing at South Georgia Motorsports Park.
"I am excited to be back racing again as a member of Team Viper, they build an amazing motorcycle, that offers both high performance and great looks. I am looking forward to going rounds and hopefully winning my first Wally," said Angie Smith
"I have ridden a lot of bikes but the Viper is just plain awesome, the Ilmor engine produces unbelievable power and performance. The 2012 season was both rewarding and frustrating at the same time. We made some huge gains at the end of the last season and I plan on continuing that improvement all the way to the winners circle in 2013," stated Matt Smith.
"I am proud to be riding for the Sandy Hook School Support Fund and want to improve on my successful rookie debut season. With Matt's help I am looking forward to making the Countdown this year," said John Hall
For more information visit our website at www.vipermotorcycle.com.