Tue, 05 Mar 2013, 17:36 PM



Frank, Jack and Darrell



By Bob Frey



It seems like I have been doing a lot of reading lately and that's a good thing. I mentioned
Doug Boyce's
Jr. Stock book earlier and got several nice notes from people who have already read it, and not surprisingly several of them were from guys who raced the popular cars many years ago. This week I picked up a copy of
Tommy Lee Byrd's
book called
"Lost Drag Strips…Ghosts of Quarter-Miles Past."
As I mentioned once or twice before I have been to over 200 drag strips in my career and several of them are listed in the book.
Pocono Drag Lodge
was always one of my favorites and so was
Connecticut Dragway
and they are both mentioned in the book. Tommy did a nice job and it would probably take another three volumes to even come close to mentioning all of the tracks that used to exist. I was at the
Atlantic City Car Show and Auction
on Friday and spoke with friends of mine who used to race at
Vineland Dragway
,
Langhorne
,
Strato Rods
(at McGuire Air Force Base) and other East Coast facilities, and while they weren't mentioned in the book they certainly fall into the category of "Lost Drag Strips." There are a lot of great pictures in the book and when you look at them you may say to yourself "I can't believe they actually raced on that track." I know that's the reaction that I had but then it was a different time and life was (or it seemed at the time) a little simpler. For anyone who has ever been to some of the old race tracks, especially some of the ones that are "down South," I can highly recommend the book if for no other reason than to spark a debate about which part of the country had the most or the best tracks. The picture of
Hudson Drag Strip
on the inside cover alone is worth the price of the book. Good job, Tommy, and I can't wait for Volume #2. By the way, I wouldn't have minded a little section on
Vargo Dragway,
one of the three tracks that I once announced at on the same weekend.
Atco
and
Cecil
County
were the others….One of these days I may do a story on the
Vineland
track that I mentioned because it was one of the best kept secrets in the sport. In the 1960's just about every big name star in the sport raced there and it was a lot of fun.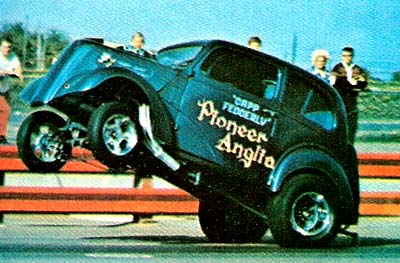 Capp and Fedderly Pioneer Anglia
Gainesville is on the horizon and that is always one of the great races on tour. With a very good pair of races in Pomona and Phoenix to start the year let's hope there is good weather in Florida so the NHRA Mello Yello series can get off to a really great start. Three good races to begin the year is just what everyone wants and needs. As you probably know there will be a lot of extra "stuff" going on in Florida and I'd like to mention a few of the events that will make the weekend even more special. Of course Thursday night will be the annual induction ceremony for the 2013 class of the International Drag Racing Hall of Fame and I am glad to say that I will be the host of the event again this year. I'm always honored to be a part of this event and anytime you can work with or for "Big Daddy" Don Garlits it's a real thrill. I always stop by his museum on Wednesday so I can tour the facility and spend some time in the inner sanctum with "Big" himself. Believe me when I tell you it's something that I wish every drag racing fan could experience. When I say that you just can't explain it I'm being honest….There are nine new inductions this year and I'll have a little more on that next week. One that should be especially nice is when Bernie Fedderly gets inducted. From what I hear his long time friend and racing partner, Terry Capp, will be doing the honors and there will probably be a guest appearance by John Force. Bernie is one of the truly nice people in our sport and it will be a joy to stand on stage with him as he gets this well deserved honor. Did you know that Bernie is already in the Canadian Motorsports Hall of Fame?....Frank Hawley is another member of that Canadian Hall of Fame and he will be involved with something special in Gainesville, too. Along with the reigning Funny Car World Champion, Jack Beckman, Frank will be presenting a seminar on the mental aspects of racing. With great résumés for both men it should be an interesting evening to be sure. If you have ever had a chance to talk with Frank you know that he is very cerebral in his approach to life in general and racing in particular. And Jack, well, he sure can talk, can't he? And I mean that in the most positive way. I've always enjoyed my conversations with both of them and I may even sneak in the back of the room to catch the lecture. It costs $59 and will be well worth it. Hey, when you consider that drivers will do just about anything to win, a night with a couple of great champions should be on everyone's "to do" list. You can get more information about the seminar by going to www.frankhawley.com/seminar.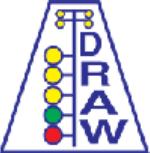 Before the Amalie Oil Gatornationals even begin the folks at DRAW will host their annual golf tournament. It will be at the Ironwood Country Club in Gainesville and will take place on Wednesday March 13. It's the first big fundraiser of the year for the group and it is always a very enjoyable day. If you would like more information on the event go to http://www.drawfasthelp.org. There are still openings for players and sponsors, and since DRAW helps injured racers all across the country this is a great chance for you or your company to have some fun and help your fellow racers at the same time. Teams are forming now and there are sponsorship opportunities from as little as $200 so check it out…..Also, during the Gatornationals there will be a track walk but this one is a little different than the others that are held during the year. This one is called the "Track Walk For Those Who Can't" and is hosted by Darrell Gwynn and his foundation. During the event Darrell will present a special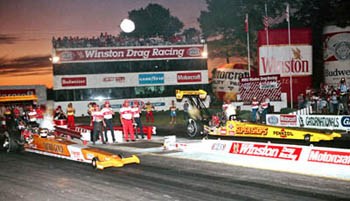 Darrel Gwynn vs. Eddie Hill
in '90 Gainesville final.
Photo copyright 2013 Auto Imagery, Inc.
wheelchair to an individual from the community and believe me when I say that it is a life-changing moment for that person. The cost to participate in the track walk is $20 and the goal is to raise $5,000. It's a great cause and a fun time so why not be part of it and make your Gatornationals' experience even better. You can sign up ahead of time by going to
Darell Gwynn Track Walk
. You can do this as an individual or as a team but either way you will help someone have a better quality of life. Darrell is one of the great people in our sport and it's always nice to be able to help him out. I've signed up so why don't you?
Did you know
that Darrell's last national event win before his accident was at the Gatornationals in 1990 when he beat
Eddie Hill
in the finals?
With all of that going on in Florida it's no wonder that the Gatornationals is one of the "must see" events of the year. I often have people ask me what my favorite event is and the Florida race is always near the top. One reason why is all of the activities that surround the event, another is the fact that the community really gets behind it and finally, and most importantly, it's all about the cars. It's the first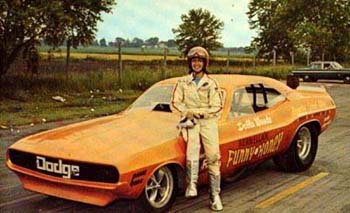 Della Woods
race in the East and it's the first time we will see drivers like
Chris Karamesines
and
Frank Manzo
plus the Pro Mods and the motorcycles will make their 2013 debut and all of that adds up to a great event.
Did you know
that the "Greek" was not at the first Gatornationals in 1970 but that
Bob Bofysil
and
Mike Martini
were and they both qualified for the Top Fuel field? Hey, it's my column and if I want to mention Bob and Mike I will…."Big Daddy" Don Garlits was the top qualifier at that first race with a 6.55 and he lasted until the semi-finals where he lost to
Jim Paoli
who then lost to
Dave Chenevert
in the final round…..
Did you know
that Funny Car was just an eight-car field at that first race and with all the talk about "Girl Power" this year
did you know
there was a woman in the Funny Car class at Gainesville in 1970?
Della Woods
didn't make the show but she was competing and she was one of the very early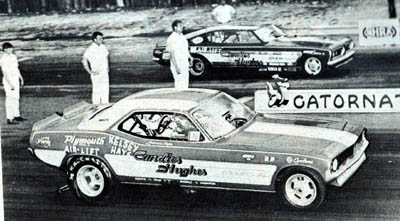 Leonard Hughes defeated Larry Reyes
pioneers for women in the Funny Car class at NHRA national events…If you are an avid follower of the sport you know that the first Gainesville Funny Car final featured an "all team" affair when
Leonard Hughes
beat
Larry Reyes
on a holeshot. Leonard ran 7.297 to Larry's 7.120 and
did you know
that run still remains as the biggest holeshot in Gatornationals' final round history?....
Bill Jenkins
and
Ronnie Sox
treated the Florida fans to a great final round at the 1970 inaugural event in Florida.
Did you know
that final round was also won on a holeshot? "Grump" went 9.905 to beat Ronnie's 9.860, and on the heels of his big win in
Pomona
that gave Bill a 2-0 lead in his rivalry with Ronnie, a rivalry that would turn out to be one of the best in drag racing history. And
did you know
that in his NHRA Pro Stock career that was one of only three rounds that Ronnie ever lost on a holeshot?
With a lot of attention being paid to the Mello Yello events I never want to forget the great sportsman racers who are out there. One of them, Jeff Lane, won the first Division 7 Lucas Oil race of the season in Phoenix this past weekend. They actually had a double header weekend at Firebird and that brought a lot, and I mean a lot of racers to the event. I point out Jeff's win in Competition Eliminator for two reasons. First of all I have said for a long time that he is one of the best, and maybe one of the most under rated drivers in the sport. Maybe it's because he runs out of the Northwest or maybe it's because he doesn't travel a lot, but any way you look at it he is very good. The second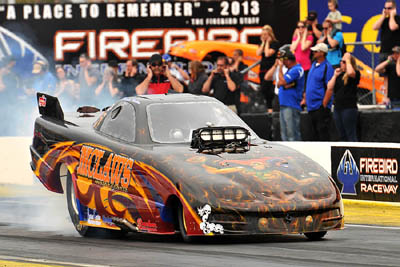 Charles McLaws
Photo copyright 2013 Bob Johnson Photography
reason is because this was the 40th divisional win for Jeff in his career.
Did you know
that moves him into sole possession of tenth place on the all time divisional win list? Congratulations, Jeff, and keep it up….
JR Lobner
also had a good weekend in the desert and he added a divisional win to the national event win that that he picked up in
Phoenix
the week before. Talk about a great start to the season….
Jay Payne
also won in Phoenix and that runs his total of divisional wins to sixty-seven and that's second best behind only Mr. Frank Manzo who has won 117 division races
…..John Lombardo
didn't win the Houston Division 4 race but he did run over 266 miles per hour and that got everyone's attention. Based on what we have seen from John so far this year it sure looks like he will be a factor in the run for the Top Alcohol Funny Car championship doesn't it?….And congratulations to
Shane Westerfield
and his team who did win the D-4 event, their fist Lucas Oil race win….As we all know everything in life is relative and even though he didn't run 266 mph I did want to congratulate
Charles McLaws
and his team for what they did at the D-7 race.
Did you know
that when he ran 5.655 - 257.92 they were by far the best runs in his career? This team has faced and overcome a lot of adversity through the years and a run like that has to be very satisfying for them. Nice job.….
Jeff Lopez
, the defending Super Gas National Champion opened his season with a win in
Houston
while
Pete Bothe
went to the final round at the Division 7 race in
Arizona
.
Did you know
that Pete has now been to the final round at the 2012 NHRA Finals, the 2103 Winternationals and now in
Arizona
? Pete also went six rounds in the first race of the double header weekend so he has a whole pile of points already and it's only the first week of March. That's some pretty good racing for a guy with a Porsche, isn't it?