Mon, 04 Mar 2013, 19:58 PM



Martin and Payne Take Home Trophies for Lucas Oil Event



Courtesy of NHRA Field Marketing


Photo copyright 2013 Bob Johnson Photography





CHANDLER, Ariz. --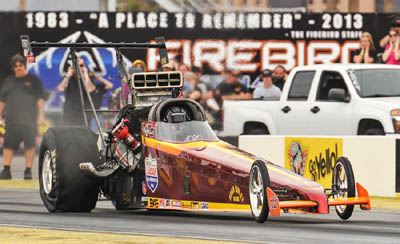 Ray Martin
Ray Martin and Jay Payne took home the trophies in Top Alcohol Dragster and Top Alcohol Funny Car in the second half of the double-header weekend for the NHRA Lucas Oil Drag Racing Series at Firebird International Raceway.
Martin, Anchorage, Alaska, defeated series hitter Chris Demke in round one and defending Lucas Oil National Champion and No. 1 qualifier Jim Whiteley in the final to take the title for this weekend's NHRA West Region opener. Martin made runs of 5.35, 5.42, and 5.39 seconds during Sunday's eliminations in a field stacked with competition.
Payne, a veteran NHRA regular out of Claremont, Calif., beat reigning NHRA West Region champion Annie Whiteley in round one, former Pacific Division champion Doug Gordon in round two and 5x Northwest division champion Brian Hough for the win and an invitation to the winner's circle celebration.
Local racers Ryan Giacone and Roger Griggs, both of Phoenix, worked their way through eliminations but came up one win short as they fell in their final rounds. Giacone lost to Dennis Padilla Sr., Arvada, Colo., in Super Street and Denny Alves, El Cerrito, Calif., beat Griggs in the Sportsman Motorcycle presented by Harley Davidson final.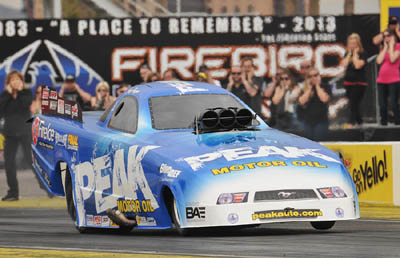 Jay Payne
In Comp Eliminator, it was Lou Ficco Jr., taking the win over Tom Mettler running 6.970 seconds at 187.55 mph in his '09 GXP while R.J. Torres and Michael Brand II won in Super Stock and Stock respectively. Torres put his '68 Mustang in the winner's circle defeating Darren Smith's '68 Dart and Brand, took out Richard Pauley in his '73 Firebird.
Mera Silvia, Upland, Calif., covered the quarter-mile in 7.347 seconds at 180 mph for the win over Chris Newman, Lancaster, Calif., and Steve Casner of Sheridan, Calif., went 166 mph in 7.105 seconds to Mark Colton Sr.'s 7.247, 190 mph.
Ken Mostowich and Jason Schade rounded out the weekend's winners as Mostowich, Calgary, Alb., won in Super Comp and Schade, Northglenn, Colo., won in Super Gas in his '65 VW Bug.
Pacific Division racers head to The Strip at Las Vegas Motor Speedway for their next NHRA Lucas Oil Drag Racing Series event, April 29-30.
The following are the final results from the NHRA Lucas Oil Drag Racing Series Pacific Division Double-Header event at Firebird International Raceway:

TOP ALCOHOL DRAGSTER: 
Round 1
4) Joey Severance, Woodburn, Ore., 5.425, 261.42 def.
5) Duane Shields, Boulder City, Nev., 14.026, 76.60

3) Ray Martin, Anchorage, Alaska, 5.354, 267.22 def.
6) Chris Demke, Tujunga, Calif., broke

2) Don St. Arnaud, Edmonton, Alb., 5.964, 181.50 def.
7) Megan McKernan, Sierra Madre, Calif., broke

1) Jim Whiteley, Grand Junction, Colo., 5.303, 271.30 def.
8) Johnny Ahten, Santa Clarita, Calif., 5.560, 247.43

Semifinals 
Martin, 5.423, 267.64 def. St. Arnaud, 5.415, 273.83
Whiteley, 5.274, 273.66 def. Severance, 5.515, 232.19

Final 
Martin, 5.394, 268.12 def. Whiteley, 7.909, 119.30

TOP ALCOHOL FUNNY CAR: 
Round 1
2) Doug Gordon, Paso Robles, Calif., '11 Mustang, 5.634, 255.19 def.
7) Terry Ruckman, Grand Junction, Colo., '08 Monte Carlo, 5.743, 253.99;

4) Charles McLaws, Winslow, Ariz., '03 Firebird, 5.655, 254.52 def.
5) Steve Gasparrelli, W. Covina, Calif., '06 Monte Carlo, 8.653, 105.34;

8) Brian Hough, Junction City, Ore., '11 Mustang, 5.669, 255.77 def.
1) Tony Bartone, Long Island City, N.Y., '09 Mustang, 5.632, 260.31;

6) Jay Payne, Claremont, Calif., '10 Mustang, 5.705, 256.31 def.
3) Annie Whiteley, Grand Junction, Colo., '10 Mustang, broke;

Semifinals 
Hough, 5.682, 256.75 def. McLaws, broke
Payne, 5.836, 255.15 def. Gordon, 8.145, 84.42

Final 
Payne, 5.627, 258.27 def. Hough, 5.763, 251.58

COMP ELIMINATOR 
Lou Ficco Jr., Wheat Ridge, Colo., '09 GXP, B/AA, 6.970, 187.55  def.
Tom Mettler, Bakersfield, Calif., '01 Dakota, PST, 7.412, 182.45

SUPER STOCK 
R.J. Torres, El Paso, Texas, '68 Mustang, SS/GA, 10.235, 123.26  def.
Darren Smith, Palmdale, Calif., '68 Dart, SS/FA, foul

STOCK ELIMINATOR 
Michael Brand II, Thornton, Colo., '73 Firebird, F/SA, 11.088, 118.35  def.
Richard Pauley, Saugus, Calif., '68 Mustang, C/SA, foul

SUPER COMP 
Ken Mostowich, Calgary, Alb., '05 Cavalier, 8.894, 171.86  def.
 Brandon Lynch, Hickman, Neb., dragster, 8.892, 183.39

SUPER GAS 
Jason Schade, Northglenn, Colo., '65 VW Bug, 9.902, 153.40  def.
Peter Bothe, Long Beach, Calif., '78 Porsche, 9.876, 145.64

SUPER STREET 
Dennis Padilla Sr., Arvada, Colo., '67 Chevelle, 10.920, 145.19  def.
Ryan Giacone, Phoenix, '88 Thunderbird, 10.931, 140.08

TOP SPORTSMAN 
Mera Silvia, Upland, Calif., '05 Cavalier, 7.347, 180.62  def.
Chris Newman, Lancaster, Calif., '08 Cobalt, 6.928, 193.10

TOP DRAGSTER 
Steve Casner, Sheridan, Calif., dragster, 7.105, 166.79  def.
Mark Colton Sr., North Bend, Ore., dragster, 7.247, 190.19

SPORTSMAN MOTORCYCLE PRESENTED BY HARLEY DAVIDSON 
Denny Alves, El Cerrito, Calif., '78 Kawasaki, 10.030, 121.46  def.
Roger Griggs, Phoenix, '07 Honda, 10.983, 115.86