Sun, 03 Mar 2013, 09:28 AM



Winter Doubles @ San Antonio Raceway, 2/2/13



By J.M. Hallas



SAN ANTONIO, Texas --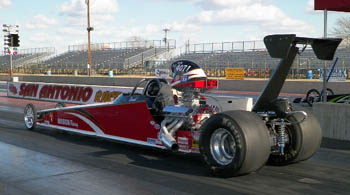 David Bills
Well if the groundhog had spent the day at San Antonio's Winter Doubles race number three, he certainly would have seen his shadow. After having the first two Winter Doubles races plagued by cold and/or rainy conditions, Mother Nature smiled on the group of drag racing enthusiasts gathered to race on the 1/8 mile at San Antonio Raceway. Temperatures in the mid-70's(eat your heart out northerners) made for nearly ideal conditions both on the track and in the pits.
The Winter Doubles races, though somewhat similar to what I refer to as the Red Fish, Blue Fish races, are two separate races wrapped into one day. As oppesed to two separate sides of a bracket leading to one finals. Two winners were scheduled to be crowned in the Electronics and No Box classes, with the Jr. Dragsters having one show and one winner. A split pot in one of the Electronics races worked out to one winner, and two co-winners instead.
Bills Best in Electronics race #1
San Antonio's David Bills used a .007 light to get the jump on Preston Pennington in the first finals and carried the advantage to the victory with both drivers nearly dead on their number. Bills, in the Mission Racing, 2008 TnT Dragster ran a 4.812 on a 4.80 dial, while Pennington ran a 4.677 on a 4.66.
David Bills, 4.812 @ 142.68 defeats Preston Pennington, 4.677 @ 138.25
Bills bought back in after a round 1 loss to Paul Schneider, and then knocked down Brian Miller, defending champion Michael Keylich, Candace Ritter and D. Deberry on his way to the finals. Pennington took out Carlos Carrasco sr., Bobby Mendez, Leroy O'Bryant, Todd Robinson and M. Echols to meet with Bills in the finals.
Co-winner Brent Ritter
Ritter/Robinson Split race #2
Corpus Christi's Todd Robinson(2008 Chevy powered Red Dragster) and San Antonio's Brent Ritter(2000 Chevy powered Undercover Chassis) opted for a clean split of prize money, and not to run a final round in the second Electronics race.
B. Ritter, who got a bye run in round 4, got by Preston Pennington twice, Danny Martinez jr. and David Bills in the semis. Robinson ousted Danny Martinez jr., Michael Keylich, Robert Garbs, M. Echols and Brett Zampese for his scheduled match up with B. Ritter.
Mitchan Two Wheels to Win race one
In a sort of an 'odd couple' final match up, Brandon Mitchan(San Antonio) on his Suzuki motorcycle went against the bone stock Toyota Tundra of Corey Fohn(Kyle). Mitchan spotted Fohn nearly five full seconds but was able to run him down on the top end to squeak out the win with both cutting almost identical lights.
Brandon Mitchan, 5.530 @ 123.66 defeats Corey Fohn, 10.078 @ 66.06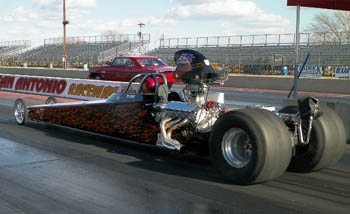 Co-winner Todd Robinson chasing Robert Garbs
Mitchan was forced to buy back in after getting taken down in round one, but rebounded with wins over R. Powers, J. Munsch, Robert Penn and a round 2 bye. Fohn, proving you only need a consistent vehicle not necessarily a fast one, took down J. Munsch, Dennis Soefje, Lloyd Mikeska, and J. Cram with a round 5 bye.
Joy for Jenke in No Box race 2
Austin's Jacen Jenke put his Austin Performance Plus Machine, 89 Mustang up against Jr. Dragster graduate, Michael Villareal(Corpus Christi) in his M&E Motorsports, Continental Batteries, 85 Camaro. After a timing/scoring delay, that may have slowed both cars, Jenke got the win light over Villareal who went through a steep learning curve in first full race.
Jacen Jenke, 6.939 @ 94.84 defeats Michael Villareal, 7.477 @ 91.72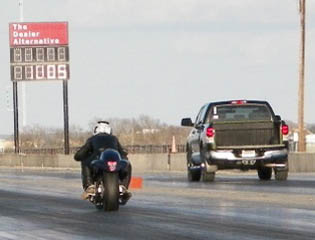 Brandon Mitchan chasing Corey Fohn
Jenke marched his way to the finals with victories over A. Baldwin, Carlos Carrasco jr., R. Cantwell, Lloyd Mikeska and a round 5 bye. Villareal worked his way past Lloyd Mikeska, R. Powers, Ruben Gallegos, J. Munsch and a round 4 bye.
Tumlinson Tops in Jr. Dragster.
Brandon Tumlinson(Victoria) was awarded the victory over Emily Ball(San Antonio) after a double break out in the finals. Tumlinson, in a 2011 Half Scale Chassis was the least offender with a 7.899 on a 7.90 dial while E. Ball posted a 9.068 on a 9.08 dial. Tumlinson met with E. Ball in round 1 as well taking a win there before a round 2 bye. E. Ball used a buy back then turned away Kenneth Hillin in round 2.
Brandon Tumlinson, 7.899 @ 82.49 defeats Emily Ball, 9.068 @ 68.57
Jacen Jenke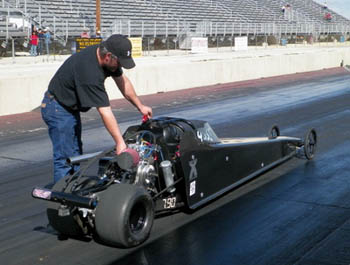 Brandon Tumlinson