Sat, 02 Mar 2013, 12:06 PM



CarSafe Joins Pete Berner as a Major Associate Sponsor



Courtesy of Lisa Collier



CRETE, Ill. --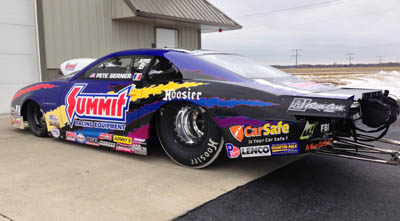 Pete Berner
Just in time for the promising 2013 season, CarSafe is coming on board the Summit Racing Equipment Extreme Pro Stock Camaro of Pete Berner in a major associate sponsorship role. This new partnership has Berner more excited than ever for the approaching season.
"We're obviously thrilled Mark Eckman and CarSafe are joining our team," Berner relayed. "I appreciate the opportunity they are giving me. Along with our new Crew Chief, Tom Pierson, I look forward to the added expertise and experience our team will have this year. We've not only become partners in this season but friends as well. Mark and Tom are helping me regain the level of focus I needed to win Championships. Now, things are turning around, and I believe we have the best team in the ranks and the right combination to have a chance at two championships in 2013."
As he alluded to, CarSafe's added support is giving Berner and team the opportunity to run both the ADRL and XDRL. Mark Eckman and the CarSafe company have had an impressive showing with their involvement in XPS over the last three years. Eckman looks to continue that success with Berner.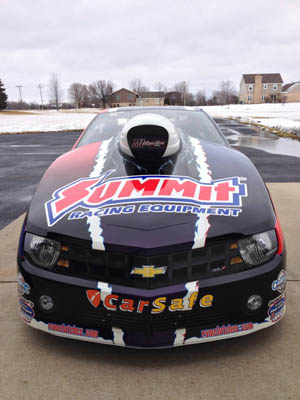 Pete Berner
"When we choose to no longer be an XPS team owner, our focus shifted to brand awareness of CarSafe," Eckman said of his XPS endeavors. "We are extremely excited with the opportunity to work with Pete Berner and the Team Summit XPS Camaro. Pete is a past Champion and our focus is to get him there again.
"This year CarSafe wants to create a strong awareness of the quality products we have available, and the peace of mind that comes from knowing a vehicle breakdown will not set race fans back. Pete and Cheryl Berner are true professionals and extremely competitive. They have aligned themselves with companies that exude professionalism, customer care and the best products on the market. These are values that CarSafe holds in high esteem as well, and we're happy to be on board with such a quality team. CarSafe is excited to run for the Championship in both ADRL and the newly formed XDRL with Pete Berner Racing."
"We'll be testing next week in preparation for the Dragpalooza IX at Rockingham," added Berner. "A lack of horsepower has never been our problem. Jerry [Jonota] and Mike [Slaviero] have been doing an awesome job in the engine shop. With a few bugs worked out, we're hoping to come out running in front. With CarSafe added to our wonderful team of sponsors - Summit, Braswell Carburetors, Hoosier Tires, RJ Race Cars, Ram Clutches, Penske, and Aeromotive - we now have all that much more resolve to do well and get back to racing the way we used to! I haven't been this determined in a long time, and the entire team is passionate about this season!"