Wed, 27 Feb 2013, 16:21 PM



IHRA Welcomes To-A-Tee, Inc. as Official Merchandise Company



Courtesy of IHRA Communications



To-A-Tee to Provide Exciting New Line of Merchandise for IHRA, Nitro Jam and Thunder Jam



NORWALK, Ohio --
Properties
In an exciting collaboration between one of the fastest growing merchandise companies in the U.S. and the nation's most exciting motorsports property, the International Hot Rod Association is pleased to announce that To-A-Tee, Inc., based in Indianapolis, Indiana, has been named the Official and Exclusive Merchandise Company of the IHRA, Nitro Jam and Thunder Jam properties.
Beginning in 2005 as a contract print company, To-A-Tee has experienced substantial growth over the past seven years as the company has expanded its custom design and event merchandise departments culminating with an exciting partnership between To-A-Tee and the all-new IHRA Motorsports to provide an exciting new merchandise line for the series.
"We are very excited to partner with the IHRA and its various properties. We have been looking for an opportunity like this for the past three years and with our experience and the needs of the IHRA this really is a perfect fit," said Lori Ryan, Director of Sales and Marketing for To-A-Tee Inc. "The IHRA is a perfect partner for us because of the growth we have experienced and of course the changes within the IHRA. The timing couldn't have been more perfect."
Founded in 2005 by Barb and Rich Young, To-A-Tee began as a custom print company handling contracts in and around the Indianapolis area. Within a few years the company had expanded to include national companies culminating with a venture into event, racer and track merchandising while further expanding its custom division a little over three years ago.
"We have dabbled around with other sanctioning bodies and some other race teams and when this opportunity came together with the IHRA we collectively agreed as a team this was where we wanted to be," Ryan said. "We have a great team of talented individuals at To-A-Tee that will be dedicated to the IHRA and focused on growing and caring for their merchandise line.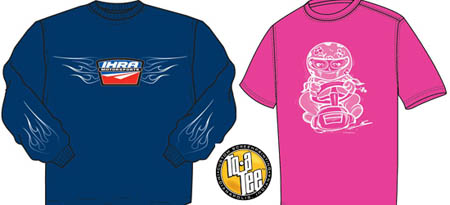 To-A-Tee, Inc. will be providing a brand new line
of IHRA, Nitro Jam and Thunder Jam merchandise.
"This is something we have a lot of experience and knowledge in and we are looking forward to expanding and growing the IHRA brand. We will be bringing attitude and excitement to the line that fans and racers will both enjoy."
To-A-Tee will be traveling to every Nitro Jam and select Thunder Jam events in 2013. The company will travel with the series carrying official event and series merchandise in addition to To-A-Tee's own Hot Rod Garage Apparel trailer. The company will begin by focusing on the core line including event shirts, headwear, decals and more for men, women and children. To-A-Tee will also be expanding the IHRA Motorsports line to include unique designs and items for fans of all ages.
In addition to on-site sales, To-A-Tee will also be launching a web store featuring all of its brand new IHRA, Nitro Jam and Thunder Jam merchandise.
"Having To-A-Tee as the Official and Exclusive Merchandise Company of the IHRA is a blessing. They are as passionate about their product quality and customer service as we are," said Aaron Polburn, President and General Manager of IHRA Motorsports. "Their initial designs are spectacular. The only downside is that this is going to cost me a fortune because I want one of everything I have seen so far!"
The 2013 Nitro Jam and Thunder Jam series run from March to October and include stops in nine states and two Canadian provinces. Both properties showcase family-friendly motorsports action featuring some of the fastest, loudest and most exciting race machines ever built. From 320 mph Top Fuel Dragsters to 30,000 horsepower flame-throwing jet trucks, Nitro Jam and Thunder Jam are two of the fastest growing motorsports properties in the country.
For more information on the IHRA and its various series visit www.ihra.com. For more information on To-A-Tee visit www.toatee.net.