Thu, 21 Feb 2013, 18:19 PM



'55 Chevrolets Rule!!



By Bob Frey


Photo copyright 2013 Auto Imagery, Inc.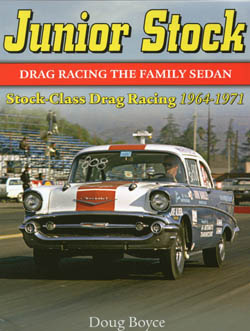 There is a new book out by Doug Boyce called "Junior Stock: Drag Racing the Family Sedan." A lot of today's drag racing fans my not even know what a Jr. Stock car is, but believe me, they played a big part in the formative years of the sport. Doug has done a good job of capturing the essence of these cars which were primarily General Motors entries and, for the most part, 1950's vehicles. While there were certainly exceptions to that statement most of us who grew up with the Jr. Stock movement remember all of the "Tri-Five" Chevrolets that used to dominate the class. Skip Asay, the Gunning Brothers, John Archambault and the Wheatley Brothers are just a few that I remember fondly from my days announcing at Atco Dragway. Ted Harbit ran (and still does run) a Studebaker and Mark Coletti had a Mopar, but if you wanted to win in the Jr. ranks chances are you would have to beat a Chevy along the way. While these cars are basically extinct today imagine how cool it was to look at the list of cars at the recent Winternationals and find a 1955 Chevrolet, and not just any Chevrolet but a '55 Chevy station wagon on the entry list, and it wasn't running in Stock it was competing in Super Stock Eliminator.
Gene Bichlmeier is the man who drove the classic car at Pomona, and while he is certainly no newcomer to the racing scene or even to the '55 that he ran, he did say that he got more than his fair share of attention at the Winternationals. "Let's just say there were a lot of tire kickers there," he said with a smile. And why not, after all there aren't a lot of 1955 Chevrolets in competition in any class these days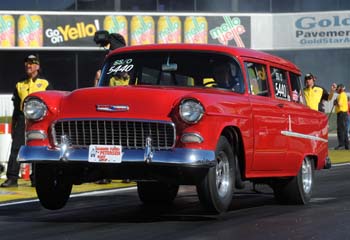 Gene Bichlmeier
let alone in Super Stock. "I have actually had this car for almost forty years," he said. "I raced it with a friend back in the 1970's. It was a SS/P car at the time and he drove it and I worked on it and when he decided that he didn't want to drive any more I just parked it in the garage." And there it sat for all these years before Gene decided to bring it out again. "It's just a classic car and it's a lot of fun to drive, although I do have to say it takes a little getting use to after driving my Chevy II for all these years."
The Chevy II that Gene mentioned is probably the car that is most familiar to drag race fans across the country since he has been racing it for quite some time. "I started racing with the Chevy II body style in 1983 and tried a couple of different models before settling on the hardtop and that's the car that I have been running for years." In 1997 he took the car to the championship at the Winternationals and a few years later he was back in the final round at Gainesville. That 1997 race was his first ever NHRA national event win and to do it he had to beat a youngster by the name of Jimmy DeFrank in the final round. "Pomona has always been one of my favorite tracks," he added. "I live in Nebraska and was in the construction business for over forty years, and with the winters we have there you don't do a lot of building in the winter and that leaves a lot of time for racing." With a few exceptions Gene has been at the Winternationals for the better part of twenty five years. "I usually travel with a few friends and we spend several weeks out West. I'm getting ready for the Phoenix race right now and I'll stay out here for the first couple of divisional races, too. It's a nice way to start the year while we wait for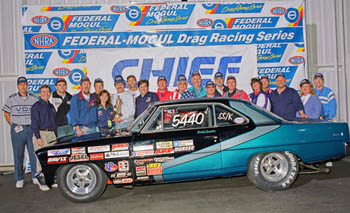 Gene Bichlmeier celebrates
1997 Winternationals win.
the thaw at home." Speaking of home that's where his wife of forty seven years is waiting. "Lavone loves the races and she'll come to a lot of them with me but she decided to stay home this year." With a temperature reading of about ten below zero in Nebraska right now she may want to rethink that decision!
While Gene attracted a lot of attention with the car it should be noted that he has been doing this and doing it well for a very long time. I spoke to his wife who told me that they had "a lot of trophies" at home over the year and that made for "a lot of dusting." While some have since been donated to the Scout groups in the area she still has some in the house. "He has had a lot of success over the years and I'm very proud of him," she said. And rightfully so, after all, Gene began his racing career in the mid 1960's and won his first NHRA race at Donneybrooke Speedway in Brainerd, Minnesota in the spring of 1971. "I had another small-bock Chevy that I ran in the Modified Eliminator back then. It was a Camaro with a 283 cubic inch engine." If you see a pattern developing it's because Gene has always raced Chevrolets, and some even more unusual than his '55. "I had a Malibu station wagon with a 396 engine and a four-speed," he said. "Most people had never seen a car like that but they are still in the classification guide." Just for the record at that 1971 race that he won Gene beat Tom Schmidt in the final round and he shared the winner's circle with a couple of drag racing legends, Judy Lily and Bob Lambeck.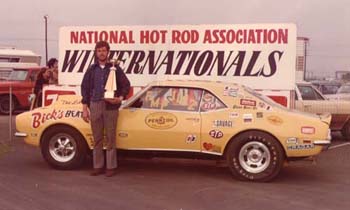 Bichlmeier at the 1972 Winternationals.
Even though the station wagon didn't do quite as well as he had hoped for at Pomona Gene says that he enjoyed the event and he has big plans for the car. "I'm going to fix it up, do some cosmetic things to it, do a little more work on the engine and then sell it." Really? "Yeah, my wife says I have enough cars so something has to go," he said with a laugh. After almost half a century of marriage I guess Gene knows when to hold 'em and when to fold 'em. And while he is in Arizona with his friend, Ron Roddel (who just happened to be the number one qualifier in Super Stock at Pomona) Gene says they are checking out a couple of other nice Chevrolets. "We looked at a beautiful 409 bubble-top car the other day," he said. "We're both gear heads and Chevy guys so anytime you can get a look at something like that it's hard to pass up." Gear heads may be an understatement since Gene admits to putting in a lot of time on his friend's dyno. "Yeah, we probably have logged more time on that dyno for my car than all of his other customers combined." It's that kind of dedication that has made Gene such a consistently good racer for such a long period of time.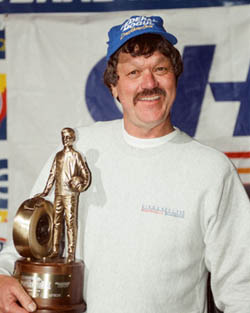 Bichlmeier with his Wally.
Whatever the future holds for his 1955 wagon one thing is sure, Gene will continue to race and Lavone will continue to support him. "It's great to have her support me like she does. I love everything about the sport and hope to be able to do it for a long time." With or without the '55 you can look for Gene Bichlmeier to make a return trip to the winner's circle in the near future and bring home another trophy for Lavone to admire. And dust!