Tue, 19 Feb 2013, 22:55 PM



It's Official!



By Bob Frey


Photo copyright 2013 Auto Imagery, Inc.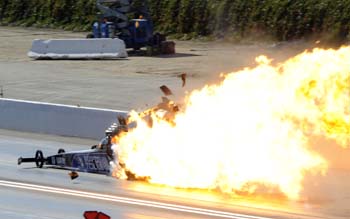 Antron Brown's big explosion.
I am now officially retired! I know you thought that I retired at the end of last year, but since I would have been off for the past three months anyway my retirement didn't officially begin until the 2013
NHRA Mello Yello Drag Racing
season began and that was last Thursday. After a very nice gathering with friends and family on Saturday I sat back, checked in with
DragRaceCentral.com
over the weekend and saw the results of what was a wild weekend in
Pomona
. >From
Courtney Force
qualifying number one and winning the race to
Antron Brown's
spectacular crash, from the unbelievable final round in Top Fuel to the classic final round in the Top Alcohol Dragster class, from
Jimmy DeFrank's
unusual double-up (because they had to run the Super Stock final twice) to
John Lombardo's
second consecutive win at Pomona, the latest running of the Winternationals certainly seemed to have something for everyone..Before I go on I should mention that I think Courtney's performance was every bit as spectacular as
Danica Patrick's
, even more so because Danica still hasn't won anything in her NASCAR career. Courtney has so much going for her and I hope NHRA can capitalize on it because she can do great things for the sport, but I'm afraid she'll get overshadowed by Danica this week and this year. I shudder to think what will happen if Danica should happen to win Daytona. Anyway, drag racing fans should be thankful for what we have and that is our own great representative who is also a wonderful driver. See the things I think about now that I'm retired.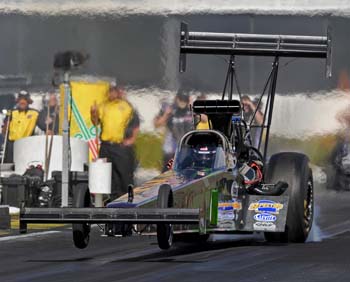 Leah Pruett
Antron Brown's crash will certainly get a lot of exposure, and while I don't know if that's good or bad it sure is good that he walked away from the incident without any serious injuries. That's a tough way to start the season and with only days before the next race the Matco Tools team will really have to hustle to get ready for the race in Phoenix this weekend. As far as I can tell, when he failed to show for his semi-final race, that was the first time in his drag racing career, either on a motorcycle or in a Top Fuel car, that Antron ever missed a round..The Top Fuel field included three rookie drivers who were all making their first national event start in the "big cars" and that's very unusual. Brittany Force, Leah Pruett and Sidnei Frigo all made a little bit of history and all should be pleased with their performance. Did you know the last time that three Top Fuel drivers made their first start at the same race was at the Winternationals in 2009? That year there were actually four drivers, Del Cox, Steve Faria, Andy Carter and Shawn Langdon who debuted at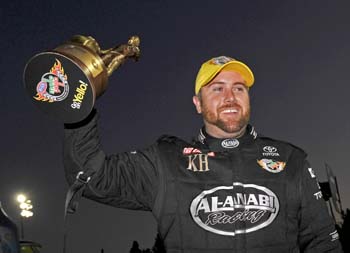 Shawn Langdon celebrates win.
that race. Before that you would have to go back to the Winternationals in 1997 when
Gary Scelzi
,
Spike Gorr
and
Cristen Powell
all made their first Top Fuel start to find three new drivers all making the field for the first time. Having three new drivers all make the field is very impressive and is good for the class and the sport. Congrats to each of them for a good showing and good luck the rest of the year..The entire weekend in Top Fuel was spectacular and
Tony Schumacher
must be wondering what a guy has to do to win a race. He ran 3.747 in the final round and lost!
Shawn Langdon
belted out a stunning 3.721 and he coupled that with a .011 reaction time and that's going to win a lot of races.
Did you know
that Tony was 10 -5 against Shawn coming into the final round but that Shawn had left the starting line first in eleven of those fifteen previous meetings? Now with a great reaction time and a thundering run on the track the
Al-Anabi
car is in the points lead and that's a first for Shawn in Top Fuel.
Did you know
that Shawn is the 42
nd
driver to lead the Top Fuel points since the point's system went into effect in 1974? Of course several of those leaders only held it because they won the Winternationals but something tells me that this isn't the last time Shawn will be at the top of the pack..The win was his second and that moves him out of that "one hit wonder" category, and for any driver that's a good thing. Now he joins such greats as
Mike Snively
,
Pete Robinson
and
Bennie Osborn
as two-time Top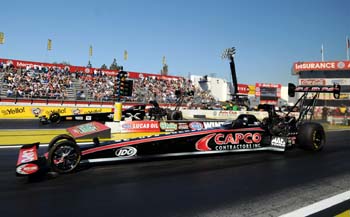 Steve Torrence defeated Spencer Massey
Fuel winners..Tony Schumacher continues to run very well and he should be counted on as a real threat to regain the Top Fuel title. This was Tony's 120
th
final round and that moved him past
Kenny Bernstein
and into seventh place on the all-time NHRA list. The
Army
car is for real and
Mike Green
and the crew continue to do a great job with the car and Tony's not too bad, either..
Don Schumacher
and
Spencer Massey
held a joint press conference on Thursday to answer any and all questions about their break-up and reconciliation. I said last week that I hope this ordeal is over and I hope that their appearance before the media puts it to rest once and for all..
Steve Torrence
beat Spencer on a holeshot in round one and that, in itself, is news. As we all know Spencer is very good on the line and he doesn't get beat that way very often.
Did you know
that this was just Spencer's second holeshot loss in his Top Fuel career? On the other side of the coin he has eight holeshot wins and two of them came last year and, ironically, they both came against Steve Torrence. For his part Steve led the class last year in holeshots and it looks like he's picking up right where he left off.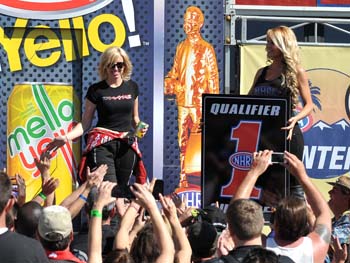 Courtney Force qualified No. 1
for the third time in her career.
Courtney Force dominated the Winternationals like very few Funny Car drivers have in the past and that's saying a lot. She qualified number one and did you know that she became just the fifth Funny Car driver in the last thirty-six years to win the season-opener from the top spot? But here's an even more amazing little tidbit. In addition to her number one spot Courtney also set low elapsed time and top speed. Did you know that in the entire history of the Winternationals she is just the third Funny Car driver to sweep the event and she's the first to do it since Don Prudhomme in 1977? In fact, the "Snake" is the only other driver to accomplish that and he did it in back-to-back years in 1976 & '77. With the long history of this event, and remember Funny Cars have been part of it since 1969, Courtney and Don are the only two to run the table at the year's first event and that's amazing, so in just her second year of racing Courtney has already done something that her famous father never did..Courtney got a break in the semi-finals when Bob Tasca fouled out. Red lights in the Funny Car class are very rare (although there were two on Sunday, Tim Wilkerson had the other) but I'm sure Courtney and her team will gladly take a win like that anytime, especially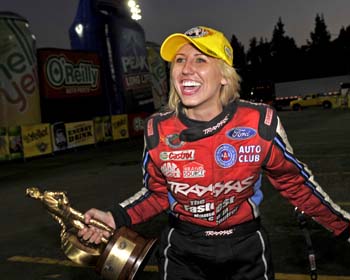 Courtney Force celebrates win.
when she slowed to a 10.422 elapsed time. I guess that old adage is true that you need at least one lucky round if you want to win one of these races.
Did you know
that Bob had three previous red lights in his career and that they all came against
Cruz Pedregon
? This was his first foul start since the 2009 season and it couldn't have come at a more inopportune time.With the win Courtney becomes the 40
th
driver to lead the Funny Car points. Now if she can say that she's the leader after the next race in
Pomona
that will really be big news..
Ron Capps
didn't win but he did have a very good weekend and it looks like the
NAPA
team hasn't missed a beat since last year. Ron's run with
Johnny Gray
in the semi-finals was an epic match and he needed all of the
Rahn Tobler
horsepower to get the win. Johnny ran 4.056 and lost, so like Tony he's trying to figure out what you have to do to get a win..Poor
Gary Densham
, on one run his parachute never came out and he ran off the end of the track and then in eliminations it comes out as soon as he takes off and he loses. Still
Gary
and his crew chief, Greg
Amaral
, were very impressive and they could make life miserable for some of the full-time touring pros if they show up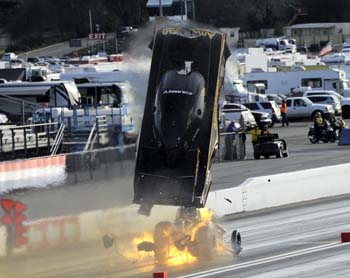 Tony Pedregon had big
engine explosion on Friday.
at a lot of races this year..And
Tony Pedregon
might want to give some thought to just skipping the Winternationals. As if his world famous explosion there a few years ago wasn't enough Tony did it again this year. As I often say, unless you're winning the race it's never good to hear the folks at
ESPN
say "let's take a look at that from another angle." Besides the explosion Tony also had a tool box stolen from his pit area so he should just chalk this up as a lost weekend and move on. Of course that's easy for me to say because I don't have to pay the bills.
I mentioned last week about the group of Hemi-powered cars that were going to be at Pomona and I told you that they were all good, quality cars. Well, in the end, it was a pair of Hemi Dodges that met in the final round, a wacky final round that saw Vincent Nobile beat Jeg Coughlin when Jeg fouled out. That's right Jeg fouled out! After a holeshot win in the semi-finals over V. Gaines Jeg lit the red bulb in the money round. Did you know that was just the third time in his career that Jeg has fouled out in a final round? He only has twelve foul starts altogether in his 727 rounds of racing and that,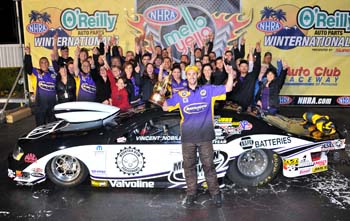 Vincent Nobile celebrates win
with Mountain View Tire team.
in itself, is amazing. Still, in the end it was Vincent who got the win and he's the point's leader for the first time in his career. Just like Shawn who joined some legends with his win Vincent is now on a list that includes
Bill Jenkins
,
Don Nicholson
and
Ronnie Sox
as winners of the Winternationals. I wonder if Vincent realizes how cool that is? If there is one thing I missed by being retired it was the wild and wacky celebration that had to take place after Vincent won. His father, John, the Mitsos family (and especially Irene) and all the folks at
Mountain View Tire
really enjoy racing and they absolutely love winning and it shows and that's a good thing.The final round was wacky because Vincent almost didn't get his to car back to the starting line after the burnout and then Jeg, who had shut his car off to wait for his opponent, almost couldn't get his car started again. Whether that had anything to do with the red light we'll never know, but what we do know is that two Dodges were in the final round at the Winternationals for only the second time in history and for the first time since
Darrell Alderman
beat
Scott Geoffrion
in the final in 1995...
Mike Edwards
set the pace in qualifying with his new Camaro but those pesky new car blues set in in round one when he lost to
Chris McGaha
and his Dodge.
Did you know
that this was just the seventh time in the history of the event that the top qualifier in Pro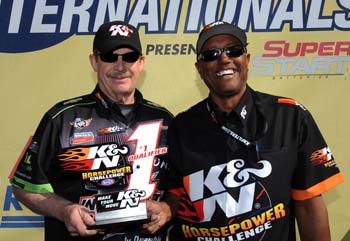 Mike Edwards receives the K&N Filters
Horsepower Challenge award.
Stock lost in round one? When Mike grabbed the number one spot he joined a very select group.
Did you know
that he became the first driver to qualify number one at the Winternationals in a Camaro since
Joe Lepone
did it in 1986? By the way, Joe also lost in round one in 1986, and while I know that won't make Mike feel any better but I just wanted to point it out.Make no mistake about it Mike has a good car and even though it says
"I Am Second"
on it he will be first a lot of times this year..V. Gaines also ran well and, as I pointed out a few weeks ago, I think he is poised to have his best season ever...V. and Mike were just two of the many cars that looked great thanks to wraps by the folks at
Fineline Graphics
.
Did you know
that half of the Pro Stock field had their cars wrapped by Fineline? I just mention that because I think it's a great process, helps the cars look great and makes it overall a better experience for racers and race fans. And I'm not even on commission!!
Jim Whiteley and Chris Demke squared off in another classic final round and Jim, the reigning Lucas Oil World Champion, picked up his twentieth national event win. Those two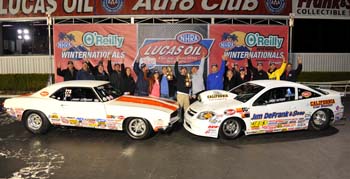 Jimmy DeFrank celebrates double-up.
can always be counted on for a good race and this one was no exception.
Did you know
that Jim's twenty wins have him in the fifth spot overall in the Top Alcohol Dragster class? Not bad for a guy who has only competed at fifty-eight races, is it?...Jimmy DeFrank finally "doubled-up" at a national event when he won both Super Stock and Stock Eliminators. After a faulty start caused by a photographer's flashbulb, Jimmy and
Mike Cotten
re-ran the final in Super Stock and that gave Jimmy his second win of the weekend.
Did you know
that this was Jimmy's third attempt at a double and he finally pulled it off..
Pete Bothe
made it to the final round of Super Gas for the second consecutive Pomona event and, for the second time, he came up a bit short. Pete lost to
Ryan Herem
at the NHRA Finals last November and lost to
Rick Beckstrom
this time. Still, to make back-to-back finals in the rugged Super Gas category, and to do it in a Porsche, is very impressive.
John Lombardo Jr.
won his second straight race at Pomona when he beat
Jason Rupert
in the Top Alcohol Funny Car final round. John and his
NAPA
team have to be considered top contenders for the championship this year and it looks like he can run with anyone in the class.
Ross Wilson
and
Phil Dion
rounded out the Lucas Oil winners when they both notched their first NHRA national event wins. Congratulations.