Mon, 11 Feb 2013, 21:20 PM



System 51 Expands Sponsorship to Include JFR Race Teams



Courtesy of Elon Werner


Photo courtesy of Gary Nastase





YORBA LINDA, Calif. --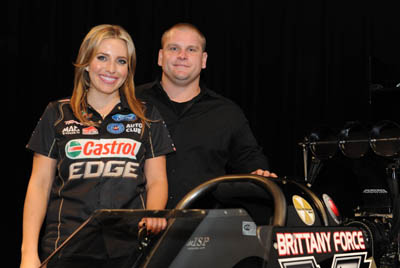 Brittany Force and Jeremy Porrazzo, President, System 51
John Force Racing today announced that longtime Holiday Car Show sponsor System 51 will expand their relationship with the 17-time Funny Car championship team with a multi-year sponsorship program. Beginning with the 53rd annual O'Reilly Auto Parts NHRA Winternationals System 51 advanced polishes and waxes will be in the John Force Racing pit area and on the Ford Mustang Funny Cars and Top Fuel dragster.
"We are excited to be expanding this relationship to the race teams. System 51 has really supported the Holiday Car Show and they have also been involved with Jay Leno's Garage. We have added a number of new partners this off-season but we are always happy to expand existing relationships. You'll see their products in our pits and they really do a great job of giving our race cars the perfect polish," said John Force.
SYSTEM 51 Pro Cut Cutting Polish is a single product polishing system that removes properly color sanded scratches, swirl marks and other paint imperfections. SYSTEM 51 Pro Cut Cutting Polish uses engineered abrasives instead of diminishing abrasives to safely polish paint to a perfect finish - with one product and two buffing pads. System 51 uses a water-borne nanotechnology to manufacture its entire product line.
"System 51 Advanced Waxes & Polishes is proud to announce that we will be the exclusive advanced waxes and polishes for John Force Racing. System 51 will work together with John Force Racing to ensure that every time fans see the JFR race cars in the staging lanes or on the starting line they will have a high horsepower shine. System 51 Advanced Waxes & Polishes is an industry leader in specifically formulated water-borne products to polish and protect any painted surface and JFR is the industry leader in winning so it is a perfect match," said Jeremy Porrazzo, President, System 51
The John Force Racing Ford Mustang Funny Cars will benefit from the System 51 Pro Cut Cutting Polish which offers an even, consistent, optically pure finish while virtually eliminating the possibility of surface burn and swirl marks. The System 51 Replenish Wax which will be applied after every pass was developed in a body shop for high-end autos that deserve the finest high-gloss finishes, custom engineered System 51 Replenish Wax is an easy to use carnauba product that cleans, beautifies and protects. Additionally the team will use the System 51 Detail Line that consists of Hand Wash Shampoo, Multipurpose Cleaners, Window Cleaner and Tire Dressing. For additional information on System 51 visit http://www.systemfiftyone.com