Mon, 11 Feb 2013, 18:40 PM



Maple Grove Honors Champions at Money Trail Banquet



Courtesy of Evan Jones


Photo Credit: Don Carrick/Studio 413





WYOMISSING, Pa. --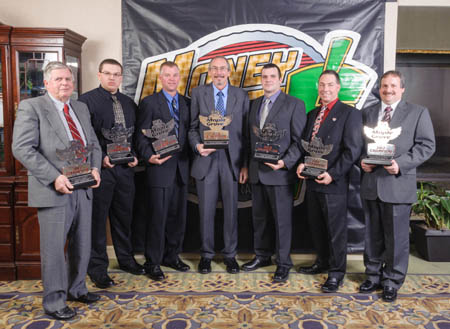 Maple Grove Raceway's 2012 Money Trail champions, from left,
Glen Hartzler (White House Station, N.J.), Stock/Super Stock;
Jimmy Fizz (Pottstown, Pa.), Jr. Dragster; Paul Thimm Jr. (Mohnton, Pa.), Pro;
Paul Werner (Sinking Spring, Pa.), Street; Kyle Gockley (Mohnton, Pa.), Top Bike;
Rick Terkowski (Gilbertsville, Pa.), Super co-champion;
and Barry Sauder (Ephrata, Pa.), Super co-champion.
Despite the snowy weather outside, dozens of Maple Grove Raceway's best racers crowded the ballroom at the Crowne Plaza Reading Hotel Saturday night for the 50th annual Money Trail Awards Banquet.
Over $30,000 in cash, trophies and contingency awards was handed out during the ceremony to the top 51 drivers in the five Sunoco Race Fuels Money Trail series classes and the Universal Technical Institute Junior Dragsters.
Dozens of racer, whether or not they were in the money were on hand. It's a great tradition that Maple Grove management is looking to continue far into the future.
"After the affair we had time to reflect on what the banquet means, not only to the champions and other honorees, but to the loyal family of racers that annually look forward to the mid-winter party," said MGR vice president/general manager Lex Dudas. "The banquet not only honors our champions, but it gives us a chance to reflect on our past, present and future of our great sport. We're proud to announce the affair will continue on in it's traditional early February date for next year and hopefully, beyond.
There was an extra champion's trophy handed out this year because Rick Terkowski and Barry Sauder both finished tied for first in Super Eliminator. A new category was also recognized as Glen Hartzler took home the trophy in Stock/Super Stock.
Also, Paul Thimm Jr. (Pro Eliminator), Paul Werner (Street Eliminator), Kyle Gockley (Top Bike) and Jimmy Fizz (Junior Dragsters) were recognized for their season championships in their respective classes.
Terkowski, from Gilbertsville, Pa., was forced to share the Gold Rush Trailers Super championship after Sauder caught him in the standings on the final day of the season. He won one race, along with two quarterfinal and one semifinal finish in his '2001 Ed Quay dragster.
Sauder, of Ephrata, Pa., had a handful of first-round losses during the season but made up for it with several higher results including one victory and one runner-up finish in his '72 Nova.
Thimm, of Mohnton, Pa., won his first Ciccarone Racing Products Pro championship since 2009 and his fifth overall. He was behind the wheel of a new car this season, a '27 Ford roadster, and once he got it broken in he dominated. He won his first race on June 20 and won again on July 14 to take a commanding lead in points.
Werner, from Sinking Spring, has become a familiar sight on the banquet stage, as this was his 10th championship. In winning his first P.C. Richard & Son Street title since 2010, Werner and his '80 Malibu wagon won the season's first race on May 12 and then won again on June 30 and July 28. Runner-up finishes on May 19 and Sept. 1 helped assure a big lead in points when it was over.
Gockley, Mohnton, Pa., took his first Ray's Yamaha/Polaris/Victory Top Bike championship with an impressive string in which he wasn't eliminated in the first round for much of the season. He won back-to-back races on June 2-3 to take the points lead and didn't let it go the rest of the way.
Fizz, of Pottstown, Pa., ended his UTI Junior Dragster career by grabbing the lead late in the season and holding on to it. He was runner-up on Aug. 26 and clinched it with a victory on Sept. 1. Also won on May 20 and July 7.
Hartzler, of White House Station, N.J., was the winner of the Penske Truck Leasing Stock/Super Stock Series, which debuted in 2012 with a four-race schedule. He claimed the title in his '72 Barracuda with one runner-up and two semifinal finishes.
The 2012 MGR Walk of Fame class of Raymond Beadle, Frank Hawley, Don "The Snake" Prudhomme, Dale Pulde and the Eastern Custom Car Association were introduced by former track manager Mike Lewis. They were formally inducted during the 50th Anniversary Spectacular last June.
It was announced that Gold Rush Trailers (Super), Ciccarone Racing Products (Pro) P.C. Richard and Son (Street), Ray's Yamaha-Polaris-Victory (Top Bike) and UTI (Juniors) would be coming back in 2013 as series sponsors.
Scott's Transmission of Lebanon, Pa., will return as the weekly Top Dog Award sponsor. The $100 prize goes to the best final-round winning package at each Money Trail race.
D&G Golf Carts, Potty Queen, Awesome Vinyl and P.C. Richard & Son will once again sponsor the Money Trail E.T. Shootout at the Auto-Plus NHRA Nationals in October. The champion wins a golf cart and the runner-up a 32-inch TV.
Appreciation awards were presented to Dave Ley of the East Coast Stock/Super Stock Association and racer Marty Rinehart Jr. for their support of the new Money Trail Stock/Super Stock series; and Rory Ulrich of MGR Event Services for helping a lost customer reunite with his family during the Auto-Plus Nationals.
Team member Billy Kleinspehn was named MGR's Rookie of the Year. Racers also presented team member Mark Carey with a check for $3,610 to help with medical bills.
Track sponsors for the 2012 season were also recognized. The list included Advanced Control Devices, ASR Street Machines, ATI, Auto Locator, Auto-Plus, Awesome Vinyl, The Beer Mart, Berks Packing, Boninfante Performance Clutches, Bortek, Bricker's Famous French Fries, Calvaresi Winery, Ciccarone Racing Products, Clark Industrial/Profile Trailers, Coca-Cola, Competition Tire East, Conestoga Buildings, D&G Golf Carts, D&W Motorsports, Dennis Ridgeway Enterprises, Duracell Batteries, E&G Food Concessions, Eisenhauer Nissan, Fire and Rescue Products, Galfand Berger, Glass & Sons Collision, Gold Rush Trailers, Goodyear, Hampton Inn Wyomissing, Holiday Inn Morgantown, Hudson Performance, Insinger Performance, Jerry's Concessions, Jesel, Johnny's Pizza, Lucas Oil, Nickerson Performance, NitroFish, P.C. Richard & Son, Paintin Place, Penske Truck Leasing, Potty Queen, PPC Lubricants, Precision Chassis, Pypes Performance Exhaust, Ray Barton Racing Engines, Ray's Yamaha-Polaris-Victory, Reading Hospital and Medical Center, Reading Kubota, Renninger's Service, Rita's Water Ice, RINOX, S&W Race Cars, Safety Kleen, Scott's Transmission, Stine's Designs, Stoner Products, Styer Insurance Agency, Sunoco Race Fuels, The Pig Pit, Transmission Specialties, Triangle Communications, U.S. Air Force, Universal Technical Institute, VP Racing Fuels, Van Bennett Food Co. and Walker's Mowers & Equipment.