Sat, 09 Feb 2013, 19:27 PM



Interstate Batteries, I am Second will Power Edwards in 2013



Courtesy of Mike Edwards Motorsports



Battery Leader, Faith-based Ministry will Help charge Mike Edwards Motorsports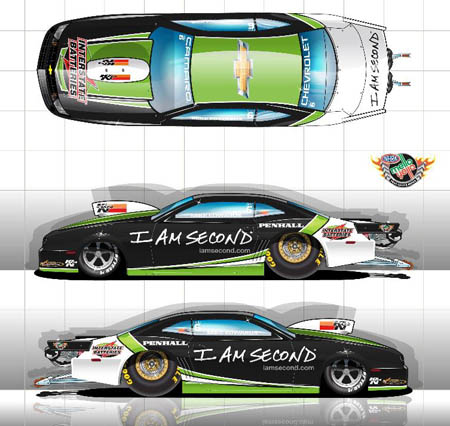 Header Goes Here
Interstate Batteries will return for its third season in the NHRA as primary sponsor of the Mike Edwards Motorsports Pro Stock team and will be sharing the sponsorship with newcomer I am Second.
The 2013 sponsorship package features Interstate Batteries on the hood of the Edwards Chevrolet Camaro for 11 races, Interstate Chairman Norm Miller's faith-based ministry I am Second as the primary sponsor for nine events, and K&N as the primary sponsor for four events.
The sponsor partnership begins with the I am Second brand as primary sponsor on Edwards' Chevy Camaro with Interstate Batteries, Penhall, and K&N as associate sponsors for the first four races of the season, including the season opener in Pomona Feb. 14-17. The first of 11 races for Interstate Batteries as the primary sponsor and I am Second, Penhall, and K&N as associate branding will be April 19-21 in Charlotte.
"Interstate Batteries is proud to return for our third year as a partner with Mike Edwards and his team for the 2013 season," Miller said. "We are also excited about the opportunity to introduce NHRA fans to I am Second.
"Mike's outrageous dependability and commitment to excellence represent the core values of Interstate Batteries, and his heart for helping people live successful lives makes him a great partner for I am Second. We look forward to our best season together yet."
Interstate Batteries has been associated with motorsports for 30 years, dating back to the company's initial involvement with the Interstate Batteries Great American Race in 1983. Since then, Interstate has expanded its motorsports support to not only include NHRA Pro Stock racing, but also NASCAR Sprint Cup and Nationwide teams (founding sponsor, Joe Gibbs Racing) and AMA Supercross/motocross teams (JGRMX).
I am Second, co-founded by Miller, is an outreach program designed to help people discover their true purpose in life. The authentic stories of actors, athletes, musicians, business leaders, and everyday people posted on the website (www.iamsecond.com) provides the most significant insight into dealing with the typical struggles of everyday living.
"Interstate Batteries is a proven brand for consumers and in the motorsports community," Edwards said. "We are excited to continue our very successful relationship with a company that exemplifies a championship team."
Edwards, the 2009 NHRA Pro Stock champion, finished sixth in points in 2012 in the NHRA Mello Yello Drag Racing Series Pro Stock division with two wins. Thirty-four of his 36 victories have come in Pro Stock.