Wed, 06 Feb 2013, 09:03 AM



Spradlin Motorsports Eager to Defend Championship



Courtesy of Casey Spradlin


Photo copyright 2013 Chris Simmons, BME Photography





Re-signs Southeastern Hose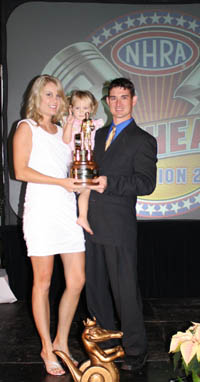 Sradlin celebrates Championship with family.
Reigning NHRA Southeast division Hickory Enclosed Trailer Sales Top Dragster champion, Casey Spradlin, is excited to announce the re-signing of primary marketing partner, Southeastern Hose, and also the addition of several associate sponsors to the growing list of supporters of the successful Spradlin Motorsports Top Dragster and Top Sportsman team.
"We can't wait to get out there and start the season as defending champions again and are even more excited to continue our relationship with Southeastern Hose, expressed Spradlin. We anticipate meeting more of their customers throughout the season and are adding some new venues to be able to do so."
As Casey alluded to, the 2013 season will not only see Spradlin Motorsports try to defend their title in the NHRA Southeast division, but will also mix in several NHRA national events for Casey to try to add another Wally to his r?sum? and also make stops in the ADRL and newly formed XDRL series.
Spradlin in his Top Dragster.
The recent off season was a very busy one for Spradlin Motorsports, not only in the shop with routine winter maintenance of both race cars, but also on the marketing side as Spradlin is pleased to welcome back Southeastern Hose, TCI Transmissions, and Smith Brother's Push Rods. Spradlin is proud to include Penrite Oil, Bill Mitchell Products, and Jet Hot Coating in the team's list of marketing partners.
"Of course bringing back Southeastern Hose and helping them celebrate their 50th year in business is most exciting for our team, while TCI transmissions also stepped up in a big way for us over the winter after having great success with their products over the past few years. Penrite Oil, which is one of Australia's leading manufacturers of high quality lubricants, will be distributed by Barnett Performance here in America and we are grateful to be in a position to be able to help get the word out about their great products. We will be displaying our good looking Jet Hot coated headers and also running products from Bill Mitchell's line of high performance parts," said Spradlin in one breath `a la John Force!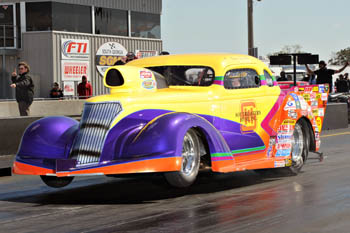 Sprdlin in his Top Sportsman
Spradlin and the team will start the season at the NHRA LODRS event in Gainesville, FL February 15-17. The team has a new Facebook page at Spradlin Motorsports and also a website at www.spradlinmotorsports.com allowing fans to follow Casey throughout the season. Spradlin Motorsports would again like to thank all those that help them achieve success; Southeastern Hose, Tim Gaines Performance, TCI, Smith Brothers, Penrite, Bill Mitchell Products, and Jet Hot.