Mon, 28 Jan 2013, 18:04 PM



Former Euro Champ Hanssen Set to Make US Debut in Pomona



Courtesy of Pro Race Communications


Photo Courtesy of Norwegians Racing





DEER PARK, Texas --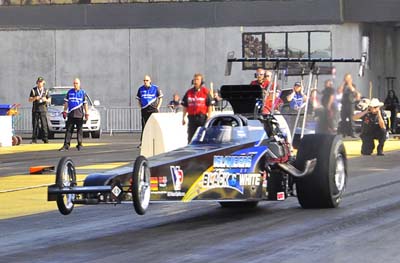 Fred Hanssen
Former FIA European Champion Fred Hanssen's dream of competing in the USA is getting closer to reality as his Norwegians Racing team is set to make their NHRA debut at the upcoming O'Reilly Winternationals at Auto Club Raceway in Pomona, Calif., Feb. 14-17. After winning the 2011 FIA Top Methanol Dragster Championship, the team took a year off to ship the car and equipment to the US in preparation to compete in 2013 and possibly beyond.
Hanssen, who operates his commercial fishing business in Afjord, Norway, is excited to be close to realizing his dream.
"To race in the US and against some of the best in the world has always been the dream," said Hanssen. "Hopefully this year we can learn how to compete on the US tracks and against the 'big guys.' We plan on racing at select events this season, but our goal is to run a full schedule in 2014."
While Hanssen has yet to compete at an NHRA event, his Crew Chief Will Hanna and his car have many races under their belt. Hanna, of Deer Park, Texas, tuned the car prior to Hanssen buying the car from owner Howard Main and driver Darvin Martinets in 2007-2008. Hanna was hired on to stay with the team as the car moved to European competition in 2009.
"It's been a while since this car has run at a NHRA track," stated Hanna. "We have made some changes to the car since then and the track prep at a national event has really advanced. We are going to test in Vegas the week before Pomona, so hopefully that will get us prepared. We have our work cut out for us; there are going to be some really good teams in Pomona."
Hanssen and Hanna have enjoyed quite a bit of success together in Europe. In his first official run in competition, he reset the European speed record with a run over 266 mph. Hanssen broke through to score two wins and a runner-up to win the 2011 European Championship. He has been as quick as 5.30 at 269 mph in his blown alcohol dragster.
"We have been 5.30 twice in Europe," commented Hanssen. "We definitely want to find the 5.20's, but that's not so easy. That is what it will take to win in the US."
Much of Hanssen's European crew will make the trip to Pomona as well. Per Skjoelberg, Ingvald Fredasvik and Arne Petter Rabben will be joined by Americans J.B. Hudson (Assistant Crew Chief) and Chad Baker.
"When we were going for the Championship in Europe, it was fun, but there was a lot of pressure," Hanssen explained. "There will be pressure in Pomona, but we are going to have a lot of fun doing it. This is going to be a dream come true for us."