Mon, 28 Jan 2013, 18:04 PM



Katie Sullivan Racing Prepares for their 2013 Pro Stock Bike Season



Courtesy of Blown Sports Marketing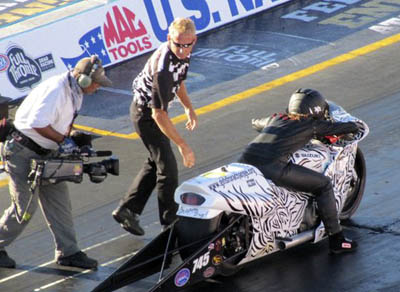 Katie Sullivan
This year Katie Sullivan and her dad will be running their own bike, with her dad as the crew chief. With plans on attending at least 6 races; hopefully the needed funding to attend more will come. They will start the year off in Gainesville, FL and push on from there.
" It's hard to believe we are about to enter our 5th year racing in the NHRA. We sure have come a long way since I was a little girl and my dad and I were hauling our Jr. Dragster on our open car trailer to the Redding Drag Strip. Our time in the NHRA has been the biggest emotional roller coaster of my life, both with the good and the bad. Even with the struggles we have endured, I wouldn't change anything we have done, for the world. At the end of the season last year in Pomona, I really saw my dad and I come full circle and I think this year is really our time to shine."
Our sponsors for the 2013 season include MotoWear International, Sullivan Drilling Inc., and Tough Girl Designs
*I also would like to give a big thank you to my family, and everyone who has helped me continue chasing my dreams. Without the help of many people it would not be possible.