Thu, 24 Jan 2013, 12:18 PM



Oh No!!



By Bob Frey


Photo copyright 2013 Auto Imagery, Inc.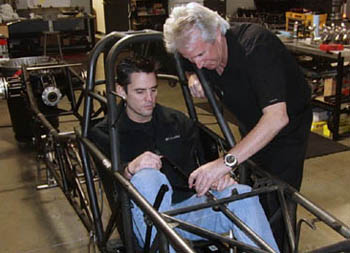 Dixon and Beard
I want to thank those of you who checked in regarding my Hall of Fame selection. In case you missed it I mentioned last week that I was recently added to the NHRA Division 1 Hall of Fame and it was quite an honor to say the least. I was also named the "Person of the Year" on the Competitionplus.com website last week and that was very cool, too. I honestly don't bring this up to pat myself on the back but rather to thank everyone who had anything to do with either of those awards. Both are very high honors and are greatly appreciated and I just want to say thanks. By the way, that has nothing to do with the heading on this column, although some may think it does...Congrats to Larry Dixon and Lee Beard for getting a gig with the Santo Rapisarda team for 2013. Ok, so it won't be for all the races but it's a start, and who knows, if they come out of the gate real well at the first two races maybe they will add more dates to their schedule. Hey, a guy can dream, can't he?....While Lee is best known for his ability as a tuner he did qualify for one NHRA national event as a driver. Did you know that in 1973 he made the field at Indy in the number ten spot and then beat Billy Campbell before losing to Gary Beck? And do you know who one of the many, and I mean many non-qualifiers was at that race? You guessed it (or maybe not) Larry Dixon Sr. Good luck to the entire team this year and I hope we see them at a lot of races, like twenty four of them. By the way, that little tidbit also had nothing to do with the heading on this column. I'm getting to that.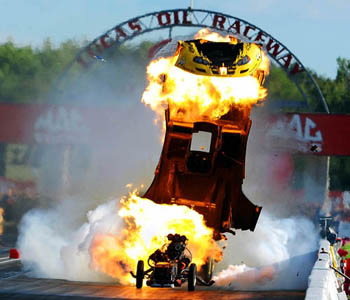 Lesenko launches the body.
Photo copyright 2013 Gary Nastase Photography*
The "Oh No" refers to some of those wacky moments that most drivers and car owners would like to forget from the previous year. You know, the race when nothing seemed to go right and everything you did ends up a mess. As I always said, unless you win the race it's not normally a good thing when the ESPN announcers say "Let's look at that from another angle" if you know what I mean..Among those who had their share of "Oh No" moments last year would have to be "Big Jim" Dunn and Todd Lesenko. Among their many "highlight" moments was their weekend at Indy when they blew the body off the car not once but twice. The first one came on their last qualifying run and it was a beauty. Then, after putting a new body on the car for the first round they did it again, blew the body off the car and this time they did it on a winning run against Jack Beckman. Now that I think about it I don't know who should get the "Oh No" for that round, Todd, Jack or both! With a round win in their pocket but no more Funny Car bodies in their trailer Todd and Jim sat out round two and that had to hurt more than blowing the bodies off. Or close to it.Matt Hagan had a similar incident at the 4-Wide race in Charlotte when he destroyed his Dodge on a qualifying run. The big difference here is that Matt wasn't qualified and never did make the show in Charlotte and that was just a microcosm of his entire season. That race was just one of the reasons why Matt and his team did not qualify for the "Countdown" in 2012,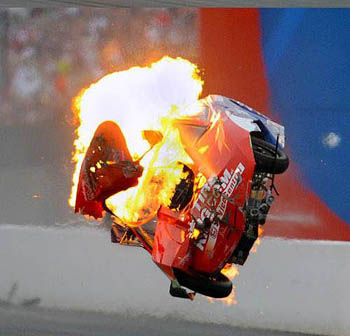 Gray at Charlotte.
Photo copyright 2013 Gary Nastase Photography
and I'm sure it's one of the many reasons why they will come back bigger and better in 2013. With new co-crew chiefs and I'm sure a renewed enthusiasm on his part, I fully expect Matt to not only make the "Countdown" this year but to be a serious contender for the title..By the way, since everyone kept pointing at Matt's team and saying how tough the year was, and it certainly was,
did you know
that what they did, or what they didn't do, wasn't unprecedented in the Funny Car ranks? In 1984
Mark Oswald
won the World Championship and then in 1985 he not only didn't win the championship but he didn't win a race, make a final round or even make the top ten. That probably won't make Matt (or Mark) feel any better but I just wanted to point out that he wasn't the first defending champ to have an "Oh No" season the following year.
Having an "Oh No" moment certainly wasn't confined to Matt's team in 2012. Take Team Force, for example. They had their own personal moment at the Bristol race when all four of the team cars failed to get out of the first round. With the caliber of teams, crews and drivers that John has assembled it's almost unbelievable that all four of them could lose in the first round, but they did. Hey, stuff happens, right? Like Matt's team John has had his own reorganization during the off-season and that includes one less Funny Car and a new crew chief for his car. With Mike Neff concentrating solely on the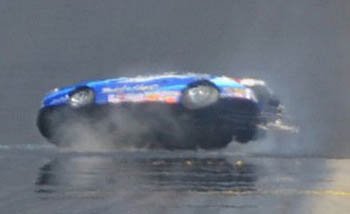 Pittman at Denver
Photo copyright 2013 Roger Richards
tuning aspects you can rest assured that John is poised to bounce back from a season that was certainly not typical of the John Force we have seen for so many years. In 2012 John won a total of eighteen rounds and that's his second lowest total since 1987.
Did you know
that his lowest number of round wins came just a year earlier in 2011 when he won just fourteen rounds? Prior to 2011 John had twenty-four consecutive years of winning at least twenty rounds of racing and that's simply amazing. By comparison
Warren Johnson
and
Kurt Johnson
have each had strings of sixteen consecutive years in which they won at least twenty rounds.
Shane Gray
had one of the worst "Oh No" moments when he crashed his car at the Charlotte race. It was one of those very nasty looking accidents but, like many that we have seen before, and to coin a phrase from the old
Diamond P
tapes, he walked away..That was also the situation with
Paul Pittman
at the
Denver
race. Paul's crash put him out of business for a while, but like all good drag racers he said that he will be back in action in 2013.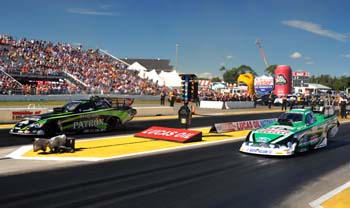 force vs. DeJoria in Brainerd
"Oh No" moments weren't just reserved for the men in 2012 as both Erica Enders and Alexis DeJoria had moments that fall into that category. Erica's came at the 4-Wide race early in the year, and while it may not have been noticed by a lot of people it sure was noticed by me. That's because I was announcing when she made it to the final round of the event and appeared to win the race. At least it appeared that way to the fans and to her crew who went wild when the win light in her lane came on. The only problem was that there was a malfunction in Greg Anderson's lane that kept his win light, the real win light from coming on, thus giving the appearance that Erica had won the race. I kept trying to tell her crew over the PA that Greg was the winner but it never really seemed to sink in. Erica would have a moment of revenge (my word, not hers) in Chicago when she won her first race and did so by beating Greg in the final round. By the way, speaking of Greg, I heard that he turned in some monster numbers at Bradenton last week during testing. Of course, as I always point out, testing is one thing and race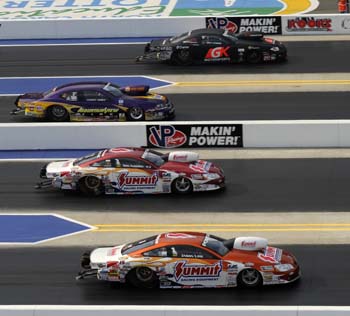 Line, Anderson, Nobile and Enders
in the 4-Wide Final.
day is another, but it has to be fun to go quick and fast no matter where it is or what the situation is. Still, I think you can expect to see the
Summit Racing
team, Greg and
Jason Line
, hit the ground running when they bring their Camaros to Pomona for the Winternationals...The other "Oh No" moment for the ladies happened at the Brainerd race and could have changed the face of the playoffs last year. Alexis DeJoria, who was enjoying a moderately successful rookie season, lined up against John Force in the first round and apparently had the race won when John very uncharacteristically fouled out. But, as I often say, we have rules, and when Alexis got crossed up and went over the center line she was disqualified and John was reinstated in the show. Not only did he get back in but he went to the final round, picked up a lot of points and made the "Countdown." Who knows what might have happened if John had lost in round one? Anyway, it had to be a real "Oh No" moment for Alexis and, I assume, a real learning process, too.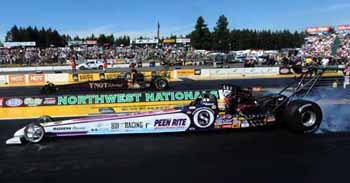 Demke defeated Whiteley in Seattle.
One of the wackiest moments of the year, and maybe of all time, happened during the Top Alcohol Dragster final in Seattle. Two of the absolute best in the class, Chris Demke and Jim Whiteley, were facing each other for the win and a leg up on the battle for the national championship. I, like most fans I'm sure, was expecting a great race, and why not? These two had been the class of the field all day not to mention all year and the slowest either one of them had run during eliminations was 5.36. So you can imagine everyone's surprise when both cars broke and coasted (and that's being generous) down the Pacific Raceways track in the final round, a round that Chris won with a stunning elapsed time of 11.37 at a blazing forty-six miles per hour. I wonder who had the bigger "Oh No" after their race, Jim for losing to an eleven-second time or Alexis for losing after John fouled out? .Jeff Arend had his own personal "Oh No" moment when he was released from the Team Kalitta Funny Car driving chores at the end of the 2012 season. I have to say that I was surprised by the move and I also have to say that Jeff handled the situation with amazing class. Shortly after the dismissal it was announced that Jeff will be driving for Jim Dunn and that Del Worsham will be back behind the wheel of the DHL car for Connie's team and for both of those moves we say "Oh Yes."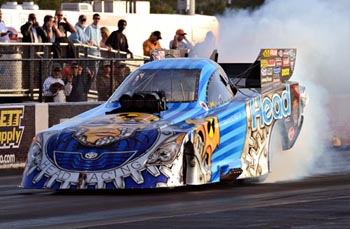 Chad Head
Photo copyright 2013 BME Photography
Since I mentioned testing it looks like the Team Force and Team Schumacher cars are in mid-season form already with a barrage of great runs in Florida. At the test session at Palm Beach International Raceway Courtney Force, Robert Hight and John all made runs in the low 4.0 range with Courtney checking in with a best of 4.018. Robert was next with his 4.021 and John checked in with a 4.05. They were followed by Matt Hagan (4.06) and Jim Head's son, Chad, was next at 4.061. I don't know how many races Chad will run this year but if he does well do you think he could give Brittany Force a run for the Rookie of the Year title? Or maybe Leah Pruett will. Stay tuned. Here's a real shocker, the dragster for Team Schumacher ran well and so did both of the Al Anabi cars along with Doug Kalitta and Morgan Lucas. I thought the competition last year was tough but it looks like 2013 could be even better.
* Editor's Note: Gary Nastase won the Russ Catlin Award for PhotoJournalism for this photo.