Sat, 19 Jan 2013, 18:00 PM



JFR Scorches Friday PRO Winter Warm-Ups



Courtesy of Elon Werner


Photo copyright 2013 BME Photography





JUPITER, Fla. --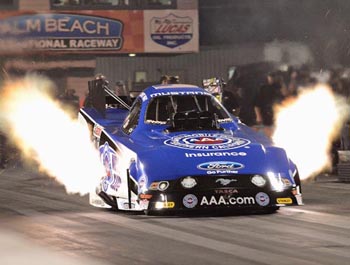 Robert Hight
Robert Hight and the Auto Club Ford Mustang made the quickest and second quickest runs during the two sessions of the PRO Winter Warm-Ups today. Hight was in the fourth pair of Funny Cars of the first session when he laid down a monster 4.048 second pass. The next quickest run was Matt Hagan's 4.060 second pass in the Rocky Boots Dodge Charger.
In the second session he was paired with teammate Courtney Force and he ramped up his ET to a blistering 4.021 seconds at 318.24 mph. As he was crossing the finish line he had the best seat in the house to see Courtney tripping the timing beams with a career best 4.018 second pass and a record 322.73 mph. Those two ETs were the best of the second session and brought the near capacity crowd to their collective feet.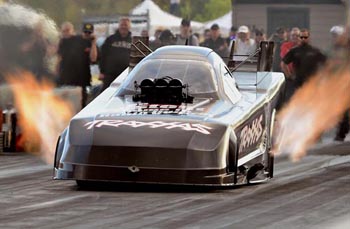 Courtney Force
Team leader and 15-time Funny Car champion John Force closed out the session on a single run with a strong 4.053 second run. The three JFR Ford Mustangs ended the second session with the three quickest ETs of the day.
When asked about her final run of the day Courtney Force, the 2012 Automobile Club of Southern California Road to the Future Award as Rookie of the Year, was overflowing with excitement.
"It felt like an amazing run. You can always tell when you are going down there and Robert was right out my window. I could tell he was on a good run too. I didn't think it would be a 4.01 but I thought it would be a low 4.0. We had been running 4.03s and 4.05s all week in testing. It is a great feeling. I am proud of my Traxxas team led by Ron Douglas and Dan Hood. They gave me a fast race car tonight. We are just having a lot of fun. We are pushing the limits to see what our car can take. I think we have seen what our Traxxas Ford Mustang can do. That was my quickest ET and the fastest mile per hour run for me. I feel good going into a new season," said Force. "I was talking with my guys and you could tell there was a whole different vibe today. We all just sparked up because today didn't feel like a testing day. We got excited because this felt like a race. Having the fans around really brought all our energy up. We know that it is testing but everybody also wants to get those win lights and be the best out here. You want to show the fans what you have been doing over the off-season. My Traxxas team really stepped it up."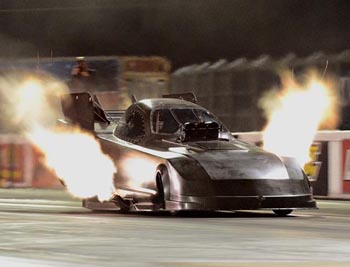 John Force
In the Top Fuel ranks Brittany Force made a strong showing in front of the Florida fans. She made her first side by side runs both beside veteran Clay Millican. In the first session her Castrol Edge Top Fuel dragster ran 3.860 and in the second session she set a career best ET and mph, 3.796 at 324.36. That run was good enough to be the third quickest of the second session. For the rookie driver it was an exciting day.
"I was nervous about (running side by side) because I have been testing for over a year without anybody in that other lane. I didn't know what to expect with the whole visual of having someone beside you plus you add in the staging protocol. The sound of another car going down the track was an unknown for me. It was all fine. I ran against Clay Millican and he is awesome. He came over and talked to me before and after. He is a really great guy. I can't wait to run him in the regular season," said Brittany Force, a contender for the 2013 Automobile Club of Southern California Road to the Future Award.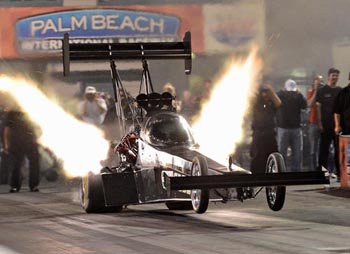 Brittany Force
"(That second run tonight) did feel faster and it felt a little blurrier than what I was used to. I will get adjusted to it I am sure. We'll make a few more passes in the 70s and I'll be in great shape. We are excited about that. My guys told me we would be running in the 70s and we did it tonight.

 Session One ETs and mph
Funny Car 
1. Robert Hight, 4.048, 315.56 mph
2. Matt Hagan, 4.060, 312.78 mph
3. Chad Head, 4.061, 313.15 mph
4. Johnny Gray, 4.066, 311.92 mph
5. Del Worsham, 4.067, 311.34 mph
6. Bob Tasca 3, 4.073, 315,42 mph
7. Ron Capps, 4.075, 316.52 mph
8. Alexis DeJoria, 4.081, 308.21 mph
9. Cruz Pedregon, 4.106, 297.61 mph
10. Jack Beckman, 4.160, 307.16
11. Courtney Force, 7.505, 76.25 mph
12. John Force, 7.895, 87.41 mph

 Top Fuel 
1. Doug Kalitta, (Mac Tools dragster) 3.759, 328.30 mph
2. Tony Schumacher, 3.776, 324.59 mph
3. Bob Vandergriff Jr., 3.825, 321.50 mph
4. Clay Millican, 3.828, 321.42 mph
5. Leah Pruett, 3.850, 307.16 mph
6. Antron Brown, 3.860, 302.28 mph
7. Brittany Force, 3.860, 290.88 mph
8. Dave Grubnic, 3.870, 271.08 mph
9. Sidnei Firgo, 3.883, 318.24 mph
10. Doug Kalitta (Geico dragster), 6.860, 92.87 mph

 Session two ETs and mph
Funny Car 
1. Courtney Force, 4.018, 322.73
2. Robert Hight, 4.021, 318.24
3. John Force, 4.053, 308.35
4. Chad Head, 4.074, 313.51
5. Jack Beckman, 4.085, 311.99
6. Alexis DeJoria, 4.102, 301.60
7. Bob Tasca III, 4.109, 312.71
8. Del Worsham, 8.563, 91.68
9. Matt Hagan, 9.602, 76.73
10. Johnny Gray, 9.709, 78.34
11. Ron Capps, 10.273, 76.02

 Top Fuel 
1. Doug Kalitta/Geico dragster, 3.787, 322.58
2. Tony Schumacher, 3.794, 325.30
3. Brittany Force, 3.796, 324.26
4. Clay Millican, 3.804, 322.73
5. Bob Vandergriff Jr., 3.848, 320.51
6. Dave Grubinc, 3.970, 225.79
7. Leah Pruitt, 4.279, 188.07
8. Doug Kalitta/Mac Tools dragster, 5.245. 134.27
9. Antron Brown, 6.512, 98.45
10. Sidnei Firgo, 10.385, 75.32