Wed, 16 Jan 2013, 09:14 AM



What a Year for the Harley-Davidsons



By Bob Frey


Photo copyright 2013 Auto Imagery, Inc.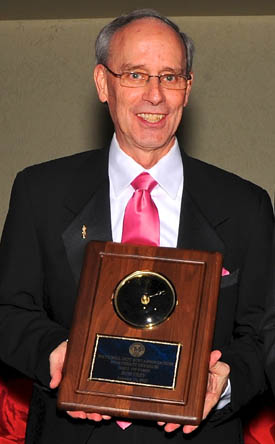 Frey inducted into the
Division One Hall of Fame.
Photo copyright 2013 Diane Kubicke/ Phil Hutchison
Ok, once again I am going to divert before I even begin talking about the main topic which is motorcycles, and for one of the very few times in the history of this column I'm going to talk about me. This past weekend at the NHRA Division 1 banquet in
Hershey, Pennsylvania
, I was surprised (to say the least) when I was added to the Division 1 Hall of Fame. As the emcee for the affair for as long as I can remember (with one year off to allow
Lewis Bloom
to gain some experience at the job) I have been introducing the latest members of the Hall of Fame each year. It is an honor that is voted on by the members of the division, from racers and workers to manufacturers and fans, and as you can imagine it is an incredible honor for anyone. Since I have announced for most, if not all, of the previous inductees, it's always a joy to see the look of surprise when their names are announced. "I'm surprised, I had no idea this was happening" is the response you hear most often. Well, now I know why. I even had the script for the entire night and still had no idea. Of course I assume that's the way the D-1 Director,
Bob Lang
, his assistant,
Dave Mohn
, and the rest of the crew planned it. Anyway, without going on much further, let me just say thank you to everyone who voted and even considered me as a candidate for this great honor. As I often say I am a lucky guy who always enjoyed his job and to end up in the D-1 Hall of Fame is something that is beyond my wildest dreams..I'll have more on the D-1 awards as well as those from the other divisions in an upcoming column but I did want to point out two things that caught my attention this week.
Frank Aragona
won the division Competition Eliminator title for the fourth time and
did you know
that's a record? In the almost fifty years of racing in D-1 no racer has ever won four Comp titles and there have been some great racers in that class in the Northeast.
Kevin Robb
won it three times and so did
Vinny Barone, Don Stratton
and
Dennis Ferrara
, but Frank became the first guy to do it four times. Congratulations to him, his father and family on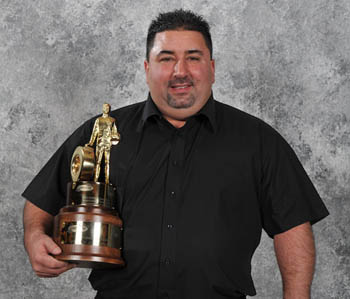 Frank Aragona
Photo copyright 2013 Diane Kubicke/ Phil Hutchison
a job well done..By the way, here's a little tidbit to file for future reference.
Did you know
that there is a former D-1 Competition Eliminator Champion who is getting ready to make a comeback? Now you may say what's so surprising about that because racers do it all the time? Well, the surprise is that this particular racer's last NHRA national event win was in 1973 and he once won a national event in Little Eliminator. Really! Stay tuned..The other nugget from the D-1 affair concerned the Top Alcohol Dragster champion,
Rich McPhillips
. Rich, now a two-time division champ, also won the crown in 1992. The first time he won any title was when he was the
Cecil
County
track champion in 1972, which means he wins a title every twenty years. "If that pattern continues I'll be a very old guy the next time you see me up here," Rich said. And I hope I'm there to present him his trophy!
One more thing before I get to the bikes. The annual test session at Palm Beach International Raceway takes place this weekend. The Pro Winter Warmup is open to the public on Friday and Saturday and fans can enjoy the races and make a donation to the Darrell Gwynn Foundation at the same time. If you're going to the event all you have to do is go to www.racepbir.com for tickets, and when you do use the promo code DGF2013 and the track will donate ten dollars to Darrell's foundation. In modern terms it's a "win win" situation. You get a great deal on the tickets and Darrell's foundation gets some money to help those in need...Darrell's foundation will also give away a special wheelchair at the event, and to offset the cost they are having a special drawing for cash and merchandise prizes. If you can't get to the event you can sign up at www.darrellgwynnfoundation.org. Since you don't have to be present to win it's a great way to support Darrell's foundation and maybe win some nice stuff. Like I said, it's a "win win" deal. Now to the bikes.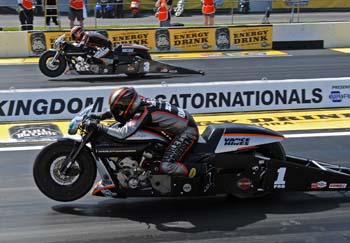 Eddie Krawiec vs. Andrew Hines
in the Gainesville final.
There have been a lot of dominant teams and drivers over the course of NHRA's long history, but very few have had years comparable to what the two Harley-Davidson riders had in 2012. In this era of multi-car (or bike) teams it's not a surprise when one or more team drivers do well at an event or even meet up in the final round. Certainly we've seen it in the fuel classes over the past few years especially with the emergence of the Team Schumacher cars as legitimate title contenders along with the quartet of drivers in the Team Force camp who can always be expected to contend for a championship. In the Pro Stock car class you have the two cars that are owned by Ken Black, the ones driven by Greg Anderson and Jason Line which have just about become the "gold standard" in the class. I say "just about" because there are a lot of challengers to the Summit Racing team at every race including the new champion, Allen Johnson. And while it may not be quite the same team effort as the Summit drivers, Allen's alignment with Vincent Nobile has made them a potent one-two punch and now with Jeg Coughlin running a J & J power plant the Hemi contingent should be even tougher this year. Anyway, you get the idea, going back to the days of Candies & Hughes through the Warren and Kurt Johnson era to the Dodge Boys, Darrell Alderman and Scott Geoffrion, the team concept has been a factor for a long time at the NHRA events and will be for years to come. Having said all of that there have been few teams, if any, that ever had a year like the one Eddie Krawiec and Andrew Hines had in 2012.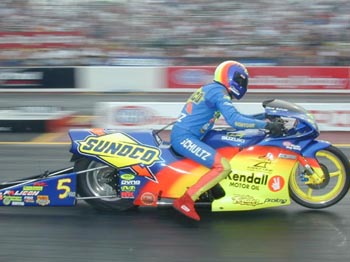 Dave Schultz
Over the past few weeks I have been mentioning a few runs, races or incidents that I thought qualified for the "Best Of" in 2012, and for the motorcycles I should probably just say the entire Harley-Davidson year and leave it at that. Sure there were others who looked brilliant from time to time but nobody mounted a consistent threat to the H-D duo, and in the end they pretty much had their way with the class. With that as a starting point I should point out that the Pro Stock Motorcycle class has, over the years, had some dominating riders who had unbelievable years. With competitors like Dave Schultz, John Myers, Angelle Sampey and others the two-wheel class has had seasons when it looked like everyone else was running for second place. Oh yeah, let's not forget that Terry Vance guy because he had a few good years, didn't he?...As good as a lot of the riders have been, and there have been a lot of good ones, Dave and John really stand out with what they did in their all too short careers. Dave posted a remarkable 354-111 record which computes to a seventy-six percent winning rate. John was even better with his 266-70 record, or a seventy-nine percent winning margin. But where they both excelled was in their opening round matches. Let's face it, you can't win the race if you don't get past round one and Dave did that a remarkable 84% of the time while John did it an unprecedented 92% of the time. Did you know that John was 95-8 in round one matches? Granted they didn't run as many races each year back then as they do now but John had four years in his career when he didn't lose a single opening round match. Staggering, isn't it? Anyway, I only bring these examples up to show you how dominant some of the bikes riders have been over the years.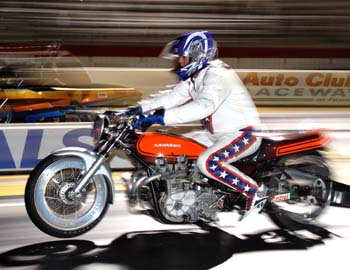 Tom Klemme
In 2012 Eddie and Andrew both had great years, not good years but great years, and as the old expression goes it's a shame someone had to lose the championship, and in this case it was Andrew. Did you know that Andrew won forty-six rounds in 2012 and still didn't win the championship? In his three championship years, 2004, 2005 and 2006 the best season he had was when he won thirty-one rounds in 2004. Still, it's hard to be disappointed with a second place finish, ten final rounds and five national event wins, isn't it? At least I think it is but then I don't have the competitive spirit that Andrew does..The reason he finished second is because Eddie had a "career year" with his eleven final rounds and nine national event wins. Heck, even Tom Klemme didn't have that good a year in 2012 and he won the Summit Racing Series championship.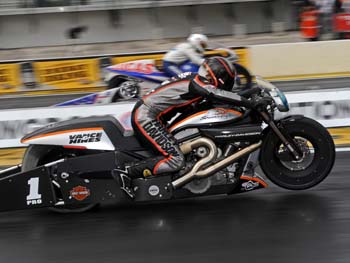 Eddie Krawiec
Getting back to the "Best Of" stuff I have to include Eddie's sensational performance at the Gatornationals in 2012 because it was not only the best performance of the year it was one of the best ever. Did you know that coming into the season there had only been eight motorcycle riders who ever recorded the maximum of 138 points at a national event? That included being number one, setting the record and winning the event and in 2012 Eddie went one better. With a possible twelve points available during qualifying Eddie opened the season with a stunning 150 point performance, in other words he was perfect at the first race of the year and he never looked back. Actually he wasn't quite perfect because he didn't set low elapsed time in all four rounds on Sunday. He did it in three rounds but Andrew went 6.808 in round one while Eddie "only" went 6.831, but other than that he was perfect and unbeatable..Andrew had his moments, too, like when he posted a perfect reaction time in the final round in Houston and won the race on a holeshot over Hector Arana. When Andrew lost the championship to Eddie I thought of the words of John Force when he lost to Tony Pedregon in the final round in Atlanta in 1996. "It looks like I hired my own assassin," John said. I'm sure Andrew knows just how John felt.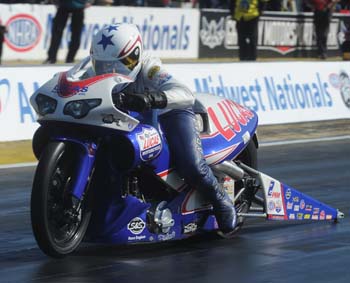 Hector Arana Jr.
As dominant as they Harley riders were it did appear to me that they were vulnerable at several races. In 2012 Eddie and Andrew combined to qualify number one at nine events while the "Hectors" grabbed the top spot at the other seven bike races. The difference was what they did after they qualified number one. Did you know that the two Harley riders won all nine of the races where they were number one? On the other side of the coin Hector Arana Sr. and Jr. didn't win a single race from the top spot. Now I'm not getting into which brand or model (if any) had the advantage in 2012 but you would expect that with seven top spots between them the Arana family would have won at least one race, wouldn't you?....Regardless of that fact it was still a very interesting year in the Pro Stock Motorcycle class and 2013 is shaping up to be just the same. With some changes to the rules and some new riders in the class the Gainesville race can't come too soon for motorcycle fans.