Sat, 12 Jan 2013, 14:13 PM



It's All In The Family



By Bob Frey


Photo copyright 2013 Auto Imagery, Inc.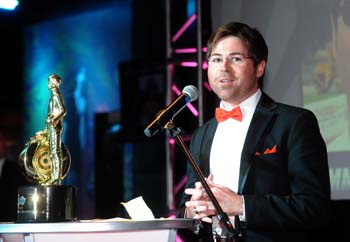 Jimmy DeFrank
As you all know NHRA is one big, happy family. Ok, so like most families everything isn't always perfect, but in the world of motorsports there are very few places where a family can race together and win together as much as they can at an NHRA event. That pertains to the national and the divisional races as well as the events that take place at the local tracks. I am constantly writing about racers who are second and third generations and I have come across a lot of them in my announcing days. Father and sons race together and against each other and so do mothers and daughters and just about any combination of the above. As many families as there are competing at the NHRA events there are very few that have had the success that the DeFrank family has. From his father, Jim, to his brother, Tony, as I often say "everyone in the family races and everyone in the family wins." In 2012 Jimmy did his share of winning and in the end he carted off his fourth Lucas Oil World Championship in the ultra-tough Super Stock Eliminator class. And the funny thing about it is that Jimmy didn't really plan on chasing the points, but in the end he's glad he did.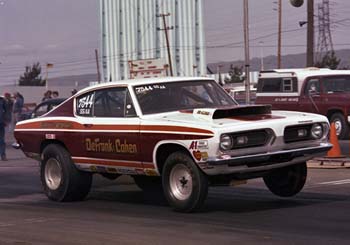 DeFrank and Cohen from 1976
Before going on about Jimmy I should clarify that statement about everyone in the family racing. Jimmy's father has been around the sport for most of his life but he has spent very little time behind the wheel. "He just never really had the desire to drive," Jimmy said. "He enjoyed working on the car and keeping it looking good." Years ago, along with his partner Andy Cohen, the elder DeFrank campaigned one of the strongest Super Stock cars in the country. Under the banner of "DeFrank and Cohen" the pair ran their classic Hemi cars at national and regional races and were among the top cars in the sport. "I remember those cars well," Jimmy said. "When I was a kid I used to go in the garage and watch them work on them. I never drove one of the Hemi cars, but they were really neat." As famous as the Hemi cars were Jim and Andy also ran a classic 1955 Chevrolet years before their first Mopar. "I have seen pictures of that car. In fact, my dad has a picture of it hanging in his office." And in the "small world" category one of NHRA's top ten drivers also had something to do with that '55. "A guy came up to my dad at Lions Drag Strip and said that he thought he could build an engine for the car that would be better than what they were running," Jimmy added. "And that guy was Dale Armstrong."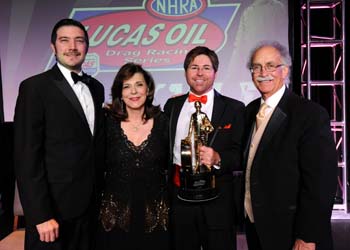 The DeFrank family.
To wrap up the family saga Jimmy added that mom, Loraine, has never taken a single trip down the quarter-mile. "She never wanted to do it, not once. She's our biggest fan, cheerleader and prayer power person." There is another DeFrank family member, Jimmy's younger brother, Tony. With ten national event finals, six wins and a division championship the question is where has he been lately. "Tony has a lot of interests," Jimmy said. "I'm pretty much focused on the business and drag racing while he likes concerts, shows, museums, art and things like that. He really keeps things running at the business while the rest of us are away racing but he said that he may enter a couple of events in 2013." Just what the rest of the Stock and Super Stock Eliminator racers need, another DeFrank to contend with.
In winning a championship for the fourth time Jimmy joins a very select group of racers who have accomplished that and that fact wasn't lost on the thirty-four year old. "I've been very blessed in my racing career. I've had good equipment and good people helping me out." One of those people is the team's engine builder and primary tuner, Jeff Taylor. "I've known him since I was about three years old and there's nothing he can't do at the track." In addition to building the engines for Jimmy's sleek 2010 Chevrolet Cobalt Jeff also handles the tuning at the track. "He'll make the carburetor adjustments and take care of anything else on the car when we're at the track. Besides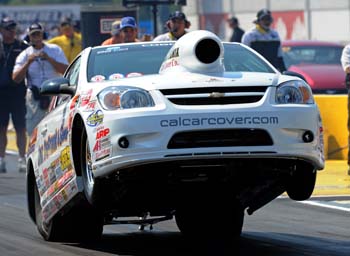 Jimmy DeFrank
that he is also a good friend and mentor to me. I have learned a lot from being associated with Jeff." In addition to Jeff, himself a multi-time NHRA World Champion, Jimmy hangs out with some of the best racers in the sport. "Yeah, I'm friends with Peter (Biondo) and Jeg (Coughlin) and we're all good friends." At the track the pals talk racing but away from it everything is fair game. "As a driver and a racer you can't help but learn from those guys, but we also enjoy our time away from the track." One thing Jimmy may learn this year is how to bracket race. "I've never done it. Peter and Kyle (Seipel) run their bracket race in Bristol and I went back and watched it last year. Plus they're having one in Vegas this year that I'll go to." Whether he races there or not is still up in the air. "I've never raced on a pro tree and I don't want to embarrass myself." Something tells me, with the track record he has, that won't be a problem.
In his previous three title runs, especially the one in 1999, Jimmy jumped out to a big lead and never looked back, but this year was different. "People don't really believe it when I tell them that we never set out to win a championship," Jimmy said. "We just want to go out, be competitive and have fun as a family." For a while in 2012 it looked like that was all they would do. "We struggled a bit early,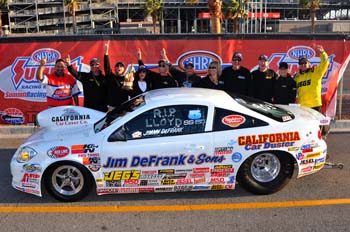 DeFrank celebrates Vegas Win.
especially at the Winternationals where nothing went right. And then we went to the next race and did better but still lost early. At that point we figured we'd just go to the races we planned and see what happens." What happened was that nobody in the Super Stock class really got hot and ran away with the points. "I may be wrong but I think there were almost a dozen racers who could have won it as late as Labor Day. We went to Indy, which we always go to because it's dad's favorite race, but we didn't go back for the rainout." They did go to a couple of divisional races, though, including the one in Noble, Oklahoma, and that was the real difference in the season. "We picked up some points at those races and then we were lucky enough to beat Slate Cummings, one of the title contenders, in the final round at Noble and that put us in the lead for good." When asked if he knows all of his fellow racers, like Cummings, Jimmy quickly added "I know most of them and they're all great people. It's one of the things I like most about this sport. Plus Slate makes the best jambalaya at the races and you can't pass that up."
It's hard to figure out what Jimmy enjoys most, racing or working at the family's business, California Car Covers. "I really like working at our business. I do a lot of the work on the catalog and the web site and I love every minute of it." He went on to add that maybe that's
why this championship hasn't sunk in yet. "I won the championship, went to the banquet and came back to work on Monday and focused on that." But before too long he'll be back at Pomona, one of his favorite tracks, to begin another title defense. "I won my first race at Pomona (NHRA Finals in 1995), it's our home track and it would be a good way to start the season with a win. But believe me, our plans for 2013 are the same as they are every year, just race and have fun." With four Lucas Oil World Championships and a family that is steeped in drag racing tradition it looks like Jimmy has already had a lot of fun, and from what we've seen, there is more on the way.
"I'd like to thank my entire team which is led by my dad and Jeff along with Davey Allison, Tom Kerr and Steve Decker. In addition to that we couldn't do this without the help of our main sponsors including California Car Cover, California Car Duster Company and Golden Shine Car Care. Thanks, too, to our associate sponsors K&N, Phoenix, Jegs, Redline, Pitstop Furniture, Biondo Racing, Quick Fuel, RFC and CFE."