Wed, 09 Jan 2013, 12:29 PM



Love Those Pro Stock Cars



By Bob Frey


Photo copyright 2013 Auto Imagery, Inc.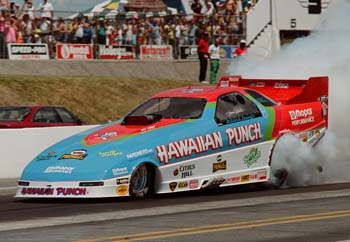 Jim White in 1991.
I always enjoy when I get feedback from the fans and the readers of this column and I got a lot of it last week. When I mentioned the "good old days" I figured that there would be a few out there who would be fired up and there were. Surprisingly most agreed with me, and that was a shock. The fact that the racing is so close now excites a lot of the fans and me, and I know it makes each race a little more exciting. After all, you really don't know who is going to win, unlike the years of
Don Prudhomme
and
Kenny Bernstein
that I mentioned last week. Of course you could also include some of the years of
John Force
domination in there, too (1996 comes to mind). Speaking of John, there was one e-mail that I received from a former competitor of his,
Jim White
. In the early 1990's Jim was driving for
Roland Leong
and they had one of the most dominant cars in the sport at the time. "There were a few times when we had a pretty good gap between us and John," Jim said. "Plus we made several runs in the teens when nobody else was." Because I'm retired now and have time to do these things I decided to check it out and guess what, Jim was right. There were a couple of occasions when he qualified number one and was more than a tenth of a second better than John. And
did you know
that he was the only driver in the Funny Car class to make a qualifying run in the "teens" that year and he did it five different times?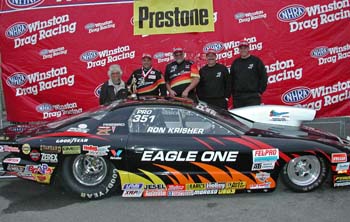 Ron Krisher got his first win
in Chicago in 2000.
That was a dominant car, wasn't it? It was great to hear from Jim and all the others and thanks for checking in and offering your opinions, or in Jim's case, your facts!...By the way, according to my little cheat sheet,
did you know
that Jim was one of the twenty drivers for Roland over the years? That doesn't include Roland himself and it is a very impressive group?I know none of that has anything to do with the heading on this column, Pro Stock, but I did want to thank everyone for checking in, especially Jim.
Before some 2012 Pro Stock "Best Of" items I thought I would mention how good the class of 2013 will be. Of course you will have the usual players and that includes almost all of the top ten teams from 2012. I say almost all because Ron Krisher has retired and won't return, at least not for now he won't. Did you know this will be the first year since 1997 that Ron will not be part of the full NHRA tour? He had a very good career that included almost 200 round wins, sixteen final rounds and seven national event wins. Those seven wins have him in twenty-first place on the all-time Pro Stock win list and he also finished in the top ten ten times in his career and that's a pretty good r?sum? for any driver. Enjoy your time away from the track Ron, Karen too?..There will be a few new engine builders in the class this year and they will include Richard Freeman's operation as well as the one being operated by Tom Martino and Bob Benza. "We have been doing very well with some of the oval track engines," Tom said. "But Bob and I both love Pro Stock and we're committed to making this work." Their dedication to the engine program goes so far that Bob will not be racing himself this year. "It's hard to build engines for customers and then race against them," Tom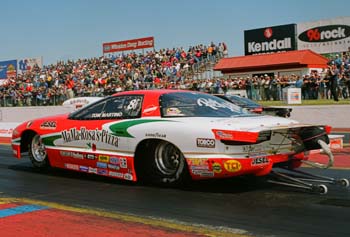 Tom Martino in 1997
said. "Right now we're trying to line up a couple of teams to get started. We have a lot of good equipment and a history of racing in the class that should help us and our customers." Tom has been one of the best racers for a number of years going back to his Competition Eliminator days, and Bob has done a good job racing Pro Stock on a limited schedule.
Did you know
that Tom finished as high as sixth in the Pro Stock points? Good luck to Tom and Bob in their latest endeavor?.Richard Freeman, along with
Nick Ferri
, will also be building Pro Stock engines this year but they will be doing a lot more than that. From Super Stock and Top Sportsman to Pro Mod and Pro Stock, the new enterprise is geared toward building engines for racers in a variety of classes. Nick has been part of a lot of successful teams and, as partner with Richard, they have a lot to offer the racers across the country. With more options than ever before we could see a lot more Pro Stock cars at the races in 2013?.I spoke with
Warren Johnson
today and he is getting ready to head to
Pomona
. "We're moving full speed ahead," WJ told me. "Kurt and I will be there and then we'll see what happens from there." Always optimistic
Warren
sounded like he did thirty years ago, or more, when I first met him. "You know us, we're always looking to improve and I think we will in 2013." Still no final word on his sponsor or if the folks at
Kiz Studios
will return but
Warren
says that talks are always "under way." Just the fact the Warren and Kurt will be at
Pomona
should be good news for all the Pro Stock fans. I know it is for me
!...
I also saw that
Rickie Jones
is going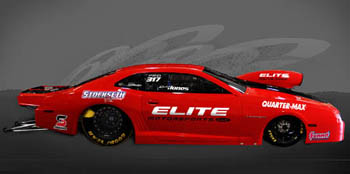 Rickie Jones
to make a few selected appearances on the tour this year and that's good. He is a talented, young driver and given the right circumstances could make a serious run at a top ten finish or better. For now, though, it looks like ten races and I guess that's better than nothing. He'll be using power from Richard Freeman's new operation and that should be a good showcase for both of them. As of this moment the team plans to begin the season in
Gainesville
even though they are on the early entry list for the Winternationals.
There were many shining moments for the Pro Stock Cars in 2012 not the least of which was the championship that was won by Allen Johnson. As I mentioned a few weeks ago it was a great moment for him, his father and the entire J & J Racing team which included Mark Ingersoll and Jim Yates. Allen's Dodge got the boost he needed to make that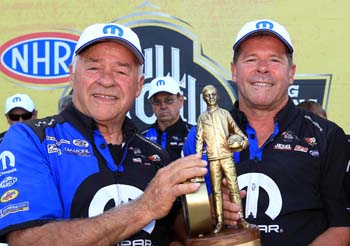 Roy and Allen Johnson
championship run when he won in
Denver
, his first of five wins over the final eleven races of the season. As good as Allen was in Denver, and he was very good by qualifying number one, setting low elapsed time and top speed on his way to the win, but that performance still has to take a back seat (if Pro Stocks had a back seat) to what
Vincent Nobile
did in Norwalk. The young driver had one of those weekends that you dream about when he won the
K&N Horsepower Challenge
on Saturday and then won the race on Sunday. Besides earning a lot of money, and I mean a lot, he gave the team a great mental lift as he rolled to his second consecutive top ten finish in his first two years on the tour?..In that "Best Of" category for performances at a single event I would also include
Erica Enders
and her run to the win in Seattle. First of all just getting a win in the Pro Stock class is very tough,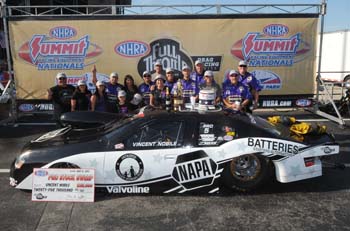 Vincent Nobile doubled up in Norwalk.
but when you do it by beating
Greg Anderson
,
Allen
and
Jason Line
in the same day, well, that's special?..Since I mentioned Jason my hat's off to him (if I had a hat) for what he did at the Maple Grove race. Those thundering numbers 6.482 - 214.35 were unbelievable. Someone told me that the conditions were so good at that race that it was inevitable that someone would be turning those kinds of numbers, well, only Jason did! The "Best Of' 2012, I guess it was.
There were a few upsets in Pro Stock in 2012, but to be honest a very few. There really weren't any surprise winners in 2012 unless you count V. Gaines and his victory at Maple Grove. But if you followed the class closely during the year you saw that V. and his Kendall Dodge were running much better over the second half of the season and it didn't really shock anyone that he won a race. As strong as the top ranked cars in the class were there were still eight different winners in 2012 and that's a bunch. Did you know that 2001 had the most winners, fifteen, in the history of the Pro Stock class? And did you know that of those fifteen three, Greg Anderson, Mike Edwards and V. Gaines are the only ones who also won in 2012?..I would say that there were a couple of upsets during the races this year even if there weren't any real surprises in the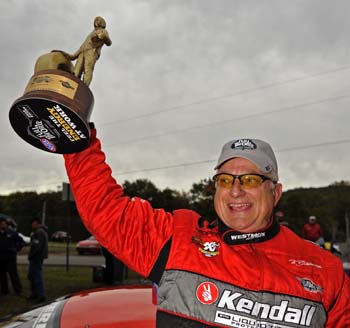 V. Gaines celebrates Reading win
winner's circle.
Mark Martino
beat Greg Anderson in the first round in Brainerd and that surprised everyone. So did
Chris McGaha's
performance in
Florida
when he beat Erica and Mark Martino to get to the semi-finals in his first race of the year. Chris had a good car at every race that he attended this year, but as strange as it is those round wins in
Gainesville
were his only two round wins of the year. That just goes to show how tough the class is and I hope Chris returns for more races in 2013?.The tough part about the class is that if you qualify in the bottom half of the field you are going to line up against one of the giants in round one and that's a tough way to make a living. To indicate how tough it is to win from the bottom half of the field
did you know
that the number twelve through sixteen qualifiers in Pro Stock won a grand total of eighteen opening round matches in 2012? The fewest wins were turned in from the number thirteen and, not surprisingly, sixteen spots as both positions produced a total of two round wins in 2012?.You would expect the match between the number eight and nine qualifiers to be among the most evenly split and you would almost be right. In 2012 the number nine Pro Stock qualifier won nine times in round one but the most wins from the bottom half of the field came from the number eleven position.
Did you know
that the eleventh qualifier beat the number six car eleven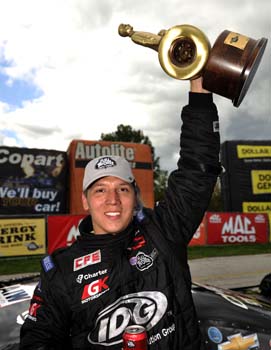 Dave Connolly celebrates Indy win.
times last year? In other words, at almost half of the races the number six car didn't get out of the first round. But here's the most amazing stat, or one of them.
Did you know
that in 2012 a driver from the bottom half of the Pro Stock field made the final round at just two races and only one of them won?
Jeg Coughlin
went to the final round at the Winternationals after starting fourteenth and he lost to Greg Anderson, and
Dave Connolly
started fifteenth and won Indy when he beat Erica Enders. Other than that it was a shut out for Pro Stock drivers who started in the bottom half of the field. So when Pomona rolls around try to be in the top eight spots if you want to win in Pro Stock?..With some new teams, new engine builders and new enthusiasm I look for the Pro Stock class to be loaded and exciting in 2013 just like it was last year and I can't wait for the season to begin.