Sat, 05 Jan 2013, 09:35 AM



It's Just As Sweet The Second Time



By Bob Frey


Photo copyright 2013 Auto Imagery, Inc.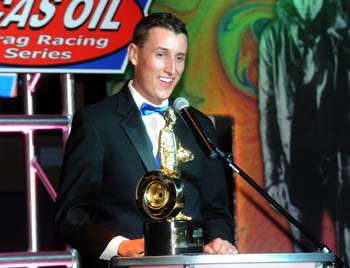 Brad Burton
Frank Manzo won his sixteenth world championship in 2012 and he said that it was just as satisfying as his first. He then added that he is coming back "bigger and stronger" in 2013 which has to be great news for all of the other racers in the Top Alcohol Funny Car ranks. With the exception of that "bigger and stronger" part both Bruno Massel and Jimmy DeFrank echoed Manzo's sentiments that the most recent championship is a gratifying as the first, and maybe more so. Winning once can be considered lucky, but winning multiple championships puts a racer in a very select group. When you consider the fact that in the entire history of the NHRA only about eighty drivers, men and women, have ever won more than one world title you begin to see how special it is. Some drivers wait all their life and never win a championship, while others like the 2012 Lucas Oil Stock Eliminator champion, Brad Burton, have two under their belt before their twenty-fifth birthday, and if you ask Brad the second championship was just as sweet as the first, maybe even more so.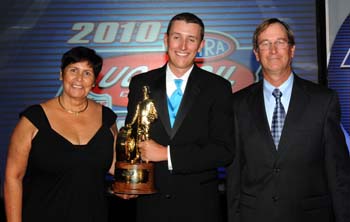 Burton and his parents
from the 2010 Awards Ceremony.
Brad Burton won the 2010 national championship in nail-biting fashion. He put a lot of points on the board early in the year and then had to wait to see if anyone could catch or pass him. They didn't, and at age twenty-two he was one of the youngest Lucas Oil champs ever. In 2012 he again started out well by posting wins at the Winternationals and at the Strip at Las Vegas Motor Speedway and those two wins gave him a whole pile of points and he was never seriously threatened again. "It's good to get out to an early lead," Brad said. "I did that in 2010 but then I kind of faltered a bit during the summer months and almost blew it." That wasn't the case in 2012 when he won five times, those two national events and three divisional races and posted an impressive 721 points to easily outdistance his closest challenger, Leo Glasbrenner, by a hefty ninety-seven points, the largest margin in any of the Lucas Oil classes in 2012.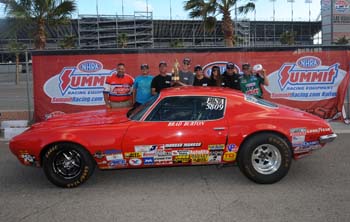 Burton celebrates Las Vegas win.
One of the amazing things about Brad is the fact that in both of his championship years he won one of the NHRA's premier events, the Winternationals, and he used that as a springboard to the title. "I kind of look at myself like a bear that is hibernating in the winter," he said. "And then when Pomona rolls around I wakeup and am ready to go hunting." As nice as that analogy may be it isn't the whole truth according to Brad. "If any racer is honest with you they will tell you that this is a twelve month a year hobby. If you want to be good at it there really isn't any down time, just longer periods between races." During the off-season Brad usually gets together with his father, Scott, and they do some R & D on the cars and make their plans for the upcoming season, although those plans changed a little after the 2010 season. "I moved up here to the Seattle area and I don't get to see my dad as much as I used to. That's what makes going to the races so special because we get to be together again." As much as he likes to take credit for his success at such an early age Brad admits to missing his father. "We are so good together and he has taught me so much. This year I went to my first race without him and won it and I think that proved something to myself and to him." It actually proved two things, that Scott is a good teacher and Brad is a good student. "He laughed when he told me that he would miss me but he said he's glad I'm moving away because I have to grow up sooner or later." Don't we all?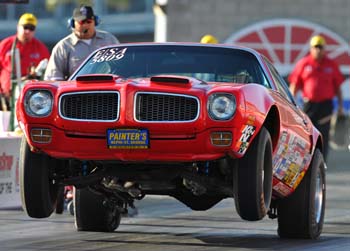 Brad Burton
Another big adjustment for Brad was the fact that he is now running in the Division 6 area instead of his native Division 5. "Oh that was a big change," he said. "With the exception of Boise all the tracks are within a couple of hours of my home in Seattle and that makes the driving a lot easier." And so does the fact that he no longer has to contend with the mile-high altitude at his former home track, Bandimere Speedway. "Oh yeah, now you can go fast at every track," he said. "It makes the race car feel like a race car instead of one that's running on seven cylinders. My car ran between six and seven tenths quicker at some of these tracks than it did in Colorado. It was whole new tuning curve, too." The general weather in the D-6 area is also a contributing factor to the overall performance of the car. "I never saw altitude or barometer readings like the ones I saw in Mission and a few of the other tracks up here. It was crazy." It was also nice to get to meet so many new racers in his new division. "Mark Faul, Jody and Toby Lang and others are all such good racers and it's a pleasure to be able to make new friends and then compete with them on an even level." The move to the great Northwest and the proximity of the tracks also enabled Brad to do something this year he didn't do in his first championship year. "I was able to win the division championship this year and that's a first for me. As spread out as the tracks are in D-5 it makes it tough to get all the 'in-division' races you need for the championship. This worked out well for me up here."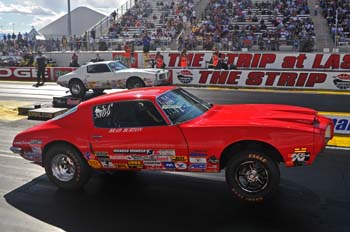 Brad defeated his father
for the win at Las Vegas.
According to Brad the key to any championship season is simple and it has nothing to do with winning Pomona, although that can't hurt. "My dad told me that to win you need a combination of three things, a little luck, a little skill and some good equipment and I guess I have all three." And while he wouldn't put them in their order of importance, when you win two Stock Eliminator championships in three years you have to be good.
For the 2013 season Brad plans to run the same basic schedule as he did in the previous three years. "We'll do some testing before Pomona and then race there and in Arizona and Las Vegas. Each season is a new beginning and a learning process that I can build on." With two titles in three years it doesn't sound like there is a whole lot of building to do. "Like every racer I like to think that I can get better each year. You set goals and try to achieve them." One of those goals for the champ is to make the Jegs All Star race in Chicago. "I've been there with my dad before but never as an All Star myself. I'm in the lead now with one race to go and I'd like to make the team this year." That would seem to give the D-6 racers a real shot in the arm, after all, having a two-time world champ on your team has to be a good thing.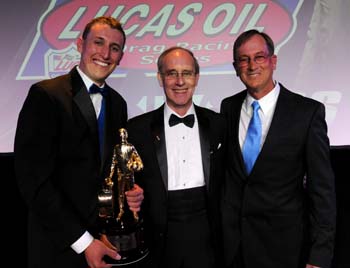 I am here with Brad and his father Scott.
"I would like to thank, first and foremost, my father Scott Burton, for all his help and support over the years. Without him there is no way I would have achieved what I have and be where I am today. I would also like to thank my mom, Diane Burton, sister Alyssa Burton, and girlfriend Brooke Dark, for all their continued support over the years and for allowing dad and I to do what we love. I would also like to thank Michael Brand, Matt McKibbin, Bill Bushmaker, Earl Blake, Mark Philbrick, Larry Maxwell, Verle Stevens, Danny Martin, Randy Painter and everyone who has supported me and helped me in my racing. A special thanks to all the companies who have continued to help me over the years as well including K&N, Goodyear, Front Range Driveline and the many others that support the sport that we all love."