Thu, 03 Jan 2013, 17:59 PM



Win with Force Delivers a New Ford Fiesta to NHRA Race Fan



Courtesy of Dave Densmore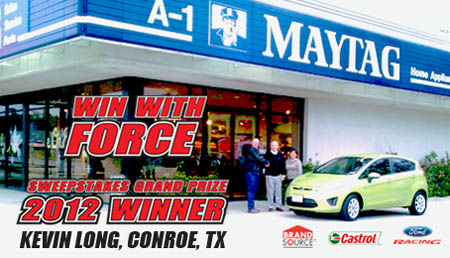 2012 Ford Fiesta winner Kevin Long of Conroe, Texas
Thousands of fans registered for the "Win With Force" sweepstakes in 2012, but only one lucky person drove away with a Ford Fiesta. Kevin Long of Conroe, Texas was the Grand Prize winner. Kevin and his family, who are big fans of John Force and NHRA drag racing, will be starting the New Year in their new car.
"I have never won anything in my life," said winner, Kevin Long. "I've had season tickets since the NHRA track in Baytown, Texas opened. All of the race fans in our seating section are a pretty tight-knit group. We were just saying that none of us ever wins anything. Well, that's changed now!"
The popular Win With Force sweepstakes was originally developed by John Force Racing sponsor BrandSource, and also includes Castrol and Ford Racing. Fans can enter the sweepstakes on the NHRA midway, at John Force Racing Road Show appearances, as well as online at BrandSource.com, and CastrolForce.com.
"The Win With Force sweepstakes has been a great way for Ford Racing to interact with thousands of John Force Racing fans and followers of their sponsors" stated Tim Duerr, Ford Racing Motorsports Marketing Manager. "We are excited to see Kevin pick up his new Ford Fiesta and wish him many years of enjoyment driving his family to the NHRA races."
More than 150,000 fans entered the 2012 Win With Force sweepstakes. 2012 Grand Prize winner, Kevin Long, registered at the John Force Racing midway display during the NHRA Spring Nationals in Houston.
Bob Lawrence, CEO of BrandSource, is making sure that Kevin receives full recognition for his exciting prize win. "Our BrandSource dealer closest to Kevin's hometown, A-1 Maytag in Spring, Texas, welcomed him to their store for pictures and media exposure, and we are looking forward to having him up on stage during pre-race ceremonies with John Force and other VIP's at the NHRA race in Houston this spring".
The 2013 Win With Force sweepstakes is right around the corner. Fans can start entering on February 14th at the NHRA Winternationals and online at www.BrandSource.com and www.CastrolForce.com.