Thu, 03 Jan 2013, 08:47 AM



Johnson Wins Very First Junior World Championship



Courtesy of IHRA Communications



14-year-old Virginia Native Claims Very First Summit SuperSeries Junior Title



NORWALK, Ohio --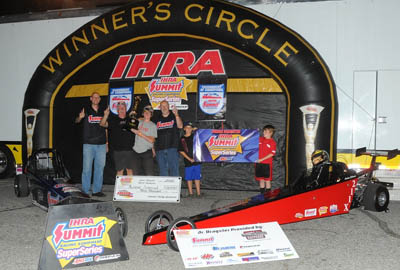 14-year-old Austin Johnson won the very first
Summit SuperSeries Junior Dragster championship
There is nothing more exciting than being the first to do something.
Just ask Pearisburg, Virginia's Austin Johnson.
When 14-year-old Johnson began racing in the IHRA Junior Dragster program in 2009 Johnson never dreamed he would one day have an opportunity to be a World Champion, at least not until he moved up to a big car. But when the IHRA announced in early 2012 that it would be adding Junior Dragster to the highly popular and extremely successful Summit SuperSeries program beginning this year, it opened up doors for the IHRA's youngest competitors to have an opportunity to chase a championship and share the stage with some of drag racing's biggest stars.
Still, having the opportunity and actually winning are two very different things and Johnson proved himself to be one of the best Junior racers in the country when he won the inaugural IHRA Summit SuperSeries Junior Dragster World Championship presented by AMSOIL and Moser Engineering at the Summit World Finals at Memphis International Raceway in October.
"It is a dream come true. This is so exciting, it is the best thing that has ever happened to me so far," Johnson said. "And to be the first one, it still hasn't sunk in yet. This is just all very exciting."
Johnson won the title in an exciting final round showdown with Conroe, Texas' Cory Tankersley from Lonestar Motorsports Park. Johnson got the advantage off the line with a .024 reaction time to Tankersley's .056 and used that advantage to hold on for the win. Johnson crossed the line with a 7.941/82.32 on a 7.93 dial while Tankersley broke out by -.034.
"Everything seemed to go pretty smooth. It was a great day, the car ran good and I stayed calm and now here I am holding this trophy," Johnson.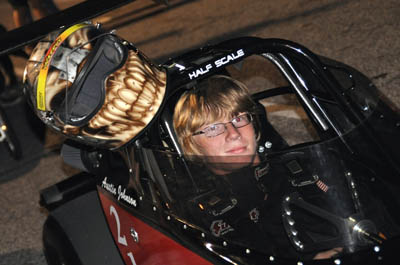 Johnson, representing Motor Mile Dragway,
defeated Cory Tankersley in the Junior final
Johnson also recorded wins over Dylan Kiser, Robert Vogler and Josh Jones to reach the final, while Tankersley defeated Wesley Mayfield, Randi Teed and Tyler Macedo.
Johnson, representing Motor Mile Dragway in Virginia, qualified for the Summit SuperSeries championships via a runner-up finish at the Division 1 Summit Team Finals at Richmond Dragway. He lost to Sumerduck Dragway's Tyler Macedo, but still managed to qualify for the big show by making it to the finals.
Once in Memphis the inaugural class of 16 Junior Dragster competitors took the time to get familiar with the new program and the new surroundings and went to work Saturday afternoon. By Saturday evening Johnson was a World Champion, collecting $3,000, a brand new Junior Dragster machine built by Vic Puglia and more - all at just 14 years of age.
"I love running the Junior program, it is a lot of fun," Johnson said. "Hopefully with my experience racing these cars I can move up in the world one day. I hope to race a rail like these nice cars here this weekend. But for now I am going to enjoy my new car. I can't wait to drive it."