Wed, 02 Jan 2013, 19:03 PM



TAFC Rookie Annie Whiteley Dominates the West With Five Wins



By Todd Veney/ Pro Sportsman Association


Photo copyright 2013 David Smith Photos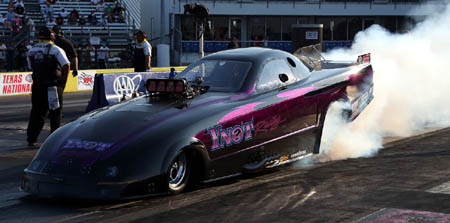 Annie Whiteley
Shocking everybody, especially herself, rookie Annie Whiteley put together a perfect five-win/425-point season to dominate the West Region, home to the two most prolific Top Alcohol Funny Car drivers other than Frank Manzo - Tony Bartone and Jay Payne - and multiple national event winners Clint Thompson, John Lombardo Jr., Doug Gordon, Steve Gasparrelli, and Brian Hough.
"I don't know how to put words to it," Whiteley said. "Our goals this year were to win a national and a regional race, and we almost got one of them and more than accomplished the other."
Whiteley, whose husband, Jim, won both the national and regional championships this year in Top Alcohol Dragster, was runner-up to Manzo at the Lucas Oil Nationals in Brainerd and to Bartone at the Big O Tires Nationals in Las Vegas. In regional competition, she scored five times in a year when no other Alcohol Funny Car driver in any region won more than three.
"The whole thing has just gone so much better than I thought it would," said Whiteley, who won the Tulsa final over Mike Bell, Sonoma over Lombardo, Woodburn over Brian Hough, and both Vegas races over Bartone. "I didn't plan on winning the regional championship my first year out, and I sure didn't think we'd win five races."
Whiteley had yet to win a round as she staged for round one at the first Vegas regional, and by the end of the day she'd stunned Payne in the semifinals and Bartone, who dominates Vegas like no driver in any pro or sportsman class, in the final for her first win. She fell in the semifinals in Denver after qualifying No. 1, then won the last four in a row - Tulsa, Sonoma, Woodburn, and the Vegas closer, setting low e.t. at three of them.
At Tulsa, on the first night run of her young career, Whiteley ran low e.t. in the final to beat Bell, who had just taken over behind the wheel for 15-time Division 5 champ Vern Moats, 5.67 to 5.75. A career-best, track-record 5.508 against Gasparrelli in the Sonoma semi's made her one of the quickest drivers in Alcohol Funny Car history, and a 5.53 in the final took care of Lombardo, who went up in smoke off the line. Whiteley edged Hough, the many-time Division 6 champion, in the Woodburn final in a tight race, 5.60 to 5.63, and set low e.t. of all three rounds. She took down Bartone in the Vegas finale in a rematch of both the spring regional and fall national event finals there with her best run all weekend, 5.57.
Coached by crew chief Roger Bateman, who finished fourth in the country last year driving the same car, Whiteley had one of the great rookie seasons in the history of not just Alcohol Funny Car but any class. She went 16-2 at the regional level and 10-9 at national events for a 26-11 overall record (.703) and scored 582 points to tie Lombardo for fourth in the national standings.
"We were just hoping to maybe make the Top 10 this year," she said. "And here we are in the top five. This whole season was amazing, and I really have to thank Jim and Roger for their coaching and Roger and the Strasburgs for the great work they did all year."