Thu, 06 Dec 2012, 09:06 AM



Sensing Special Season, Snyder Takes Advantage to Win First ADRL World Championship in Pro Extreme



Courtesy of ADRL Communications


Photo copyright 2012 Roger Richards, ADRL





O'FALLON, Mo. --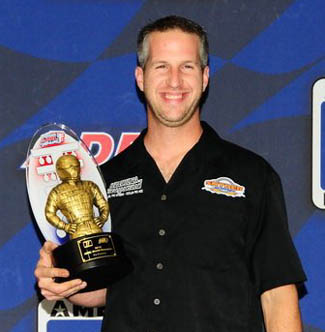 Mick Snyder
Even weeks after it had become official, it still had not totally sunk in for American Drag Racing League (ADRL) Pro Extreme world champion Mick Snyder.
The congratulations still come frequently from residents in his hometown of Demotte, Ind. and Snyder will also have his Powersource Transportation Corvette on display at the upcoming International Motorsports Industry Show (IMIS) and its Hall of Champions display.
All of it remains overwhelming for Snyder, who turned in one of the most impressive seasons in Pro Extreme history. He won three straight races in one of the best stretches in the storied history of the class, holding off teammate Jason Scruggs in a thrilling points race to capture his first ADRL world championship.
"You look at it still and go, 'Wow.' It's still hard to believe. I've never been able to have a number '1' on my car before. It's pretty awesome," Snyder said.
"It's just stuff that sets you back. It's been a pretty amazing year, that's for sure. It's pretty unreal. This car is probably the most fun car I've ever driven and this is probably the most competitive class I've ever been in, so to do this well is just pretty amazing."
A longtime standout in the drag racing scene, Snyder made his ADRL debut in 2010, winning a race and garnering ADRL Rookie of the Year honors. The progress continued in 2011 as Snyder contended for the championship, but he displayed tremendous progress in 2012.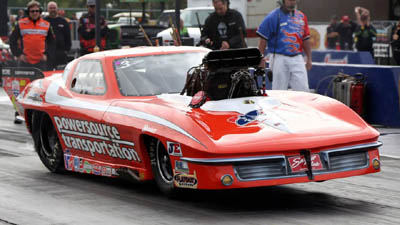 Mick Snyder
The Snyder Motorsports team worked diligently on the Corvette once driven by Scruggs, taking off weight and making a number of other adjustments. It paid off immediately, as Snyder won the Northeast Drags II presented by Penske at Maple Grove Raceway in May, qualifying No. 1 and not letting up throughout the weekend.
But that was just the start of a magical season, as two more wins followed to give him a remarkable three-race winning streak in one of the most competitive classes in drag racing.
"Everybody's car is running better and everybody is figuring it out. It's pretty awesome to see how quick and how fast these cars are going now. It's pretty amazing when you think about it," Snyder said.
"You keep looking at the progress and it's pretty dang exciting. To end up on top in a class like this just pretty unbelievable and just a tribute to all the people on this team."
Snyder ran a then career-best 3.60 in St. Louis to win the Gateway Drags IV presented by CarSafe and then used a holeshot victory against Tim Tindle three weeks later for his third straight win, this one coming at the U.S. Drags V.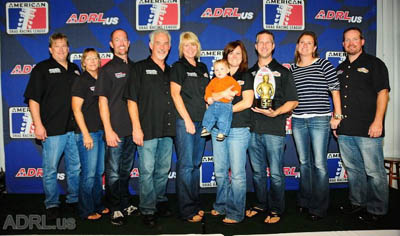 Snyder with crew and family.
"With the amount of competitors in our class and the drivers you're competing against, it's great just to get to the finals. To win a race, it's just amazing. It just kept continuing. To get two in a row was crazy and then we won the third won, it was something else," Snyder said.
>From there, Snyder held off a hard charge from Scruggs, who also won three races. Snyder became the first driver in the class to run in the 3.50s in 2012, running a career-best 3.59 in Norwalk at the Summit Racing Equipment Ohio Drags VI presented by Mickey Thompson.
Still, the championship wasn't his until Scruggs lost via red light in the second round and Snyder advanced to the semifinals of the World Finals VIII presented by CarSafe.
That started the first celebration for Snyder and the team, and many more have followed in a season that was deemed special early on and finished in the best way possible for Snyder.
"It all had to do with preparation more than anything else. These cars take a lot of work between races and it's just a matter of taking care of little things. This was one of those dream seasons," Snyder said. "We figured we had a car that could win races and once the win started, we had a championship car.
"Those seasons don't come along very often and you have to take advantage of that when it happens. I've been racing 20 years now and I've had maybe three seasons like this. It's pretty amazing when you get to finish it off."