Tue, 04 Dec 2012, 11:58 AM



Number of Special Moments Lead Rahaim to First ADRL Pro Nitrous World Championship in



Courtesy of ADRL Communications


Photo copyright 2012 Roger Richards, ADRL





O'FALLON, Mo. --
2012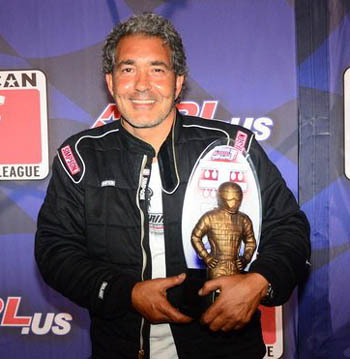 Bob Rahaim
The moment and the season Bob Rahaim had always dreamed about came to fruition in the American Drag Racing League (ADRL) in 2012.
When it was over, the Pro Nitrous standout had a collection of special moments, including his first finals appearance, his first ADRL win, his first run in the 3.70s and, ultimately, his first world championship.
Crossing one item after another off his bucket list as the season progressed, Rahaim ended it with the biggest moment in his drag racing career, sharing it with his family-based team in the process.
Finishing with three wins and five final appearances, which led to his 2012 Pro Nitrous championship, Rahaim was lucky enough to truly experience a dream season.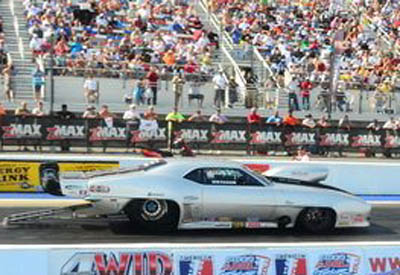 Bob Rahaim
"I get goose bumps just thinking about this and I just have to thank the ADRL for giving us such a great place to race," Rahaim said. "This is our second season together for this team and it's been so satisfying to see it all come together. For me, it's just something that I've always wanted to have happen. To find the right group of people, it's just amazing and I owe a lot to them. Everyone brings something to the table and it's all clicked. It's just been an amazing year."
Recognized as one of the truly good guys in the sport, the Grosse Point, Mich. native experienced the treasures of the hard work he has put in to become a contender.
Rahaim made a major move in 2011 and then took another massive step in 2012, starting the season in fine fashion. Driving his silver Camaro from Jerry Bickel Race Cars, Rahaim made his first ADRL finals appearance to kick off the 2012 season, repeating the effort three weeks later at Bristol Dragway.
Getting to the cusp of that first win only pushed Rahaim and his team harder, and they finally broke through for that first victory at the Summer Drags VIII at Rahaim's home ADRL track, U.S. 131 Motorsports Park, running 3.79 in the finals.
What made the moment even more special was sharing it with his team. Rahaim lauded their efforts to get the car to its standout point in 2012, and it's a group that includes Rahaim's three daughters, along with crew chief Kevin Bowen, Brian Tiffe and Jimmy Fleenor. Bowen battled cancer during the summer months, but was at the track late in the season to enjoy the championship spoils.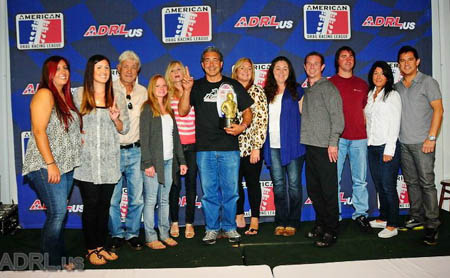 Rahaim crew and Family
"I think, really, it has been the way the guys have maintained the car at the track, at the shop. It's been above and beyond. Things like that has been a big key for it," said Rahaim, who also thanked Reher-Morrison Racing Engines and Switzer Dynamics.
"I owe a lot to all of them. We've changed our engine program, put in a new clutch and done a lot of different things. But everyone takes a different role and it's very satisfying that this is a whole team effort.
"In my opinion, we haven't been the fastest out there or the best on the starting line, but whenever we needed to be fast, we had it, and whenever we needed a good light I was able to do my job. We just took a consistent approach and things really worked out."
That workmanlike approach led to an incredible finish, as Rahaim posted back-to-back wins in Memphis and Norwalk, giving him three wins in a four-race stretch.
It opened up a big lead over Doug Riesterer and Rickie Jones, and the championship became official at the World Finals VIII presented by CarSafe in Dallas.
With a huge gathering of friends and family joining him for the celebration, Rahaim couldn't have scripted his season any better. "I want to be able to enjoy for it as long as I can. I feel very humbled by this, and to think that's this is happening is just incredible," Rahaim said.
"At this level, everyone expects to go out and win. Just to compete with all these guys is amazing. All the hard work and struggles we went through, to have it come together like this, I think I feel complete as a racer. It's a dream for everybody and I'm just so proud of everyone on this team."