Fri, 16 Nov 2012, 18:36 PM



It's All Over



By Bob Frey


Photo copyright 2012 Auto Imagery, Inc.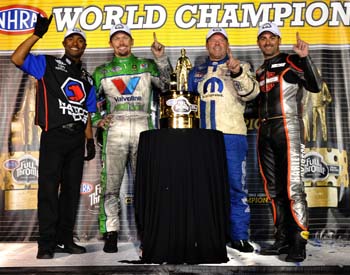 The Champs
Brown, Beckman, Johnson and Krawiec
The 2012
NHRA Full Throttle
season, and the Full Throttle era are officially over, and I know it will sound trite but it was one of the best seasons ever. Even if you only based it on the final race of the season I think you would agree that it was a great year. The tension, the excitement, the stunning endings all added up to one of the best races ever and I was glad to be a part of it. Just like all the races before that I have attended, either as a fan or an announcer, I thoroughly enjoyed the
2012 Auto Club NHRA Finals
, and why not, the race had a little bit of everything from wild explosions to big upsets and title clinching moments. When I left
Pomona
on Sunday night I felt that I had been a little part of its history and I hope the fans felt the same way.
Antron Brown's
championship,
Jack Beckman's
battle with
Ron Capps
and
Brandon Bernstein's
thrilling win over
Tony Schumacher
all made it a fun weekend and an exceptional race.
Frey with Award and Don Prudhomme
The entire weekend was bittersweet for me since it was the last race that I will work as the announcer, at least as the official announcer (because I will go to races in the future). I would like to thank everyone for their kindness, which went way above and beyond what anyone had to do or anything I expected. It was a wonderful way to end my career and that goes from the NHRA Premier card that I was presented with from Tom Compton and NHRA to the crystal Coke bottle that I received from Al Rondon and all the folks at Full Throttle, to the beautiful collage of pictures, the special "microphone" that I received from the "Team Schumacher" folks and so much more. Friends, co-workers and people whom I had never met all made it a very special weekend and it was topped off with the presentation of the Don Prudhomme Award on Monday night. To say that I was speechless was, well, maybe not entirely correct but it was close. I won't dwell on it but let me say that I am thankful to everyone who made my final race weekend very special….By the way, in answer to many questions that I have been asked, I will continue to write my columns here on DragRaceCentral.com in 2013….There are about ninety days between now and the start of the new NHRA Mello Yello Drag Racing Series and in the days ahead I will re-cap the 2012 season, feature all of the champions from Top Fuel to the Motorcycle winner in the Summit Racing ET Series, and everyone in between. I will also get to vote on the National DRAGSTER "Best Of" awards and I'll point out some of the highlights of the 2012 season, at least the moments that I thought were highlights.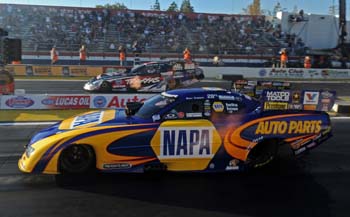 Capps vs. C. Force
in semifinal.
For now I'd like to put an exclamation point on the 2012 season that just ended. The 48th running of the NHRA Finals provided something for everyone and it included the clinching of championships in Top Fuel, Funny Car and Super Comp. I know that the two Pro Stock crowns were also officially wrapped up in Pomona too, but they were actually out of reach coming into California. All eyes were on the three drivers who were battling for the Top Fuel crown as well as the two who were in the Funny Car championship hunt. I know, Mike Neff was also still alive coming into the race, but in reality his chances were almost non-existent. Or as Mike said during the pre-race ceremony, "John (Force) said it ain't over until the fat lady sings, but she's warming up right now."…I don't know what was more exciting, the Funny Car battle or the one in Top Fuel? Sure the dragster title came down to the last run of the year but there were two guys going almost head-to-head in the Funny Car class and that made the racing in the Funny Car eliminations very intense. When Ron Capps lost to Courtney Force in the semi-finals it gave the championship to Jack Beckman. Well, almost. Did you know that if Jack lost his race against Cruz Pedregon and oiled the track the championship would have reverted back to Ron? As an announcer and a fan I'm sure glad that didn't happen because that would have been tough to explain to the fans, the press and Jack! I have to be honest with you, I was sitting in the tower thinking that the Valvoline Next Gen team may just shut their car off on the line, but I guess that's why they are champions and I'm an announcer because they still wanted to win the race. I will say this, I spoke to more than one driver who said that they would have shut their car off had they been in that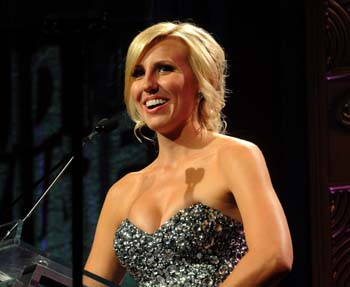 Courtney Force won the Rookie of the Year Award.
situation. Anyway…..Ron lost to Courtney in a great race, 4.06 to a losing 4.09, and that ended his title dreams.
Did you know
that Ron and Courtney had raced six times previously in 2012 and Ron had won five of those meetings? But give Courtney a lot of credit, she drove well and her team gave her a good car and she made it to her fourth final round in her very successful rookie season….As soon as the win light came on in Courtney's lane Jack's team went wild, and rightfully so. After all the changes in the team during the year the championship had to be even more special to them. By the way, in case you haven't heard,
Don Schumacher's
mother died over the weekend and Don wasn't able to be at the award's ceremony on Monday night. Our best to Don and his family at this time of very mixed emotions….Cruz Pedregon wasn't in title contention but he could have been because he had a really good car this year. His win in
Pomona
was the 30
th
of his career and
did you know
that makes him just the sixth driver in the history of the class to win thirty or more races? Cruz's win total also makes him just the fourteenth driver in both fuel classes to post thirty or more wins in their career. I know it's early but I fully expect Cruz,
Lee Beard
and the
Snap On Tools
team to contend for the championship next year. Remember where you heard it first.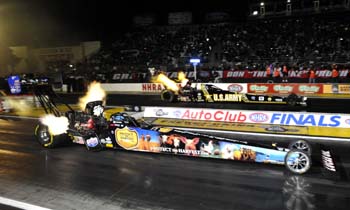 Bernstein defeated Schumacher
I have to admit that I was not the only one who thought that Tony Schumacher was going to win the race and the championship in Pomona. Once Antron Brown went out in round one and Spencer Massey lost in round two it seemed like déjà vu for the "Sarge." Everyone remembered 2006 and 2007 and thought that fate was in action again, only nobody told Brandon Bernstein about that. Brandon, who had been winless since the 2009 season, turned in one of his best performances ever in the Protect The Harvest car and he earned his nineteenth win in the process. Let's face it, when your worst run on Sunday is a 3.805 and when you're driving like Brandon was you deserve to win. And when you wrap up the day and the season with a holeshot win over Tony Schumacher you deserve to win. Did you know that Brandon had three holeshot wins this year, the most in one year for him, and two of them came against Tony and they were both in the "Countdown?" In fact the two of them only met three times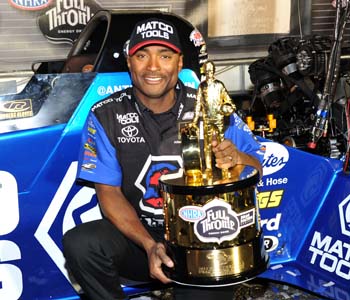 Brown with the Championship trophy.
this year and each time it was in the "Countdown" and each time
Brandon
got the win. Since he also beat Spencer in round two I have to think that
Brandon
is now, if he wasn't already, Antron Brown's best friend. With his nineteenth win Brandon is now tied with
Gary Beck
for tenth place on the all-time Top Fuel win list…..The stage for the exciting finish was set once qualifying was over and Antron and Spencer were paired up for round one. I have to admit that I was surprised that Spencer's team even ran their car for that final qualifying round since they were already matched up with Antron. It was a wacky run (check the numbers and the comments here on
www.dragracecentral.com
) and it didn't change the matchup, but I still wouldn't have made the run. By the way, are you seeing a pattern developing here with the "I wouldn't have made the run" theme? Anyway, Spencer beat Antron when the
Matco Tools
car broke, caught fire and burned Antron's hands. He was ok, but for the rest of the day all he could do was watch and wait. How about Antron's six races in the "Countdown?"
Did you know
he had three final round appearances and three first round losses in those six races? And in those three first round losses he never really got going all weekend because he qualified in the bottom half of the field at each of those races. What are the odds? Antron lost in round one in
Las Vegas
and again in
Pomona
, and
did you know
that was the first time since the end of the 2009 season that Antron had lost in the first round at back-to-back races? Still, he had enough momentum from those three final rounds that he was able to hold on and win the championship by a slim seven points over Tony. Congratulations to a truly nice young man and a very good Matco Tools team on a well-deserved championship.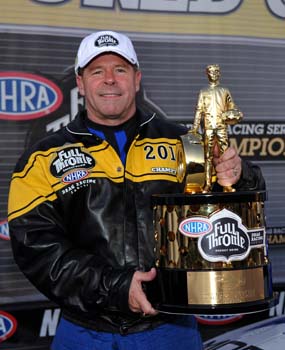 Allen Johnson with the Championship trophy.
There really wasn't much suspense in either of the Pro Stock classes since both Allen Johnson and Eddie Krawiec had substantial and basically insurmountable leads coming into the weekend. Allen punctuated his season with another dominating performance while Eddie went to the final round where he lost to his teammate, Andrew Hines….If you were at the award's ceremony on Monday, or if you saw it on line, you know how emotional Allen was when accepting his championship. I have known Allen and his family for a long time and I knew that was how he would react. He loves his family, is exceptionally close to his father and has tried for years just to win rounds, let alone races and championships, and it was nice to see how much it all meant to him. He said all along that his goal coming into Pomona was to win the race and put an exclamation point on his year and he did just that. Even though Jason Line grabbed all of the statistical headlines, (number one, low elapsed time and top speed) Allen was the last man standing on Sunday and that gave him seven wins in 2012. When you realize that he had won nine races in his entire career coming into the season you see how dominant he was in 2012. His sixteen wins ties him with the great Bruce Allen for twelfth place on the Pro Stock win list…..I'll mention more about this when I do the profile of Allen in three weeks, but I think one of the most amazing things to happen in the final weeks of the season was the fact that Allen met and beat Vincent Nobile in each of the six races in the "Countdown." A quick look at the numbers will show that every one of those races, except their meeting in St. Louis, was a great race. Think of what could have been if Vincent had been able to win even half of those races.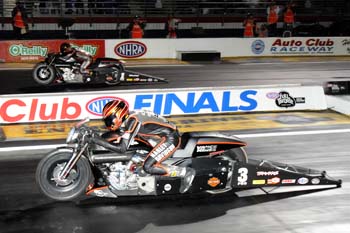 Hines defeated Krawiec in the final.
Andrew Hines beat Eddie Krawiec in the Pro Stock Motorcycle final round but it didn't keep Eddie from winning his third Full Throttle Championship. As good as Allen was in the car class the Harley-Davidson riders were even more dominant in the bike class and they won all but one of the races on the 2012 schedule. Not only that but they also ran each other in the final round at seven races this year. Like I said, they were the dominant team in 2012 regardless of class. Andrew's win was the thirty-first of his career and that's a little milestone for him. Did you know that he is now fourth on the all-time Pro Stock Motorcycle win list and he is one ahead of his brother, Matt Hines? How would you like to win six races in a single season and still finish second a full eighty-two points behind the winner? That just shows you how good Eddie's season was…..Of note for the weekend was the fact that James Surber made his first six-second run and then qualified for his first NHRA start. Congrats to James for sticking with it. Oh, by the way, for his troubles he got to race Andrew in round one, but it was still a good weekend for James. Did you know that James was the fifty-sixth rider who has raced against Andrew, and of that total twenty two, including James, have never beaten him?...There will be some new rules and some drastic changes for the Harley teams next year, but just like they have in the past they will rise to the occasion and be among the top contenders for the championship. Remember where you heard it first.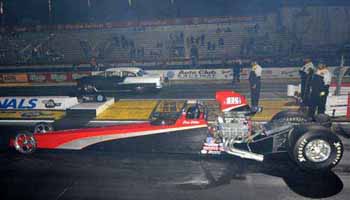 Bolton vs. DeYoung
Al Kenny wrapped up his championship almost the same way that Antron did, watching from the sidelines. After running out of races to score and rounds to run, Al sat by and watched until his closest competitor, Stefan Kondolay, lost in round four. Stefan fouled out and then ran 8.904 (on the 8.90 dial-in) to end his chances of winning the title. Matt Constant, who beat Stefan, then lost to Cameron Ferre in the final round giving the former Jr. Dragster standout his first national event win in the "big car."….The Summit Racing ET champs were crowned and I'll have a story on each of them in the coming weeks but I did want to congratulate them all….I did want to mention Larry DeYoung, who was one of the contestants in the Super Pro class. In the final round against Brad Bolton, Larry's classic '55 Chevy got loose and eventually flipped over. He was unhurt, but his car was severely damaged and that's a shame. I spoke with him early in the day and was very flattered when he asked me to stop by and sign his dashboard. As hectic as the day was I never got over there and was planning to meet him after the final round. As good as the weekend was for me I'll always regret not getting to Larry's pit area. I hope he's ok and will be back racing before too long….As always all of the Summit Series racers told me they had a great time and congratulations to Brad, Seth Polvadore, Dave Muller and Tom Klemme on their national championships.