Tue, 06 Nov 2012, 23:02 PM



Vote Early And Often



By Bob Frey


Photo copyright 2012 NHRA





I know what you're thinking, it's illegal to vote often, and while that may be true in certain elections it's not in the one that counts. Ok, by the time most of you read this we will know who the president will be for the next four years. If your candidate won, congratulations! If yours lost, suck it up and do your best over the next four years to make this country a better place. And if you didn't vote at all, just be quiet for the next four years! There, that's my soap box sermon for now (and maybe for always). Anyway, the voting that I was thinking about is for the
Full Throttle Hard Working Crew Award
. Teams in all four of the Full Throttle classes have been nominated for this prestigious award and you, the fans, can vote on it between now and the end of the day on Sunday. After that the votes will be tabulated and the winners will be announced at the Full Throttle Awards Ceremony on Monday night. To vote go to
hardworkingcrew
and cast your ballot. The crews who work so hard during the year to make the drivers look good deserve a lot of credit and I'm glad the folks at Full Throttle instituted this program a few years ago. Believe me, it means a lot to the teams to win, and not just because there is a cash prize that goes to the winners but because it recognizes their hard work during the season. So check it out, and like I said, vote early and often.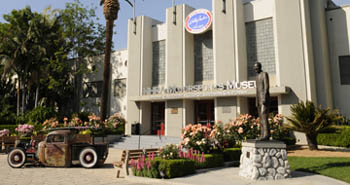 Before I talk about the race this week and all of the possibilities and championship scenarios I want to remind you about the big "Meet & Greet" or the big "Q & A" session that will be held Friday night at the Wally Parks NHRA Motorsports Museum. Always one of the highlights of any visit to Pomona this year's affair, which will begin at 6:00 PM., after the professional qualifying session, will feature some of the top stars in the sport. Scheduled to appear, as we like to say, are Hector Arana Jr., Ron Capps, Erica Enders, Morgan Lucas and Robert Hight. With a lineup like that it's sure to be standing room only so plan to get there early. As always, admission is free to the museum during the NHRA Auto Club Finals so I hope you'll plan to stop by. Oh, by the way, did I mention that I will be the host of the event? It's always a lot of fun and the drivers are more than willing to hang around after the official event ends to talk to the fans, take pictures and sign autographs. Plus you never know which legends of the sport will show up. Normally you can expect Tommy Ivo and Bob Muravez to be there and it would be a big hit if they were the only legends to show up. Speaking of Tommy, did you know that he ran at the NHRA Finals in 1975, 1976 and 1977? He qualified at the '75 race in Top Fuel and the '77 event in his Funny Car? Anyway I digress, but the open house at the museum is always a fun time and I hope you plan to put it on your schedule for the weekend.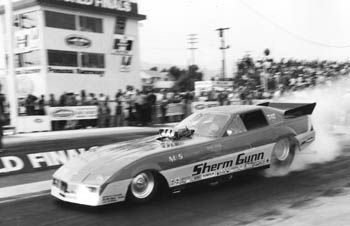 Sherm Gunn
With one race to go we will crown all of the champions at this year's NHRA Auto Club Finals which will take place at the historic race track in Pomona. Did you know that the first year for the "Finals" in Pomona was 1984? At that race Don Garlits, Sherm Gunn and Bob Glidden were the big winners and 5.426 was low elapsed time and that was recorded by Joe Amato, and among the qualifiers in the Top Fuel field were Shannon Stuart, Bill Carter and Ralph Pearson. Did you know that there were two drivers in the Funny Car field and two in the Pro Stock class at that '84 race who are entered for this weekend's race? John Force and Jim Head were the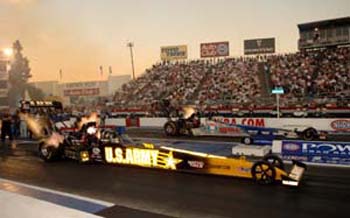 "The Run" from 2006.
Photo copyright 2012 Auto Imagery, Inc.
Funny Car guys and
Warren Johnson
and
Jerry Eckman
both made the Pro Stock field in 1984 and are on the entry list for this weekend. For the record this will be Warren's thirty-fourth "Finals" event while John will be attending his thirty-first and Jim Head will be at number twenty-eight.
Antron Brown
comes into the race in first place by sixty-five points over
Tony Schumacher
and that's a lot. It is not, of course, impossible for Tony to catch Antron but it will take several things to happen all at the same time. Antron will have to go out early and Tony will have to stay around late. With a three round deficit the "Sarge" and his
Army
team will have their work cut out for them, but then we've seen this picture before, haven't we? Ok, so the gap in 2006 was one full round less and that makes a huge difference, but as I mentioned last week it is "doable" and you can be sure that
Mike Green
, Tony's crew chief, and his team will give Tony a great car and they won't give up until (and if) they are mathematically eliminated from title contention...With my impending retirement I can honestly say that the Top Fuel race and final round in 2006 will have to go down as one of the greatest moments in my announcing career and I don't know if my heart, or Antron's, could handle a repeat of that great day...Those extra five points, which makes it more than a three round deficit, could be added to or erased during qualifying and that will be huge. If Tony can gain enough points before round one to reduce his deficit to fewer than three rounds it's a whole new ball game. Remember, at the 2006 race
Doug Kalitta
out qualified Tony and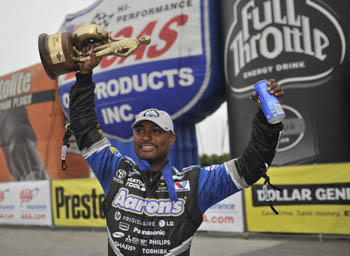 Antron Brown
went to the semi-finals. With a forty-five point deficit coming in it meant that Tony had to win the race and set the record, which he did, to take the championship. If the differential stays at sixty-five going into Sunday this week Tony would have to hope that Antron lost in round one and that he went on to win the race. By the way, in the "strange things can happen" category,"
did you know
that Antron has competed in 115 races in the Top Fuel class and has qualified for 114 of those races? And the only time he failed to qualify was in 2008 at the Auto Club Finals. What are the odds? It should be fun...
Spencer Massey
is seventy points back and he would need a miracle, basically, to pass both Tony and Antron. Still, it's been another good year for Spencer and his
FRAM
team and they continue to be one of the best teams in the class.
The Funny Car class champion should be the guy who goes further on Sunday, Jack Beckman or Ron Capps. With a four point differential it really should be that simple, and even though Mike Neff has not been eliminated for title contention, his task is Herculean compared to what Spencer Massey's is. He must have two other drivers either not qualify or go out early and then Mike needs to go on and win the race and set the record...Jack leads his teammate by those four, slim points and both are coming to a track that they really love,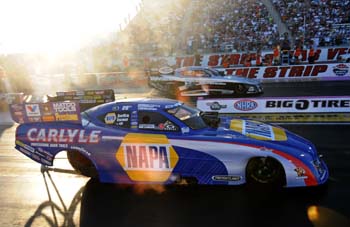 Capps vs. Beckman
and while that is true neither one has done particularly well at this event. Ron will be competing in his seventeenth "Finals" event and he is 13-16 overall in his previous starts. That includes an average 9-7 mark in round one and one final round appearance. Jack, on the other hand, will be making his eighth start at the "Finals" and he is just 7-7 in his previous trips to this event and that includes the final round in 2006, the one where he set the record and lost the race on a holeshot to
John Force
in the final round. And before you write or e-mail me and think I'm pointing out any deficiencies on the part of either driver I'm actually just stating the facts. Here are two of the best drivers in the sport getting set to run for the championship and neither one has distinguished themselves at this event and that's all I'm saying!.....Wouldn't it be great if the two of them made it to the final round and settled the championship in a one run, winner-takes-all match? I think that would be really special. If they should meet some time on Sunday Ron may have the edge, after all he leads their overall series 16-10 and has a 4-2 advantage this year. Now that may not mean anything but I thought I would just point it out...I'd also like to point out that Ron's four rounds in Vegas gave him an even 800 for his career and that's makes him just the twelfth driver in the history of the Full Throttle classes to reach that level. He has also now won 458 rounds in a Funny Car and that ties him with
Cruz Pedregon
for third place on the all-time Funny Car list. Only John Force (1114) and
Tony Pedregon
(503) have won more rounds in a Funny Car. Nice going, Ron..I'll give both Ron and Jack a little advice for this weekend. If you want to win make sure you start from somewhere in the top half of the field.
Did you know
that since 1970, which covers forty-two races, the Funny Car winner at the final race in
Pomona
has come from the top half of the field thirty-six times? But be careful because nobody from the eighth spot has ever won this race in the Funny Car class. Hey, I'm just trying to help. As exciting as the Funny Car class was last year it should be just as much fun this year, especially for either Jack or Ron and I wish them both the best.Three of the top four cars in the points run out of the
Don Schumacher
camp so he has to feel pretty good about the teams he has assembled and the moves that he has made throughout the year.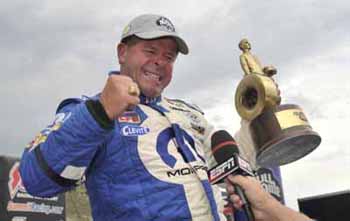 Allen Johnson
The Pro Stock class is basically over, and it's only a formality before we crown Allen Johnson the champion. For all that he and his father have been through this has to be a great feeling and I expect that we will see a very emotional Allen at the awards ceremony next week. He has had a career year and deserves the championship and I'm sure he would like to go out with a win in Pomona. Did you know that Allen has been to a sixteen "Finals" events and has never been to the final round? But he has never had a car as good as the one he is bringing to Pomona this year, either..With as much history as Dodge and Mopar have at Pomona did you know that Dodge drivers have only won the "Finals" four times? Jeg Coughlin did it in 2005, Darrell Alderman did it in 1991 and 1994 and Mike Fons did it in 1971. And did you know that all of them except Jeg won the series championship in those years?....Obviously Allen has enjoyed a great season and to see how he has handled the field at most races this year has been very impressive. Did you know that in the first twenty-two races of the year Allen has made it to the semi-finals at fifteen of those events? He has also been to ten final rounds, six of which he won, and has only lost twice in the first round. In short, there has been nothing lucky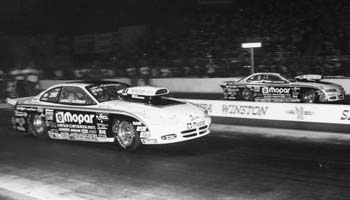 Alderman defeated Geoffrion in '94.
about the position he is in and it will be the culmination of sixteen years of racing and almost as many years of struggling just to be competitive when he finally locks up the championship.
Did you know
that coming into the 2012 season Allen had been the top qualifier a total of eighteen times at his previous 361 races, and this year alone he has been number one at ten events? And to show you how strong the Mopar has been lately,
did you know
that for his career AJ has won 304 rounds and 116 of them have come in the last three years?...There is still the race to be run and the championship to be officially decided and I'm sure the other Pro Stock drivers would like to take Allen out and win the race themselves this weekend, but based on what he has done this year, especially in the "Countdown," it won't be easy..
Jason Line
is probably going to finish second in the points and that's a very good year in anyone's book, well anyone except Jason. I haven't asked him specifically about it, but knowing how competitive he is he would probably say that anything short of the championship is a disappointment. Regardless of what happens in Pomona Jason will finish in the top ten for the ninth consecutive season and he will win more than forty rounds for the sixth time in those nine years and that's very good...
Erica Enders
is also having a career year and she will earn her best career finish in the Pro Stock class. She was also honored at the recent
GM
gathering at the
SEMA
show for all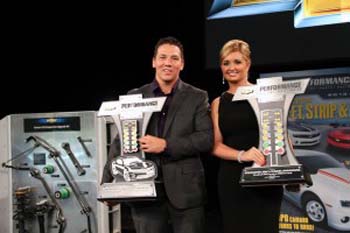 Connolly and Enders receive Awards from GM.
that she has done in her career. Her crew
chief, Dave Connolly, also was among the honorees at SEMA and let's hope
that he gets a sponsor for next year because that would make the class better. Of course it's easy for me to say that because I wouldn't have to race him...Because I like to help the racers here's a bit of advice for the Pro Stock teams. If you want to win this week qualify in the top two spots.
Did you know
that in forty-two years of Pro Stock racing at the "Finals" the winner has qualified either first or second an amazing twenty-six times?....One interesting little tidbit leftover from the Las Vegas race. Both
Warren Johnson
and
Ron Krisher
won a round on a holeshot, and
did you know
that's only the second time they have both won on a holeshot at the same race? These two have raced together at hundreds of events and the only other time they both won a round on a holeshot at the same event was in
Norwalk
in 2009. Amazing, isn't it?
The only surprises in the bike class this week may come in the Summit Racing Series ET Finals. That's' where you will find one of the best bike racers in the country, Roy Hagadorn, returning for another shot at the championship. Roy was part of the Summit final race in 2008 a year after his wife, Candy, qualified for the big show. This year, in order to earn a trip to California, Roy had to beat his wife in the final round at the Division 2 finals. Roy has been racing a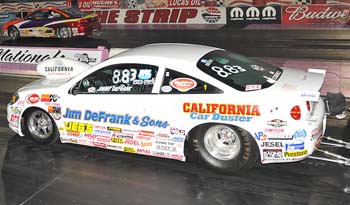 Jimmy DeFrank
Photo copyright 2012 Bob Johnson Photography
long time and maybe his second trip to the "Finals" will be the charm. I'll have more on the Summit ET Finals on Thursday...In the Full Throttle ranks there isn't much suspense about who the champion will be.
Eddie Krawiec
has it all but locked up and he will cap a great season with his performance in
Pomona
. It's been a banner year for the
Harley-Davidson
riders and Eddie's teammate,
Andrew Hines
, will finish in second in the standings this year.
Congratulations to Jimmy DeFrank who won the Lucas Oil division race in Las Vegas this past weekend and, in the process, won his fourth national championship. Jimmy had to go rounds and he went seven of them to pass Joe Santangelo and wrap up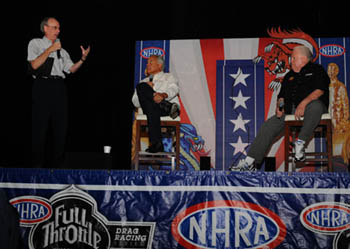 Snake and Mongoose
Photo copyright 2012 Robert Grice
the championship. That means that the only Lucas Oil title that is still undecided is the one in Super Comp.
Al Kenny
is the leader but is out of races to claim while
Stefan Kondolay
is in second place and can claim the
Pomona
event. To pass Al, Stefan needs to go to the final round this week. If he gets to the sixth round the two will be tied and we'll go to the all-important tie breaker which I should understand by the time they get to the sixth round. Good luck to both Al and Stefan. By the way,
did you know
that Stefan could have added points at the D-7 race but he was beaten in the first round by
Jason Kenny
, Al's son and the eventual winner of the race?
If you missed the NHRA breakfast at the SEMA show you missed a really good time. Don Prudhomme and Tom McEwen were there and talked about their upcoming movie. The writer and producer were also there and they showed a three minute "trailer" of the movie and it looked great. There was a standing room only crowd and everyone had a great time. These early morning affairs at the SEMA show have become quite popular and every year, when it's over, the big question always is "what can we do next year to top this?" I don't know but I'm sure it will be special and I hope to be a part of it. By the way, Don and Tom were great with each other and the fans and they left everyone wanting for more. Like I said, it was a lot of fun!