Tue, 06 Nov 2012, 18:40 PM



Whiteley Completes Perfect Season in TAFC, Martin Wins TAD



By Todd Veney/ Pro Sportsman Association


Photo copyright 2012 Bob Johnson Photography





LAS VEGAS --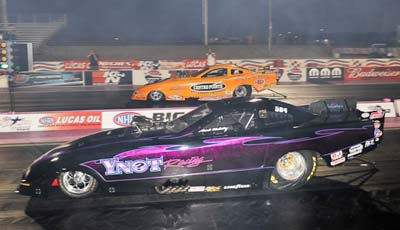 Whitely defeated Bartone
At the 24th and final regional event of the year, the husband-and-wife team of Jim and Annie Whiteley locked up West Region championships at The Strip at Las Vegas Motor Speedway, Jim in Top Alcohol Dragster and rookie Annie in Top Alcohol Funny Car. Jim clinched the title when yearlong rival Chris Demke hit the wall in the first round, and Annie completed a perfect five-win regional season, putting away Tony Bartone in the final just as she had at this same track eight months ago for her first win anywhere. Ray Martin of Anchorage persevered in Top Alcohol Dragster, where there were a lot more good runs in qualifying than in eliminations, for his third final-round appearance of the year and first win.
It was a huge upset when Whiteley beat Bartone here this spring in just her fourth start in a Funny Car, and Bartone again was the favorite after qualifying No. 1, but Whiteley left first with a .048 light and made her best run of the weekend, 5.57. "The car didn't shake at all," she said. "Absolutely no issues. He shook, and that was it." Bartone slowed to a 5.76, almost the same e.t. he ran against her in their first head-to-head final.
Whiteley now has five victories and a perfect score of 425 points in a region that includes Jay Payne, Bartone, five-time division champ Steve Gasparrelli, and 2011 Division 7 champion John Lombardo Jr. After qualifying just sixth with a 5.66, she took care of Payne in round one, 5.63 to a shut-off 9.25.
Earlier in the round, Bartone beat Shane Westerfield, 5.58 to 5.67, Dallas winner Clint Thompson moved on when Gasparrelli tapped the wall, and Lombardo's 5.70 to 5.71 decision over Kris Hool gave the Central Region title to Kirk Williams over Hool by a single point, 299 to 298.
Every car in attendance ran at least a low .70 in qualifying, and past event winners Doug Gordon, Jason Rupert, and Keeter Ray missed the all-5.60 field. Bartone led the way with a 5.550 that held up all weekend for low e.t., and took his third runner-up in four regional starts this year.
In the semifinals, Bartone, who swept both Vegas national events this year, including the Big O Tires Nationals over Whiteley last weekend, won a battle for traction with Thompson, 6.04 to Thompson's shut-off 9.68. Whiteley won the other semi over Lombardo on a holeshot, 5.64 to 5.60, with a .037 light against his not-bad .078.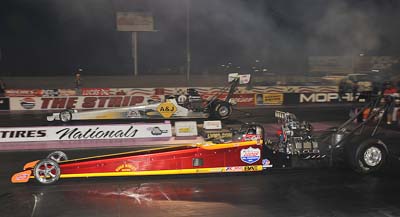 Martin defeated St. Arnaud
"It's exciting to leave on some people," said Whiteley, who was out first in all three rounds. "Jim promised it would help if I practiced with him, so I did, and Roger kept saying that the good lights would come, and they did."
With two runner-ups in national event competition and seven final-round appearances overall, she's number 4 in the country with one race to go, the same place crew chief Roger Bateman finished last year when he drove the car. "Roger told me before the race that Vegas is hard to win once," she said. "He warned me not to get my expectations up because we won here in the spring, but I just like this track."
In the Top Alcohol Dragster final, in a battle of the last two qualifiers, No. 7 Martin pedaled to a 5.85 at 250 mph after No. 8 Don St. Arnaud red-lighted by 16-thousandths of a second.
Martin and St. Arnaud had taken out the perennial favorites, third-ranked Chris Demke and newly crowned 2012 world champ Jim Whiteley, respectively, in consecutive pairs in round one. Demke's first-round loss settled his yearlong battle with Whiteley for the regional championship in Whiteley's favor, 351 points to 330. Martin survived a 5.72 when Demke got loose around mid-track and swiped the wall. St. Arnaud advanced with a strong 5.38, his best run of the weekend, when Whiteley spun the tires and slipped to a 5.56, about three-tenths off his 5.28 qualifying pace.
Sixteen cars going for eight spots made for a 5.42 bump, and all top-half qualifiers ran at least 5.30s. Whiteley was the only one in the .20s, and Joey Severance, outgoing world champ Duane Shields, and Chase Copeland surprisingly missed the cut.
In the semifinals, Martin benefited from the first of two red-lights against him, this one by Greg Hunter, who had cut a .016 light first round. That put him in his third final in just six starts all year; he was runner-up at Mission and Sonoma. St. Arnaud joined Martin in the money round with a holeshot on Phoenix winner Megan McKernan in the other semifinal match, 5.43 to 5.36. Needing a ..009 light to advance, he pulled out a .005.