Tue, 30 Oct 2012, 19:14 PM



What A Weekend



By Bob Frey


Photo copyright 2012 Auto Imagery, Inc.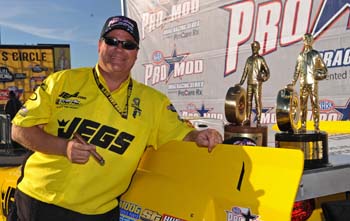 Coughlin won the event
to win the Championship.
The
Big O Tires Nationals
at the
Strip at Las Vegas Motor Speedway
was one of the best races of the year. I say that for a few reasons, not the least of which was the fact that the battles for the two fuel class championships tightened up and will go down to the final race in Pomona next week. The Pro Stock classes, both car and bike, are basically over with only a few mandatory runs remaining before we crown the champs. Throw in the fact that another Coughlin family member,
Troy Coughlin
, earned a season championship and
Bruno Massel
secured his second
Lucas Oil
title without even showing up, and it's easy to see why I think it was a very good weekend. OK, so the fact that Bruno didn't show up wasn't really a factor in the race being good, but when you had three drivers who had a shot at catching him in the points and they all lost in round one it was just one of the many interesting events that took place...The entire event was kicked off by the huge Fanfest on Fremont Street on Thursday night and finished with
Bob Vandergriff
running back down the track after his stunning win over
Tony Schumacher
in the Top Fuel final and I enjoyed every minute of it.
Vandergriff defeated Schumacher
With Antron Brown losing in the first round the other contenders for the Top Fuel championship had an opportunity to close the gap and put themselves right back into title contention. Tony Schumacher, who started the weekend in fourth place, 136 points out of first, made up a lot of ground with his runner-up finish and he is now in second place and sixty-five points behind the leader. Spencer Massey, who was in second place, is now third and he is seventy points back, while Shawn Langdon is in fourth and realistically out of title contention. Sixty-five points is still more than three rounds back, and while it is "doable" for Tony to catch Antron it sure would take everything to line up perfectly for him to catch his teammate for the championship. I know what you're thinking, what about Tony's big charge in 2006, that final race come from behind effort that culminated with "The Run" and the championship? Well, going into that race Tony trailed Doug Kalitta by forty-five points which is a big difference than the deficit he has now. Still, with the talent on that Army team it should be a very interesting race next week in southern California...Antron's Matco Tools car just never got untracked in Las Vegas and they entered Sunday's eliminations in thirteenth place in the field. Did you know that was Antron's lowest starting position since the St. Louis race in 2010, sixty races ago? Hey, everyone has a weekend like that every now and then, it just seems so much worse because of when it happened. Luckily Antron had that big (104 points) lead coming into Las Vegas. Did you know that Antron had only lost once in round one coming into the "Countdown" and he has now lost twice in the first round in the last five races? Also, for his five races in the "Countdown" he has either lost in the first round (twice) or gone to the final round (three times)...Bob Vandergriff and his C&J Energy Services car ran well all day and there was nothing lucky about his win. His first round was about as close to a "lucky" round as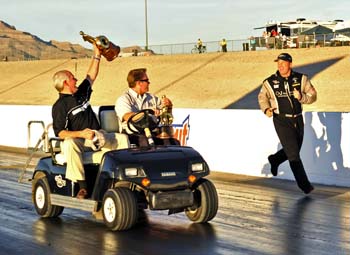 Vandergriff running back to the starting line.
he would get when you consider that he only ran 3.97 on his way to beating
David Grubnic
. After that he went 3.85, 3.84 and 3.83 to beat Spencer Massey, Doug Kalitta and Tony respectively. With the win Bob joined some very notable drivers as Top Fuel racers with two national event wins, among them are
Rob Bruins
,
Steve Carbone
and
Dennis Baca
. Bob became the ninth different Top Fuel winner this year, and
did you know
that's the most in a single season since we had ten winners in 1996
?...
The first round of Top Fuel saw all of the top qualifiers advance and that doesn't happen very often. In fact, Bob's win over the number two qualifier, Spencer, was the first "upset" of the day in Top Fuel...Tony managed to qualify number one and that was the fourth time this year that he has had the quickest car in qualifying, but like those other three times he wasn't able to convert that into a win. In fact, did you know that Tony has only won once in his last sixteen times as the number one qualifier, and that goes back to the last race of the 2008 season? That's surprising for a car that has been so good for so long, but as I always say that's why we make them go out and race on Sunday.. Khalid al Balooshi made it to the semi-finals and that continued a late-season charge for the driver of the Al-Anabi car. Plus, once we started the "Countdown" Khalid has been Antron's biggest nemesis. Did you know that Khalid has now beaten Antron three times in the five races in the "Countdown?" ..Even with the gap being closed you have to like Antron's chances of picking up his first championship, but as we all know, anything can happen and that's what should make the race in Pomona very exciting.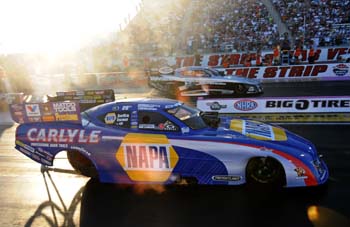 Capps defeated Beckman
Speaking of exciting, the battle for the Funny Car championship will be just that next week. With his win Ron Capps closed to within four points of Jack Beckman and that's a gap that can be closed even before we get to Sunday's eliminations. A couple of good qualifying runs by Ron and the NAPA car could take over first place, of course Jack could also increase his lead by doing the same thing. Mike Neff is in third place and he is eighty-eight points behind Jack and that is a big deficit to make up in one race. Not an insurmountable deficit, just big, and it is made tougher by the fact that Mike trails two drivers going into the last race of the year..Ron won after starting eighth and that's always hard to do because you normally have to face the number one driver in the second round. That's what happened to Ron and his team responded with a 4.10 win over Cruz Pedregon, the top qualifier, and then he went 4.09, 4.08 and 4.07 to get the win. Anyway you look at it that's a pretty good group of runs and that's why Ron will battle for the championship again this year. This was the fourth win for Ron at this event, and when you consider the fact that it's only the twelfth year of the Big O Tires Nationals it's easy to see why he likes coming to Las Vegas. Did you know those four wins are the most for Ron at any single event on tour? The win was also the 39th for Ron in his fuel career (including one in Top Fuel) and that moves him past Gary Scelzi and into eighth place on the all-time list of winners in the fuel classes..Since I mentioned Tony's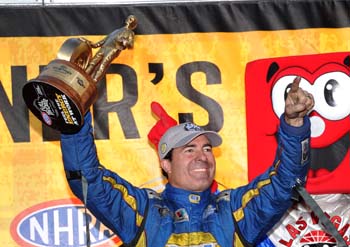 Capps celebrates win.
record from the top spot it's only fitting that I mention Cruz's, too.
Did you know
that this was the 50
th
time that he has been the top qualifier and that ties him with
Don Prudhomme
for second on the Funny Car list?
John Force
, with his 140 leads the class and probably always will. Cruz has also struggled to win from the top spot and he only has one win in his last eleven tries from the number one spot..Jack Beckman pulled of the improbable trifecta by beating three members of
Team Force
before losing to his teammate in the final round. I mentioned last week how tough Jack's teammates have been on him this year and this was the seventh time this year that he has lost to another member of
Team Schumacher
and four of those losses have come against Ron..
Courtney Force
was the only driver in the semi-finals who wasn't part of
Don Schumacher's
team and she fouled out against Jack.
Did you know
that this was her first red light and it was only the tenth foul start in the Funny Car class this year? Courtney's
Traxxas Mustang
then ran a great 4.11 which probably made her feel even worse, especially since Jack smoked the tires and only went 7.27. But everyone fouls out sooner or later so she shouldn't let it get her down and spoil what has been a very good rookie season. Just for the record her first red light came in her twenty-second race while her famous father fouled out for the first time in his fifteenth race. Hey, I'm just trying to make her feel better!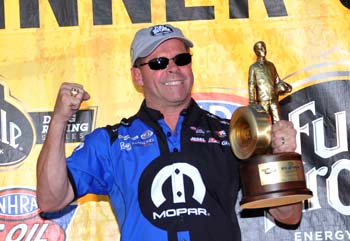 Johnson celebrates sixth event win.
Allen Johnson steam rolled the Pro Stock field to pick up his sixth win of the season and all but lock up the championship. Jason Line was the top qualifier, set low elapsed time and top speed, but like Courtney he fouled out in the semi-finals and that virtually ended his hopes of defending his Pro Stock championship..Allen's win was his sixth of the year and that ties Antron Brown for the best in the three top Full Throttle classes this year and is, by far, Allen's best season ever. When Allen met Vincent Nobile in the final round it marked the second time this year that those two met in the final round in Las Vegas and Allen has won both of those races. Did you know that Allen and Vincent have now met in every race in the "Countdown" and that AJ has won each of those five meetings?....With the win Allen increased his lead to 126 points and I believe it's safe to say that he will be the 2012 Pro Stock Champion, and for Allen and his father, Roy, that has to be so special. "I'm going to dedicate this to my dad," Allen said after the race. "He just turned seventy and he's still going strong." I can say that I have had the pleasure to know Roy since his driving days in the early seventies and he is and always has been a loyal Mopar racer, and with a lot of the Mopar brass on hand at the Vegas race this had to be one of the best moments of his career..Jason's red light against Vincent was just his second of the year but it continued a trend that started when Vincent came into the class last year. Did you know that this was the tenth time in the last two years that a driver has fouled out against Vincent? Those ten fouls are the most against any one driver in the last two seasons and may have something to do with Vincent's reputation on the line. Did you know that he has been first off the line eighty percent of the time in his two years on the tour? Not bad, is it?....With the top and second spots virtually insured, Erica Enders, Vincent and Greg Anderson will battle it out for the third spot in the standings when they get to Pomona. Erica is fourteen points ahead of Vincent and twenty-eight points in front of Greg so that should be an interesting battle to watch in California.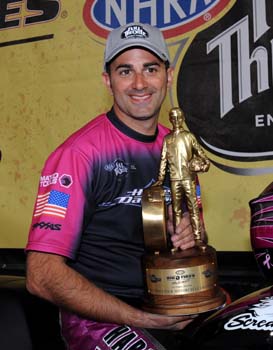 Krawiec celebrates ninth event win.
Eddie Krawiec had a great weekend, that is if you consider winning two races in one weekend "good." He beat his teammate, Andrew Hines, on Saturday to wrap up the rain-delayed Maple Grove race and then he came back and beat Matt Smith to win the Vegas portion of the weekend. In the process he ran his point's lead to 111 over Andrew and that's just about enough to insure his third championship. The Harley-Davidson racers have been just about unbeatable this year and Eddie picked up his ninth win of the season and that's one shy of the record in the bike class. Dave Schultz won nine races in 1994 and Matt Hines set the record with his ten wins in 1998 and that will give Eddie something to shoot for in Pomona, won't it? Matt, by the way, is the crew chief for Eddie so apparently he knows what it takes to get a motorcycle down the race track..Eddie swept to victory and that's the fourth time this year that he has done that. When you have a bike that runs like that, sets low elapsed time and top speed, and a rider who is doing a great job on the line it's easy to see why Eddie will join a very select group of three-time NHRA Full Throttle Champions. Eddie's average reaction time this year is .040 and that's the best of any year in his career, and his average time in final rounds this year is .023 and in the bike class that's outstanding. Ok, so that's outstanding for any class and it's another reason why he will successfully defend his championship.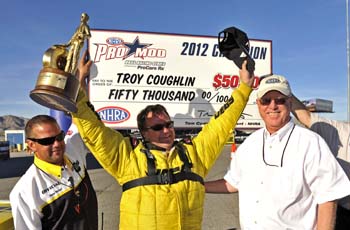 Coughlin won the Pro Mod Championship
Troy Coughlin added to the family's legacy when he came from way back to win the ProCare RX Pro Mod championship. And to make the win even more impressive was the fact that he brought out a new car for the race. Let's face it, how many drivers would bring out a new car at the last race, a race they had to win for the championship? The win is the highlight of a career that began for Troy in the early 1990's. Did you know that he won his first race at the 1991 U.S. Nationals when he beat Mary Ann Jackson to claim the Super Gas title? Troy's win gave him the title by three points over Mike Castellana and is his first NHRA season championship. Congratulations, Troy.
I'm looking forward to the NHRA breakfast at the SEMA show on Wednesday morning (October 31), because that's when I'll get my first look at the upcoming movie about Don Prudhomme and Tom McEwen. If you're in town for the show stop by on Wednesday and check it out. Of course it's at 7:30 in the morning so you'll have to get up early, but I guess that way we'll find out who the true "Snake" and "Mongoose" fans really are, won't we? See you there..And I wanted to thank all the folks at Oahe Speedway in Pierre, South Dakota for the special gift they presented me before the race on Sunday. Doug and Bobi Legner, representing the track, gave me a special "rock" commemorating my career. I visited the track in 2010 and had a great time and I only wish I had more time
to spend with Doug and
Bobi
on Sunday. The pre-race was shortened because of the change in the racing schedule and I want to let them know how much I appreciate their gesture, it was very special and meant a lot to me. Thanks to everyone at
Oahe
Speedway and the
Varmint Hunter's Association
who gave me a hat (it's a long story). Very cool!!