Wed, 17 Oct 2012, 19:11 PM



National Hot Rod Diesel Association Crown Champions



Courtesy of Jason Murray



ENNIS, Texas --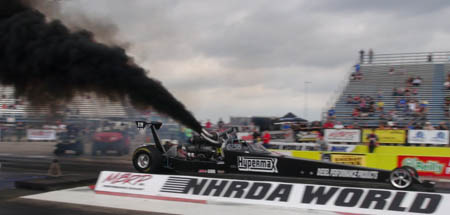 Marty Thacker
Mother nature and carnage couldn't stop the National Hot Rod Diesel Association from crowning the 2012 World Champions at the World Finals on October 13. Racers came from all parts of the US and Canada to converge on the Texas Motorplex to find out who was taking home the World Titles. The race suffered a couple of setbacks due to some breakage and a two hour rain delay in the middle of eliminations.
Marty Thacker pulled up in the final round against Jeff Dean in the Top Diesel class. Both drivers had been on their game all day and Thacker had already broken the world record in qualifying with his 6.69 at 216.27 mph. Dean had the better light off the line but Thacker and the Hypermax team had the better car and he ran a 6.79 at 211.86 mph.
In the other NHRDA classes World Champions included Michael Pliska (Pro Stock), Phillip Palmer (Pro Street), Rodger Smith (Super Street), Dave Bolwar (Super Diesel) and Verlon Southwick (Sportsman Diesel)
New NHRDA world records were set in Top Diesel with Marty Thacker's 6.79 at 211.86 mph the new mark to beat. Seth Sullivan set a new Pro Street mph mark with his 156.88 pass.
Final Round Results
Top Diesel
Marty Thacker, Robinson, IL, dragster, 6.794, 211.86 def. Jeff Dean, Lancaster, OH, dragster, 7.825, 163.31
Pro Stock
Michael Pliska, Happy Valley, OR, '99 Chevy, 8.889, 138.80 def. Steve Royalty, Franklin, OH, '96 Dodge, 9.156, 146.30
Pro Street
Philip Palmer, Cairo, GA, '94 Dodge, 9.116, 149.18 def. Payton Hugie, St. George, UT, '08 Dodge, 9.201, 146.00
Super Street
Roger Smith, Elk Point, AB, '08 Ford, 10.195, 133.58 def, Rob Coddens, Eagle, ID, '02 GMC, 10.782, 143.57
Super Diesel (11.90 index)
Dave Bolwar, Boise, ID, '03 Dodge, 11.952, 107.15 def. Ryan Milliken, Navarre, FL, '07 Dodge, 11.997, 105.23
Sportsman Diesel
Verlon Southwick, Shoshone, ID, '06 GMC, 12.50, 12.601, 101.01 def. George Peppard, Middleburg, FL, '08 Ford, 13.94, 13.981, 98.38