Tue, 16 Oct 2012, 20:10 PM



What Did You Do On Your Weekend Off?



By Bob Frey


Photo copyright 2012 Auto Imagery, Inc.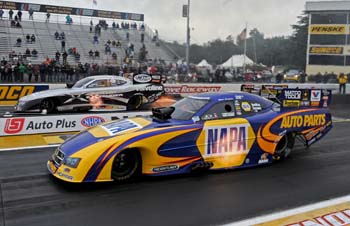 Capps vs. Beckman
After six straight weeks of going to an NHRA national event I'm sure a lot of people were glad to have a weekend off. The teams probably spent the time regrouping, getting ready for the last two races of the year or simply trying to catch their breath after the six week ordeal. With the rainout at Indy the teams were on the road for a month and a half and that will take its toll on man (and woman) and machine alike. The teams who find themselves in title contention probably started stocking up for the last trip
West
. Extra parts, spare bodies, cars and anything else that they may need and may not have time to go back for after the Las Vegas race will be piled into the trucks and sent toward Nevada with the hope that the next time they are loading the trucks there will be an extra trophy on board. It's going to be a fun two races, at least for the fans, and I hope for the teams too. The "Countdown" has created a real buzz and the next two, the last two races of the season will see champions crowned..The Top Fuel title is
Antron Brown's
to lose and the contenders will have to get him out early if they want to have any chance of catching the
Matco Tools
team. The Funny Car class will be a three team dog fight (maybe more, and we'll discuss that later), with
Jack Beckman
,
Ron Capps
and
Mike Neff
all having a realistic shot at the title.
Allen Johnson
has a hammerlock on the Pro Stock championship but
Jason Line
won't go down without a fight, and one of the
Harley-Davidson
riders will win the motorcycle championship, but the question is which one?...During my weekend off I went cross country to the drag strip in Redding, California and I also spent time with
Garrett Bateman
and we talked about his cars, the one in the Top Alcohol Dragster class and the other one that he runs at Bonneville. In other words I took it easy. So what did you do?
Shawn Langdon
The performance barrage at Maple Grove was unbelievable. The track, which always seems to get rain, was quick and fast and that's why the fans love it. Now if we could only get four nice days of weather everyone would be happy. The huge crowd that was there on Friday and Saturday saw some of the greatest racing ever, and those who came back on Sunday and Monday were treated to some of the best side-by-side racing that we have seen in a long time. Consider the fact that in round one of Top Fuel five of the winners ran 3.74 elapsed times. Five! The eventual winner, Khalid alBalooshi, went3.75 and you almost felt sorry for him. Almost! Only Doug Kalitta, who ran a respectable 3.80 and Ike Maier, who won his first round over David Grubnic when the number one qualifier smoked the tires, weren't in the 3.7 range. Shawn Langdon's 3.712 - 334.15 pass was the highlight of round two and may have been the run of the year, and then in the semi-finals Brandon Bernstein ran 3.740 and lost. Unbelievable! Did you know that Shawn's speed would have made the top ten runs at the old quarter-mile distance? Now that's flying..When Khalid lit the win light he became the eighth driver to win in the dragster class this year and that's the most winners we've had in a single year since 1996 when there were ten different winners. Did you know that we had eight winners in 2009 and that four of those winners are among the group that has won this year? Of course that means that four of the '09 winners haven't won this year, too...Khalid also joins a long list of drivers, fifty-four to be exact,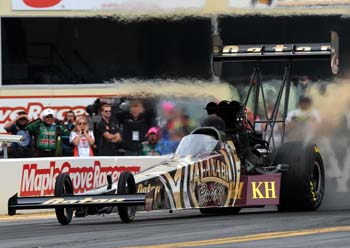 Khalid alBalooshi
who have been to just one final round in their Top Fuel careers, and fifteen of them, like Khalid are 1- 0 in their careers, and on that list are such notables as
Bob Gibson
,
Bob Noice
and
Rick Ramsey
. Antron Brown would certainly appear to be the favorite now to win the championship, but with eight rounds of racing to go a lot can happen. Still, the way AB is running he will be tough to beat.
Did you know
that his final round in
Reading
was the 42
nd
final round of his Top Fuel career? That moved him into seventh place n the all-time list and past
"Big Daddy" Don Garlits
on the TF list. And how about this?
Did you know
that it took Antron 114 races to go to his final rounds while Don went to his forty-two finals in 118 races? Of course Don went 35 - 6 in his final rounds and that's very impressive. Of course almost everything "Big Daddy" did was impressive, wasn't it?...The racing was so good in Pennsylvania that nine of the sixteen qualifiers in the dragster field set personal bests, either elapsed time or speed, and in some cases both.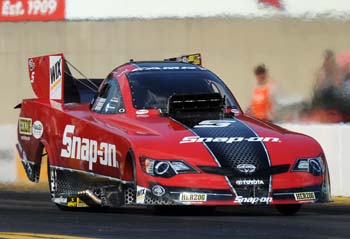 Cruz Pedregon
With Mike Neff's win we now have three drivers who all have a real chance to win the championship this year, four if you include Johnny Gray who is ninety-one points back and five if you add Cruz Pedregon to the list. Cruz is just two points behind Johnny but his task, and Johnny's for that matter, is compounded by the fact that they have multiple drivers to climb over if they want to be the champ..Cruz Pedregon reached a milestone in Reading with his first round race. That gave Cruz a total of 916 rounds for his career and that moved him past Del Worsham and into tenth place on the all-time professional list.The class has been so much fun to watch this year and the last two races will offer more of the same. The key may be which drivers get paired up in early rounds and which ones can get out of the first round and put pressure on their competitors. If previous races are any indication you would have to give the advantage to the Team Schumacher cars, Jack and Ron in that regard. That's because the two of them have only lost in round one three times this year and that is, by far, the best of the title contenders. By comparison Mike has dropped five round one matches while Cruz and Johnny have both dropped seven opening round encounters, and at this point of the season an opening round loss could be very costly. Nobody is immune from the possibility of an upset so those early rounds will be very important at the next two races..The performance numbers in Reading reminded a lot of people of that great 1992 Maple Grove event, the one that saw national records set in Top Fuel, Funny Car and Pro Stock. Like this year's race there were numbers recorded in '92 that were previously unheard of and that race went in the books as one of the best ever. This year's event will also attain legendary status based on what we saw and the records that were shattered. Ten of the Funny Car drivers in the field set career best numbers and that's a bunch, and there were several upsets in the opening round and that just went to prove what a great sport this is. Todd Lesenko beat Cruz and Jim Head beat Alexis DeJoria and they would both have to be called upsets, and it's that kind of action that could determine the champ this year.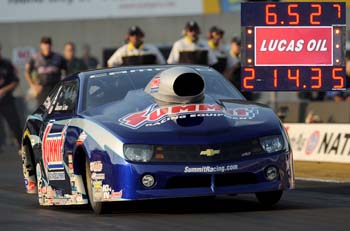 Jason Line
V. Gaines will come into Las Vegas on a winning streak and that's something he hasn't been able to say for a while, but the Kendall Dodge has looked good at the last couple of races and he won't be easy to beat at the next two races. V. had gone 111 races without a win and that ended one of the longest droughts in the pro classes.The Pro Stock elapsed time record wasn't set in Reading but the speed mark was. At that '92 race that I mentioned it was Scott Geoffrion setting the elapsed time record while the speed mark remained in tact. Did you know that when Jason Line went 214.35 to set the record this year he became the first driver in a Chevrolet Camaro to set a record since Kurt Johnson ran 6.840 in Richmond thirteen years ago? And did you know that the very first NHRA Pro Stock record was set in 1970 by a driver in a Camaro? I know what you're thinking, it must have been set by Bill Jenkins, but that would be incorrect. At the Division 2 race in Phenix City, Alabama, Wally Booth ran 136.98 to officially set the national record in his Camaro. And as hard as it may be to believe, especially for Chevrolet fans, the first time a Camaro set the elapsed time record was in 1977 when Sonny Bryant went 8.58 at the divisional race in Sacramento....Allen Johnson will bring his eighty-two point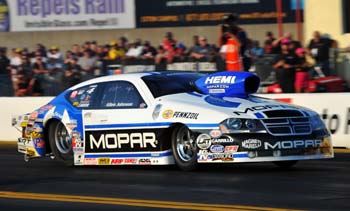 Allen Johnson
lead to Las Vegas and he appears to be in a commanding position as he goes for his first national title. Allen would have to lose early and Jason would have to go rounds in order to close the gap before
Pomona
. It certainly can happen, and stranger things have taken place, but Allen's Dodge is so strong it doesn't appear likely that will happen.
Did you know
that Allen has only lost twice in the first round this year and both of them happened very early in the season and both of them came at the hands of Larry Morgan? And when you figure that he has been to at least the semi-finals at eight of the last ten races it's easy to see why he's leading the points and why he should like his chances to win his first national championship..Allen has had a very good couple of years and he has now won 300 rounds which places him eleventh on the all-time Pro Stock list.
Did you know
that since the end of the 2009 season Allen has won 112 rounds and that's more than anybody in the class except
Greg Anderson
who has won 119 rounds?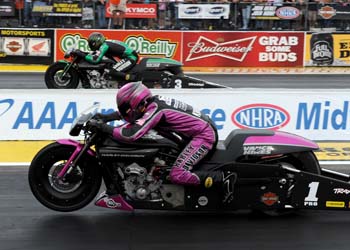 Krawiec vs. Hines
By now everyone knows that the two Harley-Davidson riders, Eddie Krawiec and Andrew Hines will battle for the championship. They have been so dominant on race day and they have both been riding so well that it's no surprise that they are one and two in the points. Other riders, especially the two Arana family members, have had bikes good enough to beat them this year but have not been able to close the deal..In 2012 Eddie has already won forty-two rounds while Andrew has won forty-one. Did you know that is already a record for Andrew while Eddie is just four round wins behind his best year of 2009? And it doesn't seem to make any difference how much weight is added to the bikes they just continue to run well. Did you know that Eddie has already had more number one spots, set low elapsed time and top speed more times than in any other year of his career? For his part Andrew has more number one spots and low elapsed times this year than in any year since his second championship year of 2005. Good bikes, good teams and good riders equals a championship season for fill in name of the Harley rider here. Good luck to both of them in Las Vegas and Pomona.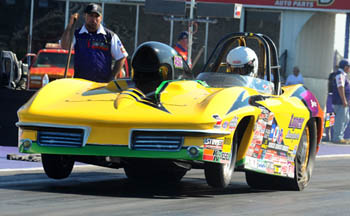 Jeff Lopez
Photo copyright 2012 Robert Grice
Not everyone was off this past weekend since there was a pair of Lucas Oil divisional races, one in Georgia and the other in Houston, along with the third and final Sportsnationals of the year in Las Vegas. Jeff Lopez almost doubled up at the Division 4 race at Royal Purple Raceway, but in the end he didn't win either of the final rounds and still had a great weekend. He lost to Archie Fruge in the Super Comp final and to Tommy Phillips in the Super Gas final. So if he lost twice you may be saying what made it a good weekend? Well, according to my numbers, the final round in the 9.90 category assured him of his first Lucas Oil national championship. Jeff lead the points for most of the season and gets a lot of credit for winning in the very tough Super Gas division.His closest competitor, Sherman Adcock, may have had an even better weekend than Jeff. Ok, so he didn't win another national title but he did go to three final rounds and that's not easy. Sherman made the final round of the delayed Bristol race and beat Michael Adams for the Super Gas crown and he followed that up with a pair of finals at the regularly scheduled race at Silver Dollar Raceway where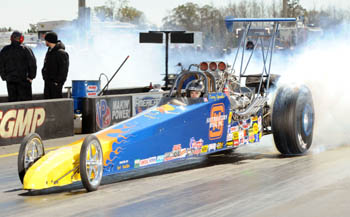 Casey Spradlin
Photo copyright 2012 Chris Simmons
he won Super Comp and lost to
Luke Bogacki
in the Super Gas final. Nice job,
Sherman
!...
David Rampy
took Super Stock honors in
Georgia
and that was the 39
th
divisional win for David.
Did you know
that moves him into the top ten among the all-time division race winners? So nice going to David, too.
Michael Hardee
also went to two finals, winning Competition Eliminator at the Bristol rain-delayed affair and then losing to
Van Puckett
at the Silver Dollar portion of the weekend..
Casey
Spradlin
won the Bristol race and went to the final of the Silver Dollar race in the Top Dragster category and those two finals propelled him to the Division 2 championship. OK, altogether now, nice going Casey
!...
This weekend I actually have a weekend off, so what am I going to do? You guessed it, I'm going to the
California Hot Rod Reunion
and I am really looking forward to it. Meanwhile, enjoy your weekend off and then get ready for two exciting weeks of racing at the
Las Vegas
and
Pomona
national events as well as the final divisional race of the year which is also held in
Las Vegas
.