Sun, 14 Oct 2012, 22:02 PM



Teuton is Kng of Hemi Challenge at The Dutch



Courtesy of Evan Jones



MOHNTON, Pa. -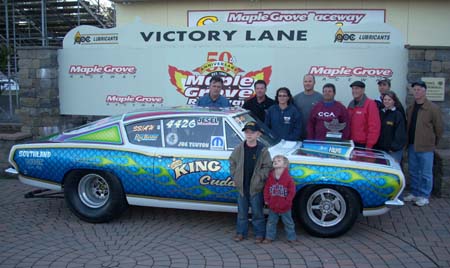 Joe Teuton and his crew receive a
special 50th anniversary Maple Leaf trophy
from Maple Grove vice president-general manager Lex Dudas
after winning the Hemi Challenge at The Dutch.
Joe Teuton and his 1968 Barracuda was the last one standing at the end of the day, winning the Hemi Challenge at The Dutch presented by Penske Truck Leasing Saturday at Maple Grove Raceway.
Teuton, who came up for the big event from Schriever, La., beat Tyler Hard in the final with a pass of 8.479 seconds at 156.84 mph. Hard, a local favorite who resides in Harrisburg, Pa., went 9.331 at 104.15 mph in his '68 Cuda.
It was a good thing Teuton came out on top. The NHRA South Central Division was having a Lucas Oil Drag Racing Series event this weekend at Houston, but Teuton came North instead for this race.
"Simply, it's y'all," Teuton said of his decision to race at Maple Grove. "I missed my points race to come up here."
A "race within a race," the Hemi Challenge is part of the Pennsylvania Dutch Classic weekend at The Grove. This year's edition drew racers from as far away as the West Coast and Canada.
This year's payout was:

•         Winner: $4,500
•         Runner-up: $2,500
•         Semifinalists: $500
•         Quarterfinalists: $250

Jesel Valvetrain Innovation was an associate sponsor.
In morning qualifying, it looked like it was going to be a good day for the fleet of Darts in the nine-car field. With the exception of Hard, five of the six spots had those cars, led by regional favorite Jim Daniels (Bristol, Pa.).
Teuton qualified seventh with a pass of 8.767 seconds, while Hard had the pole at 8.265 and earned a bye in the first round.
In the first round, Teuton faced Daniels. It was a difficult assignment as Daniels has dominated this race in recent years. However, Teuton's Barracuda got the win with a .015 reaction time that turned into a holeshot win with a pass of 8.496 seconds at 157.98 mph. Daniels was .107 off the line and ran 8.748 at 158.69.
The second round featured a race with defending champion Gary Wolkwitz (Annandale, N.J.). It was a double red-light start, but Teuton got the nod as his -.008 start wasn't as quick as Wolkwitz's -.015. Teuton then had a bye into the final.
Hard's top qualifying time gave him a bye in the first round. In the second round he faced Jim Pancake (Delaware, Ohio). It turned out to be another easy round as Pancake got the jump at the start, then stalled about 150 feet from the start.
In the semifinals, Hard again received some help. Jeffrey Kobylski (Macomb, Mich.), last year's runner-up, left the starting line too early and Hard advanced with the foul.

Results
Hemi Challenge at The Dutch

Qualifying
1. Tyler Hard             Harrisburg, Pa.                     '68 Barracuda          8.265
2. Jim Daniels             Bristol, Pa.                             '68 Dart 
8.346
3. Steve Comella       Webster, N.Y.                        '68 Dart                     8.441
4. Jim Pancake           Delaware, Ohio                     '68 Dart                     8.502
5. Mark Howes          Rothesay, New Brunswick  '68 Dart                    8.520
6. Jeffrey Kobylski     Macomb, Mich.                      '68 Dart                     8.650
7. Joe Teuton             Schriever, La.                        '68 Barracuda             8.767
8. Mike Booker          Davenport, Wash.                '68 Barracuda            8.841
9. Wendall Howes     Rothesay, New Brunswick   '68 Barracuda         8.861

Round 1
M. Howes                  .068 10.267   139.10
Welker                                   Broke

Kobylski                    -.009   9.256  110.26
Comella                     foul -.015        8.678  148.77

Teuton                        .015     8.496  157.98
Daniels                      .107     8.748  158.69

Wolkwitz                   .069     8.330  158.52
W. Howes                  foul -.148        20.107            44.16

Pancake                     .096     8.447  157.23
Booker                      .100     8.545  156.72

Hard                          .027     11.270            79.94
single

Round 2
Hard                          .095     9.092  116.87
Pancake                     .076     Broke

Kobylski                    .051     9.321  110.64
Welker                       .105     Broke

Teuton                                   -.008   8.515  156.84
Gary Wolkwitz                      foul -.012        8.340  158.02

Round 3
Hard                          .116     9.531  104.15
Kobylski                    foul -.103

Teuton                       .949 Broke
                                  single

Final
Teuton                     .066     8.479  157.23
Hard                          .116     9.531  104.15