Sun, 14 Oct 2012, 21:28 PM



Records Continue to Fall at Maple Grove Raceway



Courtesy of Evan Jones



MOHNTON, Pa. -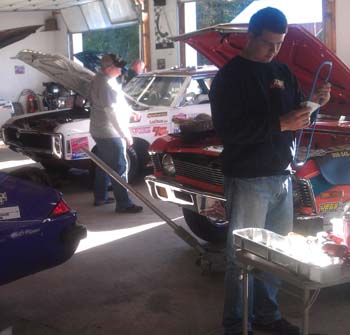 NHRA officials tear down several cars
Thursday to certify the 13 record runs
during the first day of the
Pennsylvania Dutch Classic at Maple Grove Raceway.
It was apparent from the National and track records set last weekend at the Auto-Plus NHRA Nationals that it wouldn't be a stretch to consider Maple Grove Raceway the quickest and fastest dragstrip on the planet.
Three separate elapsed time records were set in Top Fuel, Funny Car and Pro Stock Motorcycle in the cool, fall conditions at The Grove.
It looks like the Sportsman racers participating in the Pennsylvania Dutch Classic are picking up where the Pros left off.
The following records were set and backed up at the 41st annual Pennsylvania Dutch Classic during Thursday's round:

E/S 1043 Doc Horn - 11.02
AA/S 1587 Don Fezell - 8.89
K/SA 1021 Gene Monahan - 11.51
A/SA 1471 Ken Keir - 9.80
H/SA 1759 Anthony Bongiovanni - 11.15
R/SA 1634 Briane Philbrick - 12.89
O/SA 144 Bob Bender - 12.45
SS/OA 1923 Rich Diorio - 11.38
SS/DM 3189 Tom Dawson - 9.06
SS/LA 1680 Carl Milano - 10.54
GT/A 1197 Jim Evanuik - 8.86
SS/CA 2074 Brian Oakes - 8.89
SS/BA 17 Dave Thomas - 8.82