Sun, 14 Oct 2012, 12:55 PM



TOC Drivers Dominate Summit Sportsman Spectacular



Courtesy of IHRA Communications



Butler, Tupper, Peterson, Pitt, Milstead, Collier and Dew Collect Sportsman Special Wins



MILLINGTON, Tenn. --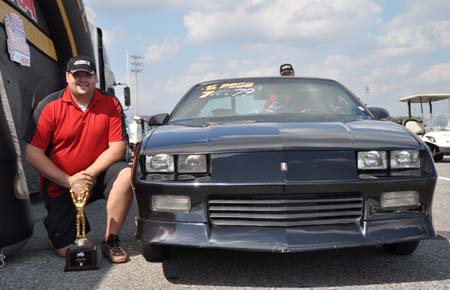 Brandon Peterson won the Sportsman Spectacular
at the World Finals for the second year in a row.
There was a lot of money handed out during the Summit Racing Equipment Sportsman Spectacular presented by AMSOIL on Saturday, but surprises were kept at a minimum.
That is because of the seven drivers that won Saturday's third and final big money shootout of the season with a shot at the Summit Tournament of Champions on the line, all were already qualified for the TOC later in the weekend and four were already old pros at the Sportsman Spectacular game, winning earlier versions of the big race.
But while the results left little room for surprises, that doesn't mean that there was a lack of excitement on the track.
Hundreds of the best racers from across North America were on hand at Memphis International Raceway for the Summit Sportsman Spectacular on Saturday with seven drivers walking away with the big prize of $5,000. Those drivers were Top Sportsman winner Calvin Butler (Marlinton, W.Va.), Top Dragster winner Jamie Tupper (Tillsonburg, Ontario), Super Stock winner Brandon Peterson (Randleman, N.C.), Quick Rod winner Jake Milstead (Lexington Park, Md.), Super Rod winner Joe Collier (Hamlin, Texas) and Hot Rod winner Ray Dew (League City, Texas).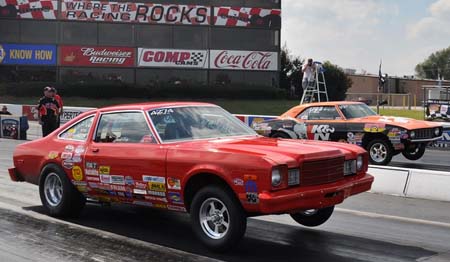 Jacob Pitt was one of three Texas
natives to win Saturday in Memphis.
Three of those drivers, Butler, Peterson and Collier, were divisional champions from 2012 and three others, Dew, Milstead and Collier, won a Sportsman Spectacular earlier this season. Throw in Peterson's Sportsman Spectacular win at last year's World Finals and that is quite a resume for this year's winners.
Only one driver reentered into the race as Milstead used to the re-entry round to sneak back into the show and take the win.
Beginning in Top Sportsman Butler, the 2012 Division 1 champion from West Virginia, went six big rounds on behind the wheel of his '63 Corvette on Saturday defeating Rodney Benson, Brad Clarke, Kenneth Covington and Tim West before meeting newcomer Robert Irby in the final. In the final Butler had a tremendous light with a .007 tree and ran a 7.275/175.16 on a 7.20 dial to get around Irby's 7.328/184.67 on a 7.23 dial.
Jamie Tupper also had a straight win on Saturday in the IHRA's quickest and fastest sportsman class, going six rounds in the weekend's biggest class on his way to picking up the $5,000 payday. Tupper, from Ontario, defeated Mia Tedesco, Michael Pennington, Gary Bingham, Chuck Hawk and Larry Eidson before meeting Kevin Romeo in the final. With both drivers already in the TOC, it was a battle for the cash as Tupper had a .008 light to Romeo's .020 and nailed his dial with a 7.596/174.03 on a 7.58 dial. Romeo ran a 7.301/176.88.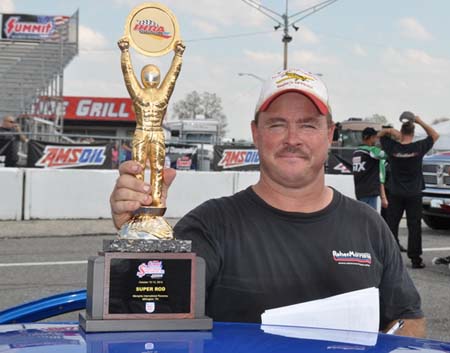 Rounding out the straight winners
was Rod victors Ray Dew and Joe Collier.
Peterson, the Division 1 champion in Super Stock, added a Sportsman Spectacular to his resume on Saturday in his '91 Camaro with wins over Pete Peery, Michael Crumpler and Colton Autry twice before beating Scott Stillings in the final. Stillings had the better light by .001, but Peterson had the better top end with a 10.793/121.17 on a 10.79 to Stillings' 8.952 on a 8.94.
In Stock Jacob Pitt put his '77 Volare in the winner's circle with a big win on the eve of the TOC, downing Billy Lynn, Gene Jordan, Amy Faulk, B.J. Bianchi and Randall Campbell before meeting Thomas Fletcher in the final. The famous Fletcher name seemed like a favorite in the showdown, but the man from Texas proved too much with a .014 light and a 11.276/115.32 run while Fletcher went a tad too fast on the top end, running a 11.006 on a 11.03.
Collier kept the Texas winning alive in Super Rod, going six rounds with wins against Mia Tedesco, Mike Brunell, Chris Eidson and Steve Furr before meeting Jeff Crooks in the final. Collier, already with one Sportsman Spectacular win this season in addition to a championship in Division 4, proved why he has been nearly unbeatable in the class with a .012 reaction time and a 9.935/146.86 in the 9.90 class. Crooks broke out by .017 at the top end.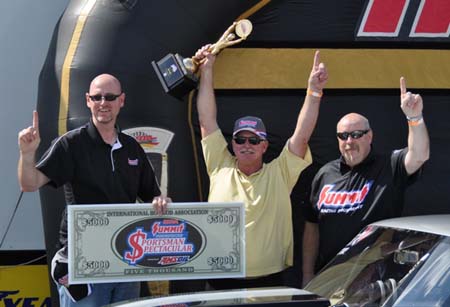 Ray Dew took the Sportsman Spectacular win in Hot Rod.
In Hot Rod two more Texas men filled the final as Dew took his second Sportsman Spectacular win of the year over Max McGlothin. Dew, behind the wheel of his '70 Nova, had wins over Reggie Lytch, Daryl Griffin, James Hinkle, Ken MacNicol and Chad Duke on his way to the final. In the final McGlothin was first off the line by .003, but Dew ran closest to the numbers in a double breakout with a 10.869/137.83 in the 10.90 class.
Milstead already has one Sportsman Spectacular to his name in 2012, winning in Maryland, but this time Milstead had a first round loss before getting back into the show. After losing to Jason Lynch in the first round, Milstead defeated Danny Melton to get back into the show and went on to collect victories over Tommy Cable, Chuck Hawk, Rick Stroud, Tom Patterson and Jason Lynch before meeting Shannon Brinkley in the final. Brinkley had the better light, but Milstead battled back on the top end as Brinkley went too quick and Milstead ran a solid 8.911/161.27 on an 8.90 index.
All seven drivers collected a $5,000 payday and will be shooting for a shot at the World Championship later in the weekend.