Fri, 12 Oct 2012, 19:14 PM



It's A Family Thing



By Bob Frey


Photo copyright 2012 Auto Imagery, Inc.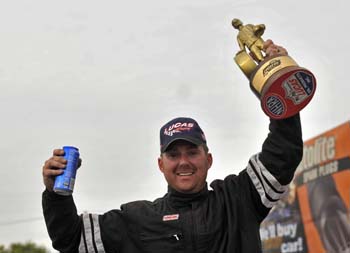 Jarod Bowman celebrates win.
As NHRA continues to go through the 2012 season we are hearing more and more about the Nitro Generation. Even Bill Naves, an alcohol racer from Salisbury, North Carolina has his car all lettered up to honor the theme. Of course one of the more highly visible members of the "generation" is Courtney Force, the heir apparent to the Force family legacy. But as well as she has done this year she is only the latest in a line of Force family drivers who have excelled. Of course there is the patriarch of the family, John, who has done everything you can do with a drag race vehicle. He was followed by daughter Ashley, who did well in her car for a number of years and now it's Courtney's turn. And soon, who knows when but soon, Brittany will take her turn behind the wheel. Other families, too, continue to excel on the track and it seems like every weekend we are adding another family name to the long list of winners. I find it interesting that I am now announcing for the grandchildren of men that raced when I first began my career forty-six years ago. At the recent race in St. Louis Jarod Bowman picked off the Super Gas title, and while it wasn't his first, it did re-emphasize the fact that we truly are seeing a lot of second-generation winners in this sport, because now both Jarod and his father, Rick, have won national events.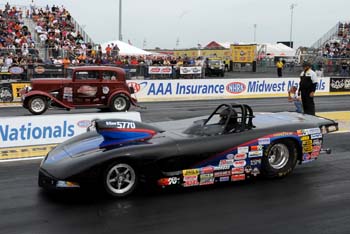 Bowman defeated Dan Huellewig.
I'm sure you've heard the story before, in fact countless times, about the father who races and inspires his son, well that's the case with the Bowman's. "I started racing on my seventeenth birthday," Jarod said. "I had raced a street car before but when I was seventeen it was the first time I got to race the big car." The "big car," as he put it, was a Super Gas car that had been in the family for a while before Jarod got to take it down the strip. "We still have that car" he said. "We've had Ken Bowers update the chassis a bit but it's still the same basic car that I won my first race with back in 2001. I don't think that car is ever leaving our house."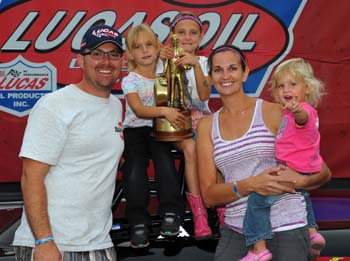 Bowman and family celebrate win in St. Louis.
Jarod's house is a pretty busy place these days. "My wife, Leann, and I have three girls and they keep us very busy," he said. They also have taught Jarod a great deal about life and racing. "Our youngest daughter, Brynn, is two years old now. When she was born she had a tumor and I remember seeing her being wheeled into the operating room. She's doing well now but that made me realize that not winning a race isn't the end of the world. Don't get me wrong, I want to win as much as the next guy, but when you watch your child go through what she did it puts everything else into perspective." It's a good thing Jarod has that attitude because after winning his first race in 2001 in Chicago he had two other chances to win a national event and both of them got away. "I have to admit that it was frustrating. At the race in Chicago in 2008 I literally had the starter fall off the car and all I could do was sit and watch Nick Folk solo for the win. The other final was in Topeka last year and I was having all kinds of trouble with the car. In the final run I ran a 9.97 and just got beat but that was the best I could do with the car running like it was." And yet, after two tough losses like that, Jarod says that he still has a unique mental attitude going into a final round. "I was getting ready for the final in St. Louis and I remember picturing Brynn and I thought, you know, this isn't such a big deal after all." That final round, against Dan Huellewig's unique '32 Ford, turned out to be a classic Super Gas race. According to the numbers on DragRaceCentral.com it was a dead heat. "I had a .011 reaction time and he had a .010. I ran a 9.909 and he went 9.910. I got out of my car, congratulated Dan on a great race and told him that I was sorry that anyone had to lose." When asked how sorry he really was, he replied, "I didn't give him the trophy or anything like that, but I did feel badly that he had to lose a race like that."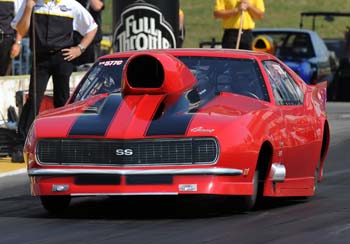 Rick Bowman's Top Sportsman car.
As much as Jarod enjoys racing he said that he really enjoys being with his family even more. "If my family can't go to the races I don't want to go. I enjoy racing but just being at the track with my family and friends is special to me." And he especially likes it when his father is there. "Dad started our business, Metro Harley-Davidson in Cedar Rapids, Iowa in 1984. I joined it in 1998. We sell Harleys, Can-Am's and Suzukis. We've done a lot together and he has taught me a lot about life and about racing." As you can imagine, running a business takes a lot of time and that's one thing that has kept Jarod from racing as much as he would like to this year. Dad pretty much turned the business over and he lets us run it. He knows we're going to make mistakes but he lets us go. He comes in every day to check on us, but he wants to go racing too, and he's earned the right to do that." The elder Bowman has been racing for the better part of twenty years and he went to his first national event final in 1992 and won his first NHRA national in 2008 at Brainerd and he did that in the car that Jarod is racing today. "It's a Corvette, which is unusual in the Super Comp class," Jarod said. "It has a big engine and can run well over 170 mph. Dad enjoyed racing that and it's a good car, but now he has a new toy." That toy is a 1968 Camaro with a 632 cubic inch engine that runs in the popular Top Sportsman class. "I guess he got tired of building a car to go fast and then having to slow it down to run in Super Gas or Super Comp. He's excited about this car and this class and is having a lot of fun." So much fun that while Jarod is watching the store this month dad may be headed to Las Vegas. "As you can imagine, because of the weather we don't have a lot of racing left this year in our area, so dad said he wanted to run out west and he's headed that way."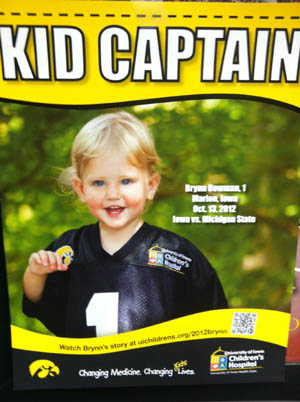 Brynn "Kid Captain" Bowman
As much as Jarod would like to race again this year he says that the business and the family have relegated him to a "once or twice a month" racer. And as happy as he was winning in St. Louis there are other joys in his life. My wife and my three daughters are the most exciting things in my life, and they make me so proud." And Brynn is better now and was just selected by the University of Iowa to be the "Kid Captain" for this week's Iowa - Michigan State football game. "That's a big thing, bigger than winning a national event," he said. It's nice to see that the newest members of the Nitro Generation love drag racing, but it's even better to see that they enjoy their families, too.