Wed, 10 Oct 2012, 23:24 PM



Helping Hand Continues Dream Season for Junior Racer



Courtesy of IHRA Communications



After Having Everything Stolen, Salsgiver Gets Amazing Second Chance



NORWALK, Ohio --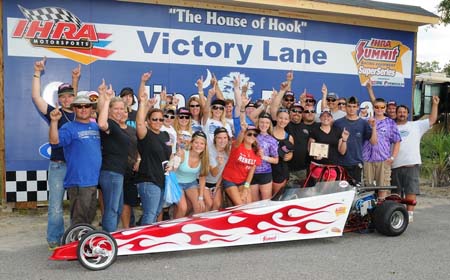 After losing everything,
Salsgiver continues her dream season
thanks to the kindness of others.
Adversity is something a lot of people have trouble dealing with, but for Toni Lyn Salsgiver it is just another day at the office.
Up until last month the 17-year-old from Orangeburg, S.C. was experiencing a year any veteran racer would be proud of. With nine final round appearances and seven wins the Carolina Dragway track championship was secured and a spot in the Summit SuperSeries runoff awaited her arrival during the Division 2 East Summit Team Finals.
To prepare for the big race Toni and her father Robbie were planning one last race at nearby Orangeburg Dragstrip just to keep her skills honed for the big week yet to come. Their lives would forever change the night before that test session.
As Robbie walked outside he noticed something missing - the race trailer along with Toni's Junior Dragster. Also inside were tools, spare parts, a golf cart, fuel and so many memories of a year that dreams are made of. It had all been stolen at the hands of a coward. Within moments Robbie quickly summoned the police as well as many good friends who put the word out on the internet in hopes someone had seen the trailer going down road. The police investigated the scene and took a few pictures, with very little to go on, the hope of finding anything was minimal.
But from this storm came a rainbow.
While true friends are few and far between, the Salsgiver family would soon learn they had many good friends. Within days Timmy Clifton stepped forward and ensured Toni she could take his daughter Kayla's car and their trailer and treat it as their own for as long as she needed it. Kayla's car was almost identical to Toni's in size, year and make. The fit couldn't have been better as Timmy delivered the trailer to Orangeburg Dragstrip so Toni could make runs in it before the Team Finals. After a little TLC and moving the pedals Toni seemed comfortable to make some runs. Her first hit was -.004 red, not bad for never having been in the car.
Fast forward one week and the beginning of the Team Finals at Carolina Dragway. Toni ran the first few gamblers races with little success and then realty began to sink in. Toni simply wasn't in her own car.
While all seemed lost earlier
this month, Salsgiver will now
have an opportunity at a championship .
Walking through the staging lanes to make a run Toni became confused, she couldn't find her car. It was at that moment it hit her. Tears filled the young racers face as reality sank in that she had lost everything. But Toni was determined and the following day she knew that one win was all that stood between her and turning her misfortunes around knowing that a final round berth would punch her ticket to Memphis and the IHRA World Finals.
Suddenly she was a lady on a mission.
Toni and the borrowed car came together at the right time as she marched through the field. Round after round she dominated the competition, eventually earning her way to the semifinal round. With nerves at an all time high she gave her dad a fist bump and rolled into the staging beams. A little less than eight seconds later the entire race track was cheering as the W came on in her lane.
With all the pressure gone she had one more job to do and that was win.
In the final round the crowd of onlookers behind the starting line looked like a Top Fuel final and Toni fed off of that energy to pull off one of the more remarkable drag racing stories in some time. With everything on the line Toni would take the advantage at the start .067 to .183 and drove the finish line like a pro as a 7.95 on a 7.90 took the win. The entire race track erupted. Hollywood could not have scripted it any better.
In eight seconds Salsgiver went from having nothing to punching a ticket to the biggest stage in all of Junior Dragster racing. It was a fairytale ending, but like any good story this tale isn't quite over just yet.
Now Salsgiver is off to the IHRA Summit Racing Equipment World Finals for the inaugural Junior Dragster Summit SuperSeries World Championship. This is the very first year the IHRA has held a world championship race in the Junior Dragster class and Salsgiver will be one of 16 drivers in this year's field vying for the championship.
And the award for winning the inaugural Junior Dragster Summit SuperSeries? A brand new dragster to call your own. Can Salsgiver keep the momentum going and come away from Memphis with a Hollywood scripted ending? Only time will tell.
Until then one thing rings true, the camaraderie of the drag racing community knows no bounds. And now, because of the helping hand of others, Salsgiver will get a shot at something she otherwise never would have had the chance. Call it a Cinderella story, call it luck, but this Cinderella gets one more day at the ball.