Wed, 10 Oct 2012, 22:46 PM



Greatest Prize in Sportsman Racing on Line in Memphis



Courtesy of IHRA Communications



Summit SuperSeries World Championship to Crown Top, Mod, Junior Champions



MILLINGTON, Tenn. --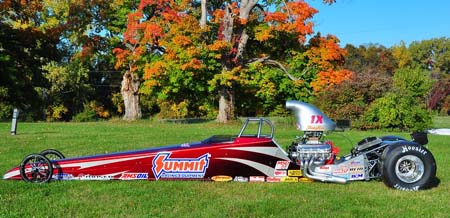 The Top ET Summit SuperSeries winner
in Memphis will receive a brand new
American Race Cars dragster
with a Trick Flow engine plus other prizes.
It is simply the greatest prize in all of sportsman drag racing and it will all on the line at Memphis International Raceway on Saturday, October 13.
The Summit Racing Equipment SuperSeries presented by AMSOIL and Moser Engineering has long been revered as one of the greatest sportsman programs in all of drag racing and for the 11th year in a row three more names will be etched into the IHRA history books as winners of one of the most prestigious programs around.
"I think the Summit SuperSeries is the best thing going in sportsman racing," said two-time IHRA Top Sportsman World Champion Marco Abruzzi, owner of Abruzzi Transmissions and Converters. "It gives the entry level local racer a chance to win big."
Designed to give grassroots racers a chance to compete on the biggest stage in motorsports, the Summit SuperSeries features a 16-car tournament in three separate classes at the IHRA Summit Racing Equipment World Finals with the winner of each being crowned IHRA World Champion and taking home the lucrative SuperSeries prize package made possible by dozens of generous sponsors. This year's world champions will be crowned in Top ET, Mod ET and, for the first time in IHRA history, a Junior Dragster World Champion will be crowned for the first time in the sport.
Since its inception in 2002 the Summit SuperSeries has crowned 19 champions, some of which have gone on to have success in other programs as well, and has grown into the fastest growing sportsman program in the United States with thousands of racers from nearly all of the IHRA's 100 member tracks participating.
Drivers race all year at their local track, accumulating track points with the hopes of advancing to the next stage of the competition. At the end of the track racing season the top registered Summit SuperSeries points earners move on to the Summit Team Finals to race against other track champions at the regional level. At the Summit Team Finals competitions the winners in Top ET, Mod ET and Junior Dragster then move on to the IHRA World Finals in Memphis to fill the three 16-car fields to runoff for the Summit SuperSeries World Championship.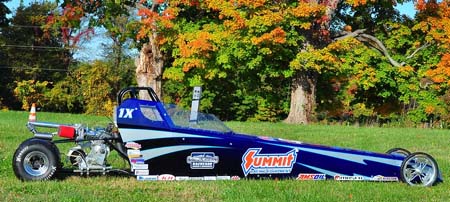 In addition to being crowned the
IHRA's very first Junior Dragster World Champion,
the Junior Dragster Summit SuperSeries winner
will receive a brand new Vic Puglia dragster.
This year, in addition to being crowned world champion, each winner will take home a lucrative prize package made possible by the IHRA's generous sponsors that includes everything from cash, a brand new dragster, an enclosed trailer, a trip to Aruba and more.
Beginning in Top ET, the 2012 Top winner will receive $10,000 courtesy of Summit Racing Equipment and a brand new turn-key dragster made possible by the gifted builders at American Race Cars. The brand new dragster features a custom Trick Flow engine plus various parts and pieces from some of the most competitive companies in drag racing including Summit Racing Equipment, Moser Engineering, Abruzzi Transmissions and Converters and many more. The Top winner will also receive a trip to Aruba, IHRA Gold Card, World Champion Ironman and more.
The other big-car winner running in Mod ET will receive $10,000 courtesy of Summit Racing Equipment, a brand new 26' Pace Journey enclosed trailer and a custom golf cart. The winner also receives an Aruba vacation, IHRA Gold Card, World Champion Ironman and more.
In addition to crowning its very first IHRA World Champion, the brand new Junior Dragster program will also award its winner with $3,000 courtesy of Summit Racing Equipment, a brand new Junior Dragster built by Vic Puglia with an engine courtesy of Steve Waller, an IHRA Gold Card, World Champion Ironman and more.
This year's Summit SuperSeries World Championship features drivers from multiple states as far away as Alaska who will be making the trip to Tennessee. That is a nearly 5,000 mile journey just to take part in this incredible program.
For more information on the Summit SuperSeries visit www.ihra.com and click on the Summit SuperSeries button to learn more.