Thu, 04 Oct 2012, 18:02 PM



Hale Wins at DRO AA/FC Challenge First Time at U.S. 131 Motorsports Park



Courtesy of Jeff Burk



MARTIN, Mich. --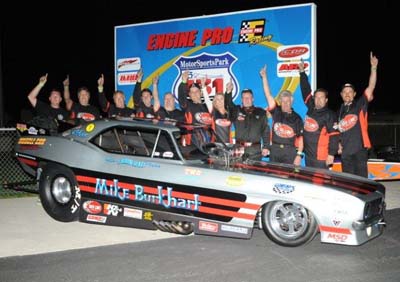 John Hale and crew celebrate win.
The Mickey Thompson Tires DragRacingOnline.com AA/FC Challenge Series presented by Victory Performance and Comp Cams made its first appearance at the prestigious U.S. 131 Motorsports Park's Funny Car Nationals on Sept. 7-8.
The Martin, Michigan, track - celebrating its 50th anniversary this year -- is renowned as one of drag racing's true "speed palaces" and over the years nitro racers have recorded some astounding speeds and elapsed times while racing there.
That was the case for the DRO AA/FC racers as both the series ET and speed records were reset by series point leader and defending champ, Texan John Hale. Hale broke his own ET record with a 5.711-second run for the quarter mile and upped the speed record to 252.39 mph. He also won his third DRO series event of the 2012 season and extended his lead in the series championship points.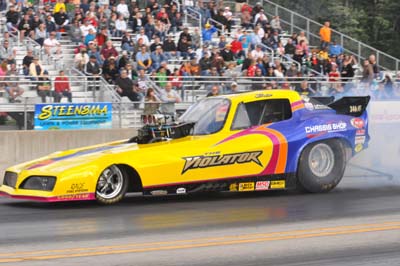 Shawn Bowen
Grand Blanc, Michigan, racer Shawn Bowen also set a DRO series standard that may not soon be equaled when the team ran four consecutive laps over 250-mph, including a 254.63, the fastest ever in the four-year history of the DRO series.
Rain on Friday meant the entire race had to be run on Saturday, putting extreme pressure on the cars and tuners. In the final, which was run at about 11 p.m. Saturday night, it was Bowen losing to Hale when Hale's Mike Burkhart tribute Camaro ran his record-setting numbers in the less-popular left lane. Bowen's "Violator" Firebird ran a close 5.8345 at 251.86 mph.