Thu, 04 Oct 2012, 17:10 PM



It's A Team Sport



By Bob Frey


Photo copyright 2012 Kevin Pepera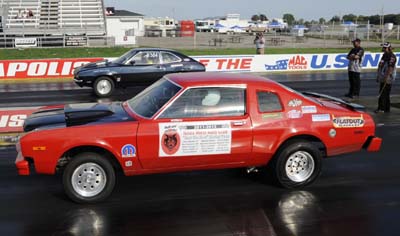 John Wheeler defeated Ben Browder
Like every sport, drag racing has its heroes and most of them are drivers. Like football, where the quarterback gets all the credit, in our sport it's the driver who gets the headlines. He (or she) is the one who won the race and who did so on a holeshot. He (or she) is the one who lost the same way. At the end of the year it's the driver who stands up on stage and accepts the winner's trophy and check. Fortunately they also get to thank their crew members, the ones who made it all possible. Full Throttle has a great program called the "Hard Working Crew" award and that's where they award the crew members who went above and beyond in their efforts to help the team win. Years ago there was a group called the Gopher State Timing Association and they epitomized what the word "team" is all about. They had a variety of members in their club who took turns driving the car, and in the end it was the group and not a single driver who was awarded the Division 5 championship. They even had three different drivers pilot the car in three successive rounds of competition at one race, now that's a total team effort. As the 2012 season winds down there is another group that shows that team word really does win races and that's the group that won the Division 3 High School Championship at eh recent Summit Racing Series event in Indianapolis.
Niles West High School is located in Skokie, Illinois and is the home of the Wolves, and now they are also the home of the Division 3 High School Champions. With a classic 1978 Dodge Aspen, the school's auto shop club went five rounds to win the title, the first in the school's history. John Wheeler was the driver of the car and he said that it was a long, arduous task to get the car ready for competition. "Since it's a school club project it was something that took a long time. Out instructor, Mr. Tim Richmond, has been working on this car for fifteen years." Really? "Well, he started it at several other schools and slowly built it up. He came to our school in 1999 and it's been here ever since. All the work on the car has been done by students at different schools. Mr. Richmond tries to stay out of it as much as possible, except in critical situations and decisions." With its naturally aspirated 360 cubic inch engine that has been punched out to 409 inches, and equipped with a 4-speed transmission, the car runs steady times in the low twelve-second range at over 115mph and it has been as quick as 11.7. And in all those years there has only been one driver besides John. "In 2009 and 2010 Phil Tines drove it and then I got the call for the last two years. Phil brought us to our first Division 3 finals in 2010. He is a mentor and great friend to the auto club and he is the one who really taught me how to race." The decision on who drives it is up to the club members, based on who has put in the most time and effort to make the club successful, but must be approved by Mr. Richmond. "It's really neat to be the one who gets to drive, it was a lot of hard work," John said. "But believe me, this was a total team effort. Everyone put in their time and did their part and that's the only way we could win."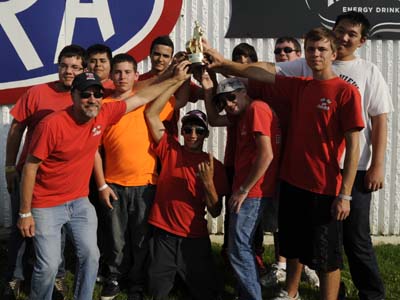 John Wheeler and team celebrate win,
When John talks about a team effort he means everything leading up to the race as well as the race itself. "Mr. Richmond owns the car and he buys all the hard parts for it," John said. "But we have to maintain it. All of the other things, like oil, belts and tires are our responsibility. We learn a lot about how to race a car and run a team." They also learned what a lot of racing teams already know and that is, if you want to win a race, you probably need at least one lucky round. "Oh yeah, that would have been our third round. I am usually the faster car and I leave last and I like to think this gives me a slight advantage. In this round I was racing an IROC Camaro and when I was trying to run him down I missed third gear. It's the only time that day I missed a gear, but fortunately for us he fouled out. So that was definitely a lucky break." After five rounds of tough racing, all on one day, the seven students on the team from Niles West were celebrating in the winner's circle. "It was unbelievable. As each round passed, the racing got more and more exciting, but also more intense. Everyone really started focusing on their job and the fact that we could win this thing." And they did, and that made Mr. Richmond and everyone at school very proud.
When asked why it took so long to finish the project John said, "It's all part of the learning process. Each year we were faced with different obstacles. Along with all of the manual labor we had to take care of a lot of the financial aspects of racing, because that's part of putting a team together. We do whatever we can including selling t-shirts and candy at school to support the team." He went on to say that since the team's win they have found the sponsor search a little easier, but they still have work to do. "When we show people the 'Wally' that we won it seems to give us some instant credibility." He said that one famous company that is based in Morton Grove, near their high school, has already stepped up to help with their next project. "Strange Engineering was very receptive and it looks like they're going to join our team." And that sponsor search is part of the things they learn in the club. "Racing the car is only a small part of any team. We put together presentations, brochures and things like that in order to get sponsors, and even to be able to race at our high school. It's like any other team, it's a struggle but when it all comes together it's some rewarding."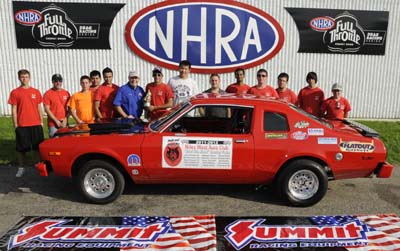 While the jubilation of winning hasn't worn off yet, the team is already looking ahead to the future. "We have a new car," John said. "It may take a while but it will be a fun car and it should give a lot of people a chance to drive." That's because the new machine will have an automatic transmission. "It's a 1975 Belvedere station wagon. It's a real project car but it will be fun." When I asked why the club chose that particular model John responded, "Well, because it was donated." Hey, whatever works, right?
Now that he is out of school John has his sights set on higher goals. "I'm trying different things in the working world to find out exactly what I want to do. I worked as a mechanic for a while when I was still in school and now I'm looking into the engineering side of things." Plus he has five brothers and sisters and he said there is always something in the garage at home to keep him busy, "We have a bunch of old motorcycles and I recently picked up my first classic car, a really nice 1970 Buick Riviera. It has a big 455 engine and should be a lot of fun to work on." And when asked if he would like to drive a pro car he didn't hesitate. "Oh yeah, that would be a dream come true." He went on to say that he has met members of the Don Schumacher team and they were extremely pleasant. "Everyone in this sport has been great. I'm just glad that out team got to experience the thrill of a win at Indy. Now we know what the pro teams feel like."
In addition to John (President and driver) the club includes Ben Swanson (Vice President), Ninos Youssef (Treasurer), Tiffany Steffen (Secretary), Conrad Celinski, Alejandro Chavez, Alejandro Coronel, Chris Feldman, David Lotsoff, Farzad Mobli, Cristian Ortiz, Edi Qendro and Arron Snowsky. "We really enjoy it and it wouldn't be possible without the help of our sponsors including Lee Auto Parts in Skokie, Flatout Gaskets, Sko-Die, Inc. of Morton Grove, Strange Engineering, Pete's Porting Service, Westech Automotive and the U.S. Army.