Wed, 26 Sep 2012, 12:41 PM



Six More Drivers Heading to Memphis at D5, D7 Team Finals



Courtesy of IHRA Communications



Caprock Motorplex, U.S. 131 Motorsports Park Take Team Titles



NORWALK, Ohio --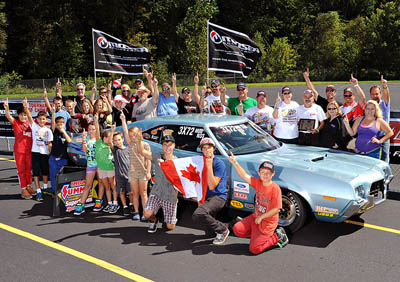 Division 5 Mod ET Winner Mark Gubinski.
Roughly 2,000 miles apart are two very different tracks in two very different places.
One is U.S. 131 Motorsports Park located in the cool hills of southern Michigan, while the other is Caprock Motorplex sitting in the arid deserts of west Texas. But despite those differences, those tracks had two things very much in common over the weekend - very happy drivers. That is because both tracks were the location of two of the International Hot Rod Association's most exciting events as U.S. 131 Motorsports Park hosted the Division 5 Thunder Summit Team Finals and Caprock Motorplex hosted the inaugural Division 7 Gunslingers Summit Team Finals both this past weekend.
>From those two events six drivers emerged as representatives of their respective division at the upcoming Summit SuperSeries presented by AMSOIL and Moser Engineering World Championship to be held at Memphis International Raceway in October and two tracks took home team honors from the events. At the inaugural Division 7 Summit Team Finals host track Caprock Motorplex won the team event with 46 points, finishing 20 points ahead of runner-ups Desert Thunder Raceway and Amarillo Dragway. In Division 5 U.S. 131 Motorsports Park led the way on its home turf with 73 points, followed by Grand Bend Motorplex with 38 points and Marion County International Raceway with 29 points.
Division 7 Winners Tim O'Moore (Mod),
Tammy Chamberlain (Top) and Lindsey Low (Junior).
Individually those drivers that took home the biggest wins of the weekend were Division 7 Top winner Tammy Chamberlain from Caprock Motorplex, Mod winner Tim O'Moore from Southwestern International Raceway and Junior Dragster winner Lizzie Low from Caprock Motorplex. The Division 5 representatives earning their way to the Summit World Finals in Memphis are Top winner Rick Baad from U.S. 131 Motorsports Park, Mod winner Mark Gubinski from Grand Bend Motorplex and Junior Dragster winner Ryan Paquette from Grand Bend Motorplex.
In the Gunslingers Division Tammy Chamberlain took the Top ET victory over Kevin Bracey from Amarillo Dragway with a solid 6.413, 112.78 on a 6.40 dial while Bracey broke-out. In Mod Tim O'Moore held the advantage on the tree with a .033 reaction time and ran a dead-on 7.079 on a 7.07 dial at 89.46 mph to get around Gary Bartholma of Amarillo Dragway who took too much at the stripe. Junior Dragster representative Lindsey Low also won a close race in a double-breakout victory over Rowdy Huff of Desert Thunder Raceway.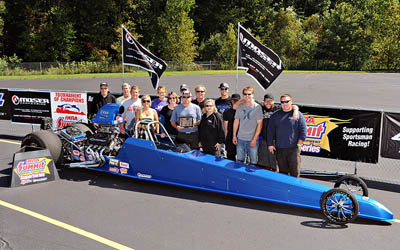 Division 5 Top ET Winner Rick Baad.
The Thunder Division also saw some great racing headlined by a very close race in Mod ET as Mark Gubinski and Dan Farrell of Wisconsin International Raceway went head-to-head with Gubinski coming out on top. Both drivers were slow on the tree, but ran solid numbers with Gubinski running a 10.642, 120.55 on a 10.62 dial while Farrell posted a 12.484, 108.31 on a 12.43. In Top ET Rick Baad made quick work of Dion Degnetz of Wisconsin International Raceway who went red by .008 and in Junior Dragster Ryan Paquette had a solid .016 reaction time and ran a 7.931, 80.22 on a 7.90 dial to get around Schuyler Turner of Marion County International Raceway.
Those six drivers will join many more at the IHRA Summit Racing Equipment World Finals in Memphis to compete for over $200,000 in cash and prizes as part of the Summit SuperSeries World Championship program for the Top, Mod and Junior Dragster classes.
For complete team and individual results from this weekend's action in Michigan and Texas visit www.ihra.com.