Wed, 26 Sep 2012, 11:49 AM



Turner Quiets Critics, Captures Nitro Harley Title



Courtesy of IHRA Communications



Turner Looking to Drive into Record Books with Unique 'Big Pig' Ride



NORWALK, Ohio --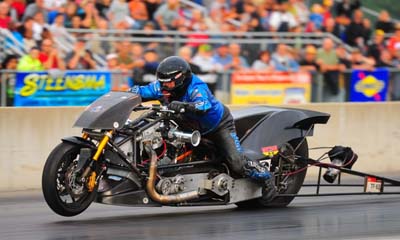 Turner led Nitro Jam with six wins in 2012
on his way to picking up his first championship.
They said it was too big. They said it was too heavy and too ugly. But mostly, they said it would never go fast.
As it turns out, they were all wrong.
Despite its harsh critics Turner debuted the sleek, jet-black nitromethane powered motorcycle he dubbed the "big pig" at the beginning of 2012 during two test sessions in Valdosta, Ga. and immediately sent shockwaves throughout the two-wheel racing community. Within just a few laps Turner showed everyone that the bike that "never would" could actually do all of the above and then some.
Sitting a bit wider than usual with 10 extra inches of wheelbase and a motor positioned slighter farther forward, the "big pig" was considered by Turner the "bike of the future" when he rolled it off the trailer in February. Perhaps Turner was on to something.
By season's end Turner had racked up a series-leading six Ironman trophies and ran away with the 2012 Nitro Harley championship, defeating defending champion Steve Dorn by 109 points to collect his very first Nitro Jam World Championship.
"It has all been a blur, but it was a great year. We brought out the new bike and it has been so consistent. Not just internally, but it has been remarkably consistent going from one track to another with different surfaces and different conditions and while we see other bikes struggle this one goes right down the middle almost every time," Turner said. "The early season testing is really what made the difference in our season. Thanks to the boss Randal Andras we had some extra money to go test and that was the key to our success. We were able to make 10 or 12 runs without the pressure of beating someone in the other lane and that really set us up for the year we had."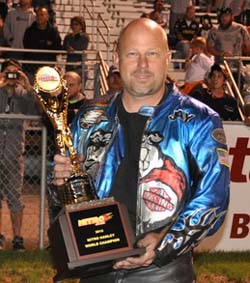 Turner began the season with
five straight wins to help him
run away with the title.
When the bike finally made its competitive debut in March at the San Antonio Nitro Jam Turner fired off lap-after-lap of consistent, fast passes leading to a weekend sweep in Texas. One week later at the Mardi Gras Nitro Jam in Baton Rouge it was more of the same. Oh, and in Pittsburgh a few weeks after that, another trophy for Turner.
By the time Turner and the "big pig" got through the first half of the Nitro Jam season he had racked up an impressive five consecutive wins in the ultra-competitive Nitro Harley class and looked as if nothing could stop him.
Then came Canada.
During the Canadian portion of the Nitro Jam tour a few drivers finally got the best of him as Andras won the biggest Nitro Harley race of the year at the MOPAR Rocky Mountain Nitro Jam Nationals in Edmonton and then won again in Grand Bend a few weeks later. Dorn also collected his first and only win of the season in Grand Bend.
Just as it appeared others had finally made up some ground on Turner, he returned to his dominant ways at the season finale at U.S. 131 Motorsports Park, winning the event and wrapping up his first career championship in the process.
"It was a really good year for the entire team," Turner said. "Everybody worked well together and nobody tried to kill each other so that always makes for a good season. These races are always a double-edged sword because you can't just go out there and swing for the fences because we have to put on a good show for the fans, but we are also all very competitive. I think we balanced that nicely this year and it turned into us holding the big trophy when it was all said and done."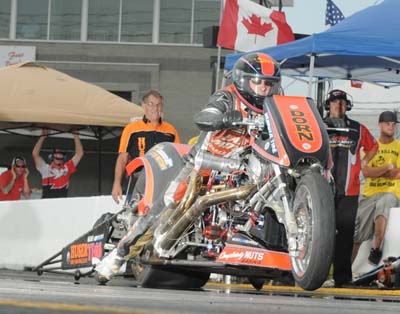 Turner's primary competition came
from 2011 champion Steve Dorn (pictured).
In addition to Turner's six wins, Devin Pelrine, Ron Gledhill and Andras all collected a pair of wins apiece and Dorn added a win to his totals.
Now, with a championship added to his collection, Turner says he is turning his attention back to the bike and doing something that has never been done before - breaking the five-second barrier.
"We have learned so much about making this bike consistent, now we are going to try and make it run really fast," Turner said. "Next we are going to work on making more horsepower without burning it up and running it hard for the rest of the year and do some more testing and come out swinging next year.
"We built this bike to run five seconds and that is what we are aiming for. Yes we were successful this year and we won a lot of races, but have we accomplished our goal of what we built the bike for? No."
So what would it mean for Turner to break that barrier?
"It would be like climbing Mount Everest," Turner said. "Being the first Nitro Harley to make a five second pass, that is the last major barrier of V-Twin nitro bikes. Nobody has ever done it naturally aspirated and without a supercharger and that is our goal. That is why we are here."
And the scary part? Turner actually has plans to make more of these things. "Yeah, we want to make another one," Turner said. "Hopefully we can have a lot of firsts and make our mark on the sport, that would be something special." For now Turner is happy with his first championship and a big season, but bigger and better things await. Will we see more "big pig" in victory lane and maybe even a few records broken in 2013? We will have to wait and see.