Sun, 18 Dec 2011, 09:43 AM



He Did It Again And He'll Do It Again



By Bob Frey


Photo copyright 2011 Auto Imagery, Inc.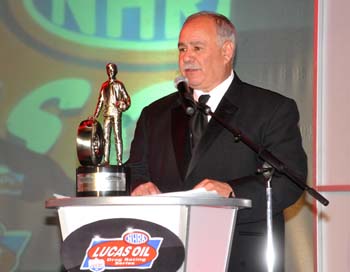 Frank Manzo at the Awards Ceremony.
I will begin this story by asking a question. Who is the most dominating racer in the history of the NHRA? Ok, begin. Who do you like, John Force, Bob Glidden, Warren Johnson, Tony Schumacher or any car tuned by Alan Johnson? Take your pick, give it your best shot and I will counter with Frank Manzo. After winning his record-tying fifteenth national championship I contend that there isn't now and never has been a racer as dominant as the "Ace," Frank Manzo. Just the fact that he has won fifteen Lucas Oil World Championships speaks for itself, but if you need more just look at the numbers. He has won ninety-six NHRA national events and an astounding 114 divisional races. He has raced over 200 different drivers and beaten most of them, and he's beaten most of them more than once. In 2011 he won five more national events in his eight starts, and those five wins extended his final round winning streak to a remarkable thirty-five. That's right, Frank hasn't lost a final round in his last thirty-five appearances and that streak goes back to 2006. He has amassed a career record in the Top Alcohol Funny Car class of 543-135 which computes to an eighty percent winning number. By comparison John Force has won seventy-one percent of his rounds and Bob Glidden won seventy-three percent of his. Frank has also won a staggering eighty-seven percent of his first round races compared to seventy-seven percent for John and seventy-six for Bob. And in final rounds it's no contest with Frank winning eighty percent of the time when he makes it to the money round while John posted a sixty-two percent winning number and Bob won sixty-nine percent of his final rounds. Need I go on? I didn't think so.
Manzo with his wife Michelle.
So many racers, when they near the end of their career, seem to slow down or lose that competitive drive. For Frank, even though he has been at this for over thirty years, the end of his career doesn't appear to be imminent and he certainly isn't slowing down. "I just love what I do," he told me. "I've been blessed by the good Lord. Don't ask me why but I have." Among his blessings Frank counts his wife, Michelle, who has been there for all of his races. "Sometimes she knows what the car did before I do," he said. "And she's the one that keeps me motivated. I couldn't do this without her." He also says that he couldn't do it without a good crew and he has that, too. John Glade, his crew chief, has been there for every race that Frank has won and he is as good as any crew chief in the sport. But in the end it all comes down to Frank, the consummate drag racer, a guy who lives for the competition and to make his car go faster than the guy in the other lane. "I just like going fast. To be honest, and not trying to sound like I'm bragging, there were some times this year when I thought we could have run even faster and we missed it." Among those times was the race in Reading, Pennsylvania. "The conditions were right for some really big numbers," he said. "We just didn't have the right set up." That's coming from a man who ran 5.411 and 5.419 in the last two rounds and set the national record at that race. Gee, really sounds like they missed the tune up doesn't it?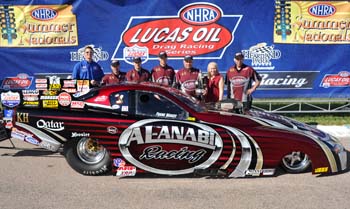 Manzo with crew.
For years Frank ran as an independent racer and then he picked up the sponsorship of Lucas Oil. Two years ago he was approached by Sheik Khalid Al Thani and asked to join the Al-Anabi team. "It wasn't an easy decision," Frank said. "I had my (construction) business and I was pretty happy with the way my racing was going. Plus, Forrest and Charlotte Lucas had been so good to me." But in the end, the Sheik must have made Frank an offer that he couldn't refuse because he made the switch. "I have to say that it's one of the best decisions I have ever made," he said. "I enjoy working with him and his other teams and now I can race without having to rush back to work on Monday." Some may look at it and say it's just a case of the rich getting richer, but based on what he has done in his career, nobody is more deserving of getting a deal like this than Frank.
In 2011 Frank had a real serious battle for the championship thanks to some of his longtime rivals, Tony Bartone and Jay Payne. "Hey, they weren't the only ones," he said. "There were a lot of good cars and teams out there and they are the ones who drive me. I love the competition, and when someone starts running really well it challenges our team to do better." If by "doing better" he means setting the national record, having a perfect score in the points and winning another championship, then he succeeded.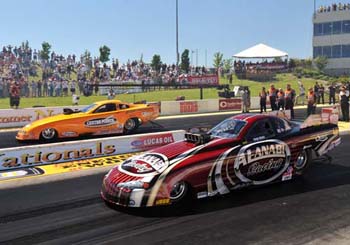 Manzo vs. Tony Bartone
in the Topeka final.
It's amazing that a man like Frank can maintain such a high level of competitiveness and concentration after all these years. "There's a lot of pressure," he said. "And I think I put it all on myself. Nobody wants to do better than I do and I mean that. At every race I want to be the best, and if I have a bad weekend I come home to lots of phone calls from my friends and fellow racers asking me what happened. They want to know if a part broke or something malfunctioned and things like that. I just tell them the truth, I got beat! The other guy was better than me today and it's as simple as that." If history is any indication the "other guy" hasn't been better than Frank very often, especially not lately. "I'm living a dream. I used to go to Englishtown and Atco and I was happy just to be racing my car. It's been quite a journey, and to get where I am from where I started is something special."
When I asked Frank to rate the 2011 season he was his usual, humble self. "It was a struggle. We had some bad stretches and then we had some good ones." Well, as the case often is, his good stretches far out weighed the bad and he secured his fifteenth championship. So what about next year. "I'd be lying if I said that the possibility of winning that sixteenth championship wasn't motivating me. I'd love to do it." With the realignment of the divisions for the alcohol classes next year Frank says that he may alter his schedule a bit. "We'll probably start down South with some of the races and make Gainesville our first national event. In the perfect world I'd like to run about twenty races, but you know as I get older my mind often says lets go and my body says no way."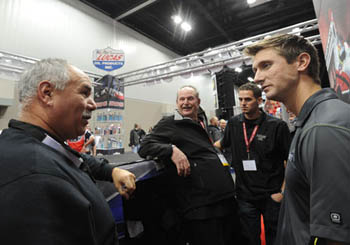 Manzo at the IMIS show in Indy.
As I spoke to Frank he was in Indianapolis at the big trade show, walking the floor and working the room. "I have to see my sponsors and people that make this possible," he added. That trip came after a few days in Florida where he was testing some new things on the Al-Anabi Pro Mod car. "We're trying an automatic transmission in the car and it has real promise. But right now, compared to where some of the guys are, we're lost. We have seen some remarkable sixty-foot times with the car and it makes me wonder how it would do in our car. Only time will tell." And only time will tell how much longer Frank will do this, but as of right now he shows no signs of slowing down and that's good news for race fans all across the country, and could be bad news for the other Top Alcohol Funny Car racers. "Those are the ones who push me to get better and I love racing with them. This is my dream and I couldn't be happier." Maybe if he wins that sixteenth championship he'll be happier, and the way he has performed the last few years, we may not have to wait to long to find out.