Thu, 15 Dec 2011, 09:25 AM



Eric Who?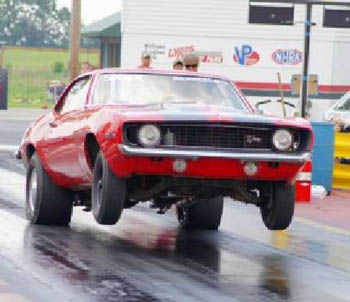 Eric Bowling
Eric Bowling is a bracket racer from Bloomington, Indiana. For those of you that don't know Eric, maybe you should. In the 2010 racing season alone, Eric won 21 of 24 final round appearances and put over 600 passes on his 1969 Camaro. In 2011 so far he has won 20 of 23 final round appearances in fewer rounds than 2010.
Eric has been Bracket Racing since 1998. His late father used to take him to the track as a child to watch and even sometimes his father would race the very 1969 Camaro that Eric races today. The 1969 Camaro Z/28 was purchased by Eric's Father in January of 1977, and Eric was born in December of 1976. In February of 1977 Eric's name was put on the title of the Camaro alongside his fathers. At only 2 months old Eric would be the proud owner of the Camaro. Eric's father passed away in 1995.
In 1998 Eric began his racing career in the "Sportsman" class. In his very first race Eric would get his very first of many wins. In 1999 Eric competed in his first full season chasing his first of many Points Championships. Eric won that Points Championship in 1999. Since that first Championship in 1999 to present day 2011 Eric has won a total of 12 Points Championships at 3 different race tracks in Indiana including 2 IHRA Summit Super Series Points Championships, but most impressively 3 straight at NHRA's current Division 3 Track of the year Lyon's Raceway Park.
Eric's low budget approach to racing is much different than many others. "You don't have to have the fastest, nicest, or most expensive racecar to win races" says Bowling. As this holds true as his rig consists of a 200,000 mile ? ton Chevy truck and a 2003 model year open trailer. "I race to make money and a profit at the end of the year, I don't race to have fun or make friends at the track it's a business for me." Eric says. "I have to be able to justify every dime I spend, racing pays for racing and I'm lucky enough for racing to put some extra money in my pocket".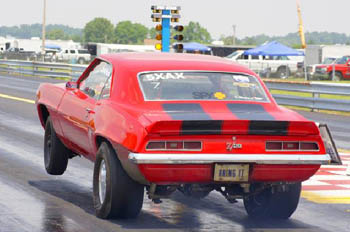 Eric Bowling
Eric has accomplished many things in his 13 year racing career and has tallied over 200 event wins. Some of those events include the inaugural $7500 to win Ohio Crankshaft No Box Nationals, 5 Box /No Box Combo $2000 event wins, The inaugural Scotty Richardson Grass Roots Series No Box Championship at Lyon's Raceway Park in 2010, 10 Victories in the Super Pro Category, a National Dragster Challenge Win, a King of the Track Title, and one of the most memorable came this season at the Speed's New Hope Dragstrip Big Bucks Extravaganza as Eric would sweep the night with a pair of victories in 2 different cars and 2 different classes with over 100 racers totaling over $3000 in prize money, "I just caught fire that night, both cars were on kill and it was like I could do no wrong", Eric said.
Eric was also selected this racing season by Pro Racer Luke Bogacki to be a part of his website (www.thisisbracketracing.com) to write a monthly column about his racing season. Bogacki would have some very flattering words about Bowling as he say's "Eric may be the most accomplished bottom bulb racer that competitors outside the Midwest don't know by name, he races and wins a lot". Those are pretty big words from a very successful racer. "When I saw that Luke had said that about me to be honest I actually felt like I had accomplished something, I mean someone of Luke's caliber to say something like that, really meant a lot to me and it really has boosted my confidence" Bowling said. "Luke is a really down to earth guy and is easy to approach and talk to, there are only a select few guys of his caliber that I can say that about, and he is truly just a good dude." Eric added. As the season comes to a close Eric and Father in Law Don Cain have been working on a new ride for 2012. They were able to make the Debut of the new ride a couple of weeks ago as Eric would take the brand new ride into the Winner's Circle the first time out.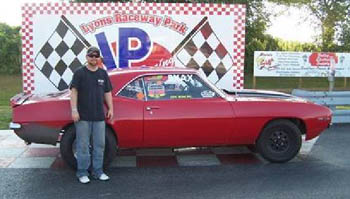 Eric Bowling
"This thing is awesome", Eric says "I've never had a big tired car before and this thing works awesome". The 1991 S-10 Blazer was built by Don Cain and, Eric admits he didn't have too many hours helping with the build as a lot of the hours put into it were done on race days. Don, his Father in Law has had his hands full over the past 10 or so years taking care of race cars, not only Eric's but the Wife of Bowling is also an avid bracket racer. "I couldn't ask for a better wife, she understands how much racing means to me and she never says a word when I'm out of town for a weekend racing, She is great" says Eric. The 1981 Firebird Eric drove to the Winners Circle earlier on in the season was that of wife Amy. "He has done a great job, he takes care of building the engines in the cars and the major maintenance needed to make these cars competitive week in and week out, and the fact that he has built 3 winning Race Cars says a lot about him and his abilities, I appreciate everything he does and if it weren't for him I wouldn't be near as successful in this sport, so I thank him and the entire Cain family for their support, he has taken me in like one of his own and I am forever grateful for that" Bowling said. Eric plans on a full schedule of racing and doing a little bit more travelling in the 2012 season as he wants to see just how well he stacks up against the "best". Bowling knows it's tough financially to do it on his own he hopes to pick up some new marketing partners to help him along the way. "My plan is to hit more of the big money events, I am going to get out this winter and work my tail off to try to get some support, and send out some proposals and we'll see what happens".
So when you see an old beat up Chevy Truck with a red 69 Camaro or a bright green Blazer on the trailer roll through the gates and at the end of the day you hear the name Eric Bowling and you say to yourself "Eric Who"? You'll learn soon enough? it's Eric Bowling that just loaded you on the trailer. Bowling would like to thank his current marketing partners for their support throughout the 2011 season; Eric would like to thank Mickey Thompson Tires, Luke Bogaki and thisisbracketracing.com, Ohio Crankshaft, Spy Optics, Don Cain, Skaggs Transmissions, Prestolite Performance, RaceonE85.com, Mother Lou, Stritto Sign Art Company, wife Amy, and his #1 fan Daughter Isabella.