Wed, 14 Dec 2011, 19:35 PM



Standing Out In The Southeast



By Kelly Wade


Photo copyright 2011 BME Photography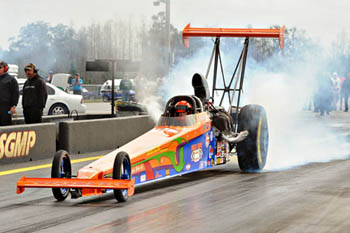 Duane Shields
While some things stayed the same in Division 2 this past season, there was definitely a fair amount of disruption. Duane Shields raked in a ton of points to dominate the Top Alcohol Dragsters in the Southeast once again, but in Top Alcohol Funny Car, Mark Billington stole the crown that had belonged to Mickey Ferro for back-to-back seasons, Comp racer Jim Kimbrough worked up to a division title, and Jeffrey Barker (Top Sportsman) and Dylan Stott (Top Dragster) both earned championships.
Shields also sewed up the world championship in his A/Fuel Shortline Express dragster, winning the big one for the first time after 14 years of chasing it. The successful defense of the Division 2 title began a bit late for the Boulder City, Nev.-based driver. Shields tried his hand at the Phoenix division race in February but came up short, while Alvin Moeser was cleaning up in the division, pulling in back-to-back wins at the Bradenton and Gainesville events in Florida.
But everything shifted rather quickly when Shields got to his second points meet of the year, the race in Cecil, Ga. A first round win over Sidney Frigo was good for a bye run into the final round that was delayed a week due to weather and held at the Gainesville national event. There, Shields got the win over Randy Meyer but went out early in the national competition.
Another home division victory in Atlanta was followed by triumph at Maple Grove Raceway, and after a pair of not-so-stellar outings, Shields was back in the winner's circle in Englishtown, where he remains undefeated. A final round performance in Reynolds at Silver Dollar Raceway further solidified his demolition of the competition, and Shields clocked out for the year with 404 points to Atlanta runner-up Rich McPhillips' 214 and Bradenton runner-up Arthur Allen's 203. Moeser, with three events contested, finished the year with 202 total points to end up fourth in the division.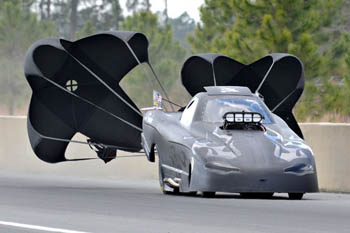 Marc Billington
Before arriving at South Georgia Motorsports Park, Billington and defending division champion Mickey Ferro each had a final round on their scorecard; Ferro was runner-up in Bradenton, and Billington posted similar results in Gainesville. Tied for points heading into the event, there was little change as Ferro went out first round and Billington second, but Atlanta was a turning point.
Melinda Green-King scored the title at Atlanta Dragway in her first division race of the year and really put herself into contention, but regular No. 1 qualifier Billington stacked up points over first-round exiter Ferro with another final round performance. In Charlotte, where Green-King again reigned, Billington, in his Monte Carlo, was once more bringing in points for a visit to the money round.
Ferro appeared to be done for, but instead of turning tail, he joined Green-King and raced at Englishtown. While the lady was halted before eliminations even began, Ferro made up ground and traveled all the way to the final. All three geared up to close down the season in Reynolds, but Green-King was out in the first round and Billington in the second, and although Ferro would win the event and tie Billington with 278 final points, the tie-breaker and division title went to the Prosper, Texas racer.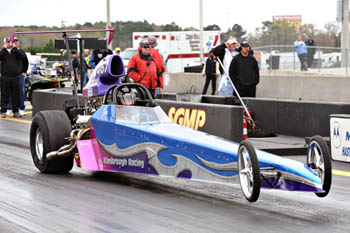 Jim Kimbrough
Pace, Fla., resident Kimbrough wasn't yet ready to shine when he pulled into Bradenton Motorsports Park for the first points meet of the year, but it gave him an ample opportunity to get things in order for his big win at Gainesville the following weekend.
The Bradenton win was awarded to Arnie Martel with Fred Allen in the other lane, and in Cecil it was Allen who made his way to the winner's circle. With an uncertain future ahead, the trio surged forward to Atlanta and all three came up short. Down the road, C/DA pilot Kimbrough put an important final-round performance on the board in Belle Rose and then made appearances where he was able to pick up a couple of round wins back-to-back, while defending division titlist Glen Treadwell made headway in Charlotte with his first win of the season.
Early exits were in store for Treadwell, Allen and Martel at the season-closer at Silver Dollar Raceway, and Cecil semifinalist Grant Lewis scored points for a runner-up next to event victor and crowned division winner Kimbrough. His 358 marks were 53 ahead of Allen (second place) and Martel (third).
The victory was sweet for Kimbrough, who had been gradually ascending for the past few seasons; in 2008 he was 14th, 12 in 2009, and sixth last year.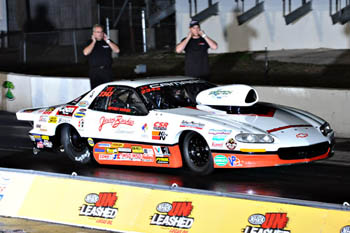 Jeffrey Barker
In Top Sportsman competition in the Southeast, the name Barker is fearsome. Jerry Barker is a multi-time division titlist and was finally unseated by Ronnie Davis last year, but this time it was another Barker - Jerry's son, 2005 division champ Jeffrey - who was doing the winning. Jeffrey and Jerry both made their most significant marks on the year in Atlanta, but it was Jeffery who came out on top in their father-son final-round dual. The Warner-Robins, Ga., driver and his pop were both very efficient off the starting line - dad was .004 and son was .009 at the tree - but a 7.006 on his 6.99 dial gave Jeffrey the win over Jerry's 6.993 (6.96).
Jeffrey, who accumulated four round wins before the Atlanta meet, would add points for a semifinals finish to his total in Charlotte, and that would be enough, and he was awarded the tiebreaker over Kenny burgess, the Bradenton winner who also ended the season with 292 total points. Gilmer Hinshaw, who won Gainesville, finished third, with Jeff Pittman standing in front of No. 5 guy Jerry.
Sixth in Top Sportsman was Top Dragster winner Stott, who happily redeemed his second place ending of 2010. Last year, Raymond Miller III earned top honor, and this year he and Columbus, N.C., driver Stott traded places.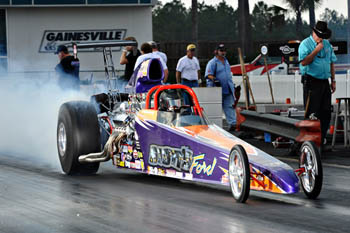 Dylan Stott
Miller was on his game early, picking up in Bradenton right about where he left off and turning in final-round performance. He fell off in Gainesville, but shot right to the winner's circle in Cecil, while Stott had yet to garner a round win in his dragster. But when Miller ran into trouble mid-season, Stott grabbed the spotlight and held on, posting a semifinals finish in Atlanta and following it up with an out-of-division win in Columbus.
Alabama's Casey Spradlin was quietly emerging as a threat with round wins coming in and a trip to the finals in Atlanta, but it ultimately boiled down to a round win in Charlotte and a runner-up at the second Columbus event where Miller turned in a first-round exit and non-qualifying effort, respectively. All three drivers were out in the first round at Silver Dollar Raceway, as was Kelly Cooke, and the results were in: Stott was the division champ by 54 points.

Division 2 Point Standings

Top Alcohol Dragster
1 Duane Shields
2 Rich McPhillips
3 Arthur Allen
4 Alvin Moeser
5 Bruce Horner
6 Don Fiorelli

Top Alcohol Funny Car
1 Mark Billington
2 Mickey Ferro
3 Melinda Green-King

Comp Eliminator
1  Jim Kimbrough
2  Fred Allen
3  Arnie Martel
4  Grant Lewis
5  Glen Treadwell
6  Van Puckett
7  Patrick Ross Sr.
8  Howard Plybon
9  Jenny Treadwell
10 Allen Stanfield

Top Sportsman
1  Jeffrey Barker
2  Kenny Burgess
3  Gilmer Hinshaw
4  Jeff Pittman
5  Jerry Barker
6  Dylan Stott
7  Ronnie Davis
8  John Glenn
9  Bruce Duncan
10 Tommy Turner Jr.

Top Dragster
1  Dylan Stott
2  Raymond Miller III
3  Casey Spradlin
4  Kelly Cooke
5  Ken Wells
6  Edward Careccia
7  Lauren Freer
8  Larry Roberts
9  Vaughn Cauffield
10 Steve Cohen